by Sisters Maureen Wild, Nancy Brown, Edna Walsh and Cecilia Hudec
The truth is – four of us on the west coast have some good news to share! If you have your mind set on completion without transformation of our Congregation, then no need to read further. But, if your heart is full of faith and still fearlessly open to exploring the energy of transformation of religious life (even if we have to pass through some forms of completion), then read on!
First, you must know as a context, that since 2019 we've shared (along with Sister Kerry Rowland) the grace-filled experience of journeying with two women in the west, Mabel and Sylvia, who are deeply attracted to our Spirit, our charism, and have been discerning religious life with us. This accompaniment was affirmed by the former Congregational Leadership Team who were very supportive. Because of this common experience, the four of us felt an immediate attraction to a December webinar hosted by the Religious Formation Conference. The title, 'Facilitating the New and Emerging Religious Life: Our Role at the Graced Crossroads.' Three resources were emailed from the presenter to prepare participants in advance. These definitely held our curiosity and interest. And then the webinar in word and image with Dr. Ted Dunn – which was absolutely excellent!  As I listened, I'd silently wished you were all there!  The energy it ignited within us was palpable in our immediate and enthusiastic emails to one another. In short, it was wonderful!  And that's why we're writing about it.
We each also ordered Dr. Dunn's book, G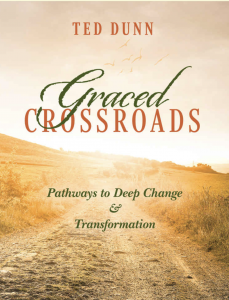 raced Crossroads (2020) – a substantial book, more like a textbook for transformation which takes time to read and reflect on. Ted has worked for many years as a 'guide to communities seeking transformation.' As he writes, "My work with men and women of faith has evolved along with my understanding and appreciation of Religious Life: the gifts that you bring to our world, the challenges you face, and the opportunities you have on the horizon." (Preface)
Perhaps you've noticed that the Leadership Conference of Women Religious, LCWR, has also published an article by Dr. Dunn in the latest Occasional Papers (Winter 2021): 'Seeing with New Eyes: The Inner Work of Transformation Needed for These Times.'  We encourage you to read it and talk about it.
But, here are a few words from us about how we experienced the webinar:
from S. Nancy Brown:
"All life is evolving.  I imagine God as the energy force ahead of us, pulling us forward into greater complexity and newness.  All life is being transformed today.  
"From this perspective as I listened to Dr. Dunn's webinar, I was excited as he was explaining the transformation of religious life needed today.  Recalling the history of religious life, there have been many moments of transformation. It appears the Spirit is urging us to journey through another process of renewal. It calls for deep inner work which Ted explains and invites us to enter the path of transformation which is deeper reality than change. During these days of isolation, let's dive into the process of transformation by learning and praying with the insights that Dr. Dunn is offering." 
from Sister Edna Walsh:
"This webinar by Dr. Dunn opened up for me new possibilities for personal and societal transformation. His ideas are exciting and his book, "Graced Crossroads" became required reading for me.  One quote in his book reminds me of Saint Elizabeth Ann Seton: 'Transformation is an emergent process of making the path while walking.'"
"Dunn also touches into the newer consciousness that helps to open new stories that show who we are striving to become. A shift of resources will not be transformative if there is not a shift in consciousness or a move to newness. As most of our systems are breaking down, we need to look into our own personal and communal lives and risk newness for growth. We are called to discern our options for new directions. Affirming that transformation requires commitment, hard work, shift in our energies and collective ownership, Dunn notes that the power of exploration, trust and dialogue are needed for moving forward. His challenge to us who are in religious life, are many and a part of our faith journey as we deepen our understanding of the gospel vision."  
from Sister Cecilia Hudec:
"Dr. Dunn points out that we are at a threshold between what has been and what will be. The seeds of possibilities are beneath the surface. It's an organic process as we create together the conditions for the seeds to grow. The principles of transformation use contemporary knowledge, experiential knowledge and soul knowledge in the process. It is collective work which is inner and outer."
Dr. Dunn has given us permission to share with you the three short preparatory resources for this webinar.  If you're interested to receive these, and to view the hour-long webinar – which is free for any of us to view as a member of the Religious Formation Conference (RFC) – please contact one of us. We will email the resources to you and login credentials for the RFC website, to view the webinar recording. Free access for members (no need to pay the $15 for non-members): https://www.relforcon.org/video/webinar 
Contact one of us to assist in accessing the webinar:
mawild@telus.net
nancy_brown@telus.net
edna_walsh@telus.net
hudec42@gmail.com
Let's explore transformation and see how the Spirit moves among us.  After all, what have we to lose? 
More Charity Alive – February 2021
Charity Alive – November 2020