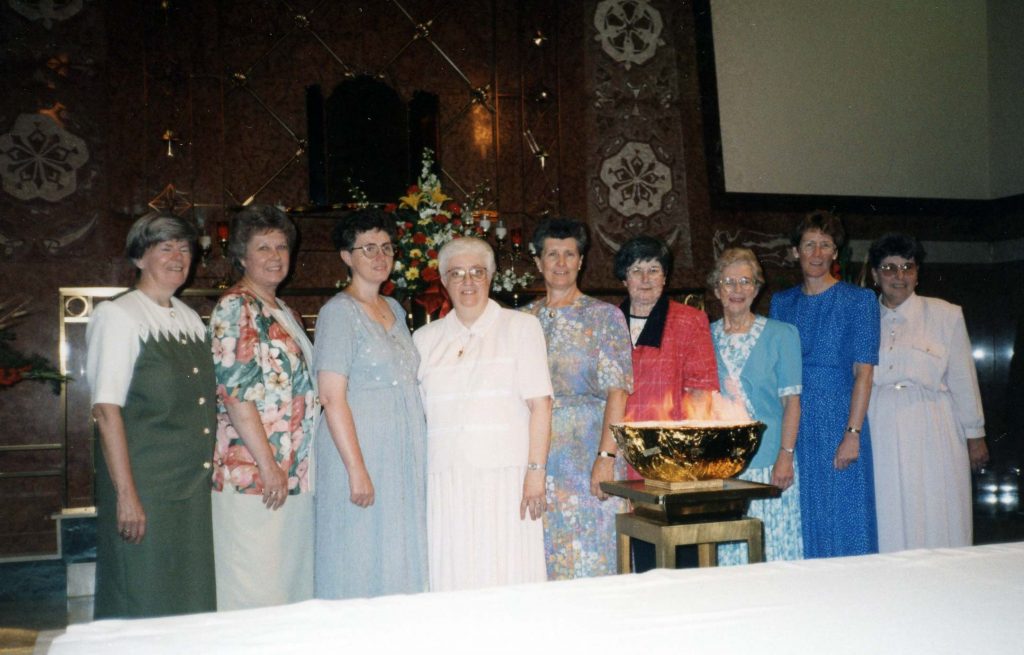 Sisters of Charity – Halifax Congregational Archives. Communications Office photo #281- Installation of leadership team at Mount Saint Vincent Motherhouse, Halifax, NS, July 14, 1996. From left to right: Sisters Marcella Ryan, Esther Plefka, Patricia Wilson, Joan Verner, Mary Louise Brink, Maureen Pitts, Elizabeth Bellefontaine, Judith Park, Joan Holmberg.
by Mary Flynn, Congregational Archivist
As the Sisters of Charity – Halifax embark on a new transition of leadership at the end of 2020, we're looking back at another time of change in the community. At the 9th General Chapter in 1956, the congregation decided to move from a centralized government to provinces, a move that would provide governance to a geographically disperse and growing community. Four decades later, at the 18th Chapter in 1996, the Sisters voted to transition the structure from provinces back to one central congregational administration. Instead the Sisters were encouraged to find new ways of connection and support through local communities and "clusters."
At the installation of the new Congregational leadership on July 14, 1996, the newly elected General Superior Sister Mary Louise Brink gave a reflection on transition and a time of change for the community:
"Many of our communal reflection times since chapter have focussed on the image of fire. We have been invited to enter into and be the fire. In these next months, as we ponder what standing in the fire means for us, we will continue to share with each other and come to many new learnings.
In her recent book on the future of religious life, Fire in These Ashes, Joan Chittister, the well known Benedictine, writes of an Irish custom which offers us one thought-provoking image of fire. Grieshog, as Gaelic speakers tell us, is the process of burying warm coals in ashes at night in order to preserve the fire for the cold morning to come. Instead of cleaning out the cold hearth, people preserved yesterday's glowing coals under beds of ash overnight in order to have fast-starting new fire the next day. The process is an extremely important one. Coals hidden from sight under heaps of ash through the night were tended carefully so that the fire could leap to life again at first light. The old fire did not die; it kept its heat in order to be prepared to light the new one.
….
The fires that have been preserved for us and by us are not given to us for ourselves. They are for all those in our world who need the joyful witness to love that we profess to bring. In these glowing embers are new sparks for our present ministries and the flames of first fires for those new ways that we may serve those who are "wounded by violence and stripped of hope."
(excerpt from Changing Times, Vol 22, No. 3: October 1996)
More Charity Alive – November 2020
Charity Alive – October 2020