We have already been introduced to the first six in our August and September issues of Charity Alive. This month we would love to introduce the others.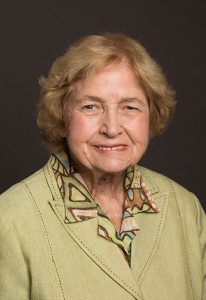 Betty Erdos, born Elizabeth Theresa Mary Moore, grew up in Brooklyn, NY, one of five siblings. She first came to know our Sisters when her younger sister Sally was a student at Our Lady Help of Christians, Flatbush, NY. It was Sister Agnes William who took Betty under her wing and introduced her to the Sisters of Charity – Halifax. She entered the Congregation in 1945 and was a teacher of first and second graders for 27 years. In 1972 Betty left the Congregation to follow her call in another capacity. She met and married Dr. George Erdos. Over the years, Betty and George worked together, traveled all over the world and grew in appreciation of each other's faith. After many happy years together, George died in 2000. Betty moved to Long Island, NY, where she attended St. Aidan's parish. It is there where her story as an Associate begins. She feels grateful for her connection to the Sisters and to the other Associates because it encourages her to continue serving the people of God. Betty lives the charism of charity in her everyday life. She is active in her community, a long time member of the American Legion Auxiliary. She is active in her parish and serves as a Eucharistic minister for the homebound, veterans and those in mental facilities. We are grateful for having this warm, compassionate woman in our lives.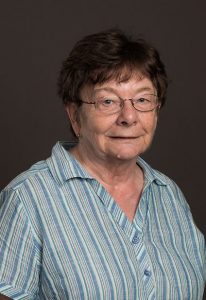 Charlotta Hachey is from New Brunswick originally. She has a long history with the Sisters of Charity – Halifax, going back to receiving catechetical instruction in Holy Family School in Bathurst, NB. Sister Olivia D'Entremont was an early connection with her family, especially her mom. Later on, Charlotta, as a driver, volunteered for grocery shopping for the convent. In summer school, a requirement for all New Brunswick teachers, she met  Maureen Pitts. That was the start of a friendship that enriched both their lives for many years. In 1968 she moved to Dartmouth where she lives today. Charlotta has attended many Assemblies and this is her second time at Chapter. One of the reasons she is coming is because she hopes the mutual sharing among Sisters and Associates will help us come to a greater clarity about what our response to the world needs to be in this time. Charlotta belongs to the Pax Associate group, originally named because they met in Pax Provincial House.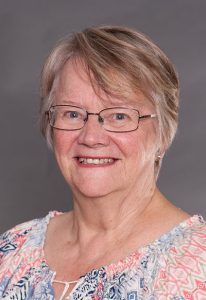 Kay Ann Meagher is a member of Zelma's Way Associate group in Halifax, NS. As a life-long Haligonian, she first met our Sisters in St. Stephen's and then at St. Pat's. After entering the Sisters of Charity – Halifax and teaching for six years she went to work with Social Services as a Home Visitor and Case Worker. Her love and service of those who are living in poverty, and concern about the works of justice have always coloured the things she has been involved with. She is a past board member of the Home of the Guardian Angel and currently she serves on the board of Adsum House. This will be the first Chapter that she attends. Her original reason for choosing to participate was that it would be local!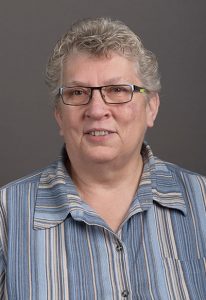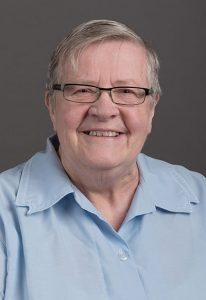 Associates Leigh Sanford and Marilyn MacDonald came to know the Sisters through Sisters Kathleen Dunne and Vivian Mancini. Leigh is originally from a farm in Cognagun, NS. Today she uses her wonderful baking skills to support and lift spirits of friends and family. Leigh's personality, positive outlook along with her sense of humor brings joy to her Associate roup, Saints Alive. She is interested in coming to Chapter because she hopes to get a sense of how we Sisters and Associates will go forward together.
Marilyn is the daughter of a United Church of Canada ordained minister. Her life is a tapestry of varied experiences, including India, PEI, Ontario and Halifax. One of Marilyn's early experiences was working for the Department of Agriculture in PEI and managing a farm of feeder hogs! For many years she served in the Salvation Army and then as an ordained minister in the United Church of Canada. Her variety of experiences has led her to know God has a plan for her journey and her question as an elder is "what's the next part?" As for joining in Chapter, she is interested in the work the Sisters are involved in and continues to reflect on what the world needs now.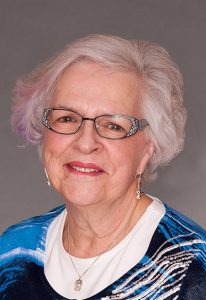 Rose Marie Smith is from Halifax, NS, and grew up in an Acadian household where service to the Church was a value she learned from her parents. She went to St. Patrick's Girls School, Junior High and High School. She and her husband Tom are a special couple who have raised fifteen children. Currently four are at home. Rose Marie became an Associate first through contacting Sister Teresa Torley (her fifth grade teacher) who put her in touch with Sister Maria Sutherland. Rose Marie was invited to an Associates "Come and See" 17 years ago and has continued to grow in the charism as a member of Zelma's Way. Other experiences that have been part of her formation have been with the Federation. She has been to a Vincentian Family Gathering, been part of In the Footsteps of Elizabeth Pilgrimage and most recently participated in the Unstoppable Charity gathering in Chicago. One of her hopes is that every Sister and Associate would be able to visit Emmitsburg. She has been there four times! Today she is part of a Federation Small Group on Prayer that meets by Zoom. Rose Marie currently works  with the Sisters at Caritas as Assistant to the Co-ordinator. She has been to several Chapters and Assemblies and looks forward to the experience again because of the opportunity it gives to get to know each other and to keep growing together spiritually.
More Charity Alive – October 2020
Charity Alive – September 2020