by Sister JoAnn Bonauro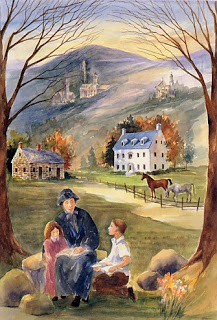 As people part of (or associated with) the Seton tradition, family or legacy, we probably each have our own specific connection with Elizabeth.
Perhaps, it's a particular part of her life story, or the words she spoke as she explained her thoughts or feelings. It might even be the words written or spoken about her by someone else who was attempting to capture the "essence" of who this wonderful woman was. We can undoubtedly say that our chosen "favourite" selection highlights a particular quality or action of Elizabeth that we admire or feel want to imitate. 
This year as we mark the 246th Birthday (August 28) of our cherished Saint, Foundress, loving Wife, Mother, Single Parent, Convert, loyal Friend and NY Daughter, I invite you to revisit your "favourite" Elizabeth connection. So why that choice? What does Elizabeth say to you?
My favorite is the dynamic proclamation by Terence Cardinal Cooke in 1975, the year of her Canonization:
"In Elizabeth Ann Seton, we have a saint for our times. In Elizabeth Ann Seton, we have a woman of faith, for a time of doubt and uncertainty. In Elizabeth Ann Seton, we have a woman of love for a time of coldness and division. In Elizabeth Ann Seton, we have a woman of hope for a time of crisis and discouragement.  
Thanks be to God for this saintly daughter of New York, for this valiant woman of God's Church." (Quoted in Mrs. Seton by Joseph Dirvin, CM p. xiii)
Wouldn't you agree that those vibrant, descriptive words are as relevant today as they were in 1975 when said by Cardinal Cooke? For me, it would seem that Elizabeth, having experienced so much in her life would certainly have much to share with us today.
At an early age, from her grandfather (Rector at St. Andrew's Episcopal Church), Elizabeth learned the importance of doing charitable works. As a young wife, she was a founding member of a benevolent society initiated and directed by women. Does this remind me that even in the midst of my struggles, I am still called, however I am able, to help those who are also  struggling? Would Elizabeth remind me that whatever I do for another is important?
Her faith and her spiritual journey were the foundation of her life. While she totally embraced her new Catholic faith, that path was filled with agonizing times of doubts and worries, as well as, peak moments of joy and conviction. Yet, Elizabeth never gave up; even during the difficult times, she remained open to where God was leading her. The Eucharist strengthened Elizabeth. She spoke of her great happiness as she could now often receive Jesus. Her relationship with Jesus grounded her; being rooted in God she drew the strength to face those life challenges. She journaled often, recording her deepest feelings and reflections on spiritual matters. I wonder if Elizabeth is reminding us that we already have many of the answers we seek. The Focus or Light we desire is found in the Gospel message: The Kingdom of God is here, within us. I need to be a visible sign of God's loving presence and the Eucharist is my source of strength. Is Elizabeth asking me: Am I a sign of "joyful witness to love: the love of God, of one another and of all persons?" (Constitution #1)
There is so much that we can hear if we really listen to Elizabeth because she walked many of the same paths as we do now, dependent on her God and loving friend. I think that as we embrace our call, we can say: thanks be to God for this saintly and valiant woman, role model and faithful disciple! 
More Charity Alive – September 2020
Charity Alive – August 2020