by Pat Wilson, Halifax, NS
Have you noticed that often life happens when we're planning other things? If we are in the right space, we enter into a whole new experience than the one we expected. On any ordinary day, we meet people, see new places and experience life in brief or prolonged encounters. Eventually a small awareness comes to light and joins together with others to expose a new insight or relationship which is life-changing. Maybe it's a different "take" on the scripture that reminds us "let those who have ears to hear –listen." Or it's encouraging those who have eyes to see, to see!
Many times it is the "Other" that impacts us in this way – people, places, art, music, a simple word, a crushing experience – which comes tiptoeing quietly into life, weaving a connection that will never be broken.  
Perhaps the stories below will allow us to open up a time when our own lives have been touched by the "Other", revealing what William Blake relates in his poem, "Heaven in a Wildflower"…
To see a world in a grain of sand,
and heaven in a wild flower.
To hold infinity in the palm of your hand
And eternity in an hour
Strangers Who Became Friends:  Weaving Friendship, Love, Trust & Faith
Sister Marie LaBollita, Massachusetts
Throughout grade school, from kindergarten through high school, as a child of a traditional white, Catholic family with strong family ties, I was fortunate and blessed to experience cultural, racial, and religious diversity. I took it all for granted in those days. Little did I know at the time that this gift had and continues to have a transformative effect on my life.
One recent experience comes to mind. In my neighborhood, transitions are quite common every few years, often young couples moving from leasing the apartment next door to buying their first home.
In late August of 2017, an Indian couple with two young boys moved in next door (The Karwals). Fran and I felt the hospitable thing to do was to welcome them to the neighborhood. The wife (Jyoti) and her husband (Lovkesh) answered the door with big smiles. They immediately introduced their sons Lovjot, (14) and Kushjot (10). Warm greetings and smiles were shared.
We engaged in the usual pleasantries, briefly sharing our respective backgrounds. Lovkesh was quick to let us know they were a spiritual family grounded in God and the Sikh religion. Much to our surprise, they were very eager and comfortable talking about their faith tradition and wanted to learn about ours. We were invited to join them for tea on the following Saturday evening so that we could further "talk religion and faith". I had a very rudimentary knowledge of the Sikh religion and culture and Indian customs. Much to learn! Through these lively, respectful, engaging conversations, we found common ground: belief in one God, human equality and universal love, in service to all. Prayer and meditation were the foundation of both our belief systems.
Over the course of two years, there were many conversations over tea, family birthdays and relatives visiting from India. 
One evening, an unexpected request came from Jyoti and Lovkesh: "Would you consider being American grandparents to our sons?". (Gulp!!) In Indian culture, Fran and I were considered "wisdom elders" that would guide family members on life's journey. It was a moment of utter shock, coupled with feelings of humility and awe! 
Kushjot and Lovjot spent numerous hours in our home. Over hot chocolate or ice cream, heart to heart conversations ensued as they tried to balance family and religious customs with their experience of American customs practiced by school friends. Their youthful maturity in talking about their struggles and how they viewed the meaning of life touched me deeply. 
Little did they know, (and I quickly shared), that their deep spirituality and trust had such a strong impact on my life's journey.
To this day, at the end of phone calls or visits from one of the Karwals, blessings are shared soul to soul.
Oddly enough, the strangers who met on that hot August day became close friends, dare I say, family! 
The Karwals created a profound, new beginning in me, filled with unimaginable inner riches! 
Loves Changes Everything
by Sister Nancy Brown, British Columbia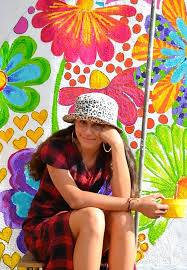 Over the years, many young persons have crossed my path, but none have grabbed my curiosity, delight and appreciation as Sofie's energy and creativity have. Her dedication, talent and purpose to help those oppressed has not only been a source of inspiration but encouragement to continue to support her and other youth initiatives focused on positive change in our global family.  
Several years ago, while assisting Sister Edna selling her Notes of Hope cards at a CWL convention in Abbotsford, BC, I was attracted to the creative art display of Sofie T. Roux. Realizing that she, a grade eight student at Crofton School in Vancouver, BC was raising money for water wells in rural Malawi, Africa, I immediately made several purchases, including a card for Sister Maureen Wild.   
Recently, I received an email from Larissa Roux, her mother, sharing with me a Ted talk that Sofie had produced and explaining how her project had expanded. All proceeds from her sale of art projects are funnelled into sustainable initiatives that advance girls' educational opportunities in Africa. In the future, Sofie dreams of being an architect to combine art and science in solving some of the challenging problems in our world today. 
I invite you to watch this TED talk and learn more about this amazing young woman who has given me hope and energy to keep spreading the seeds of love as love does change everything. 
Visit Sofie's website
Sparkly and SmART
Sparkly and SmART is a social enterprise, crafted with love and fuelled by purpose. It centres around handmade joyful art, brought to a line of cheerful paper and textile goods. All proceeds from sales of these goods are directly funnelled into sustainable initiatives that advance girls' educational opportunities in Africa, by reducing barriers that stand in their way.
Visit Sofie's website
Sister Susan J. Smolinsky, New York
It was at Mass in 1974 that I first heard the Black National Anthem "Lift Every Voice and Sing" – a poem written by James Weldon Johnson in 1899 to commemorate the birthday of Abraham Lincoln and which was later put to music by his brother John Rosamund Johnson. In 1980 the Anthem was the processional song for my perpetual profession of vows on the Feast of Corpus Christi:
"Lift every voice and sing, til earth and heaven ring,
Ring with the harmonies of liberty;
Let our rejoicing rise, high as the listening skies,
Let it resound loud as the rolling sea.
Sing a song full of the faith that the dark past has taught us.
Sing a song full of the hope that the present has brought us.
Facing the rising sun, of our new day begun.
Let us march on til victory is won.
God of our weary years, God of our silent tears,
Thou who hast brought us thus far on the way;
Thou who hast by Thy might, led us into the light,
Keep us forever in Thy path we pray.
Lest our feet stray from the places, O God, where we met Thee;
Lest our hearts, full with the wine of the world we forget Thee;
Shadowed beneath Thy hand, may we forever stand,
True to our God, true to our native land."
In 1974 God invited me to serve the people of God of St. Clement Pope Church, an African American parish located near Kennedy airport in New York. I was led to the family of faith that continues to shape me into the Sister of Charity God has called me to be.
I was awed on my first day to pray in a church that had been totally remodeled to reflect the African culture of the worshipping community. I was greeted by Mrs. Josephine Guy with warmth and enthusiasm – and 46 years later Jo is someone I continue to treasure in my life. Jo was a natural leader then and is a revered elder now. She encourages and inspires me to be like her: a woman of the Gospel and a witness to Truth.
In 1946 Jo began her career as Principal Clerk for the Department of Security Council Affairs on the 35th floor of the United Nations in NY. At the UN Jo worked in, and simultaneously helped build, a tangible testament to God's great gift of human diversity. She lived her life so that this gift was cherished, taught and nourished. The continuing, challenging call to see and hear all people as the living Body and Blood of Jesus the Christ is reverenced and voiced by both of us to this day.
Thanks to the blessing of Jo in my life, I'm wholeheartedly a part of choirs everywhere that are singing with renewed fervor "Lift Every Voice and Sing"!
A Lesson Taught and Learned
by Sister Cathy Stare, New York
I served as a section leader for a course, Medicine in Contemporary Society, at a local medical school.  The course addressed topics pertinent to medical students who were looking forward to spending their professional lives as physicians. Conscience and patient autonomy, perceptions of disabilities, boundaries, and confidentiality were among the topics presented by the faculty. The faculty, composed of medical doctors and other professionals from the community, met every week before class to review the material that would be presented and discuss the pedagogy they would use. 
The topic this particular week was professionalism.  At the pre-class faculty meeting, Tracey, an anesthesiologist, told this story:
Tracey was part of the team that had assembled in the operating room and was ready to begin the procedure. Everyone was moving around the operating room, doing whatever they needed to do so the surgery could begin. The surgeon, realizing that he needed some equipment to begin, turned to Tracey and said, "Hey, hon, would you get me some 14-gauge needles?"  Tracey is Black.
Everyone in the operating room stopped dead in their tracks. No one uttered a sound. How would Tracey respond?  After a few seconds passed, Tracey turned to the surgeon and said, "I'd be glad to help you out. I just need some time to put this woman to sleep so you can operate on her." 
The operation went on and the patient did quite well. The nurses and other doctors in that room got an insight into Tracey's life as a physician: mistaken often enough for a technician, a phlebotomist, or an aide. Tracey's response let us know that she had responded to comments like this one many times before. The medical students who were there learned a good deal more than how to suture correctly.
The surgeon never apologized to Tracey. Perhaps now, several years later, he has had some insight.
After listening to Tracey tell her story, I hope I am a bit more wary of the assumptions that I make.
Encountering "Others"
by Sister Jolaine States, Nova Scotia
The popular or more common account of encountering other is that of being immersed in another language, country or culture and one's subsequent response to that immersion experience. I, however, wish to discuss the experiencing other as racism and its impact on my psychological sense of self, identity, safety and security. To do so I must first set the psychological context.
Theorists postulate that humans are born psychologically egocentric. They are embedded in the world and not differentiated from their environment. Growth and development involves a process of differentiation–a gradual movement of psychological awareness of "self" to a perception of "other". Once the notion of other becomes established, the self engages with the other, thus forming a relationship.
These early encounters occur in a warm, nurturing holding environment of family and local community. This holding environment or culture of embeddedness helps the individual develop a template of self identity and to understand and interpret ongoing life experiences in relation to self. The longer one's identity is nurtured in a supportive environment the better one is able to cope with and is less likely to be traumatized by hostile encounters. For me such an encounter occurred with my advent into school.
September 1960-my first day of school! I can hardly contain this exciting tension as I wait for class to begin. Finally! The bell rings and the teacher walks in. To me, she seems very tall, has blonde hair and a very pale White face.
She looks so stern and serious as she walks about the room. It becomes very quiet. She stops, points at a boy sitting in an individual desk and tells him to stand up, pick up his pencils and papers and wait. She does the same to another child and another child and another child and so on. She nears my desk so I lower my head hoping she'll pass me by. No! Like the others I am summoned to stand by my desk and wait. Having completed her circle of the room she tells us who are standing to go to the back of the classroom. We did so.
Two long, low tables sit at the back of the classroom. She tells several of the children seated at the tables to go sit at the desks we had occupied . She tells us to go sit at the tables. With the completion of this process only White children are seated in desks and only Black children at tables.
While I cannot quote her, her message was that we were stupid, bad, didn't belong there and didn't deserve to sit at desks. Crestfallen and greatly confused, I try to understand her message to us. I come up empty.
Over the next several months I tried so hard to be good to earn a seat at the much coveted desks. It did not happen.
So here you have an account of my first conscious experience of the hostile other of racism. It was traumatizing and an assault to my burgeoning self esteem and self identity. Psychologically, my identity template suffered a disfiguring wound. Authority told me I didn't measure up, I didn't belong and I didn't deserve. While I actively sought and seek to disprove and dispel this judgement the wound never fully heals as encounters with the larger environment frequently and sometimes unexpectedly reinforce this vulnerability. Would that racism, discrimination and abuse of power be eliminated but rather, we learned to greet each other in right relationships as equals.
Shared experiences, lifelong connections 
by Melissa Falle, Nova Scotia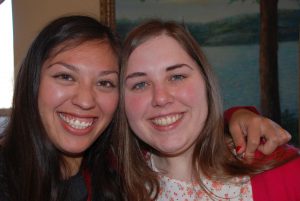 I find myself being thankful for social media more and more these days. Social media allows me to stay in touch with people that I have encountered and may never see again in real life — like people I met during Vincentian service experiences.
I have participated and lead service trips with the Sisters of Charity and each trip has netted a lifelong friend–one such friend is Erica Esparza. I met Erica at the House of Charity in New Orleans, LA in 2011 during the annual Sisters of Charity Federation experience. She was from Texas, spoke Spanish and was a few years younger than me.
We did our five days of volunteer work and community living and then said our goodbyes. We became friends on Facebook and I thought we would never be in the same place again. A year later, I was on the planning committee for the Living Charity Volunteer Program in Halifax, NS at Seton Spirituality Centre. I reached out to those I had met at the House of Charity and invited them to apply. Erica applied and came to Halifax for two weeks to volunteer at various ministries that the Sisters of Charity were/are connected to. I would say we became lifelong friends during the Living Charity experience.
We are both moms now so we share Montessori inspired learning activities that we can do with our children who are close in age. Sometimes we just "like" each other's photos and that keeps us connected and somewhat updated on where we are in our lives.
Last year, I celebrated Día de los Muertos and Erica helped me design the altar for my dad. It was a healing experience to participate in this Mexican tradition. 
I am hopeful that I will see Erica in real life someday and that our children can meet! Until then there is Facebook and Instagram!
More Charity Alive – September 2020
Charity Alive – August 2020