This year, 2020, there are three sisters who are celebrating their 95th birthday. We thought it might be good for you to meet them.  From each one, we gain a little insight into the amazing diversity present in our congregation.
Thank you sisters for sharing your lives with us. We wish you every blessing in this special year of celebration.
Sister Theresa Burbridge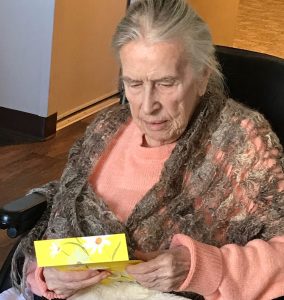 Theresa (Tese) Burbridge was born in New Brunswick in February 1925 and has lived for the last 35 years in Ottawa, ON. As a young sister she ministered as a home economics teacher and then as a dietician in North Sydney, Halifax, and Westlock, Alberta.
In her earlier days in Ottawa, you could find her walking along the streets of the capital city chatting with everyone on her path. She lived in an apartment on Queen Elizabeth Drive overlooking the Rideau Canal and found the view from her window fascinating, the place to see the everyday comings and goings of the population below.
When you hear that one of her close friends was Sister Lucile Feron you can imagine the lively discussions of politics, travel and world events that are part and parcel of who Tese is. Today Tese continues to value family and takes special interest in her nieces and nephews. She also stays in contacts with several SC friends through long phone calls.
Sister Agnes Catherine Coyle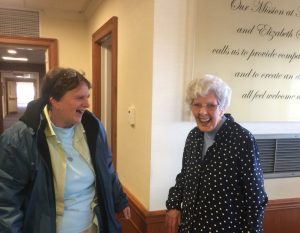 Sister Agnes Catherine turned 95 in January. In the beginning of 2020 she told her story in an oral history interview for the archives.
Her story begins in Dorchester, where as the middle child of ten she was often seen accompanying sisters in St. Peter's Parish, where she attended grammar school. Her older sister, Catherine, entered the convent 10 years ahead of her, and as soon as Agnes graduated from St. Patrick's High School in 1942 she was off to join the Sisters of Charity – Halifax herself. 
Early missions included teaching in Our Lady of Angels, Brooklyn, St. Agnes, New Waterford, and several schools in Massachusetts.  Her formal work in nursing followed volunteering in The Martin one summer. In her fifties she went to Boston City Hospital for her LPN. It was then that she found her true calling. In 1976 she moved to Wellesley where she found her niche in caring for those in Elizabeth Seton Residence and especially spending time with those who were dying.
A special blessing for her (and for those she served) has been her work with the dying. For her it is a matter of not letting people die alone. In this time of pandemic we are more aware than ever what a compassionate act of love that is.
Sister Carol Downing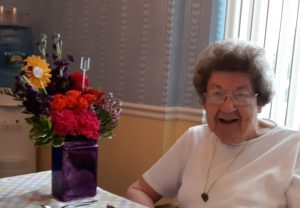 Carol Downing was originally from Manhasset.  As a young adult she worked in Manhattan.
She was going for Spiritual Direction at Fordham and her director, a Jesuit suggested she look at our congregation. The rest is history.
Carol has lived and served in both in Canada and the US and says Vancouver was her favorite. "It's just so beautiful."  Carol was assigned to the Motherhouse to work with the many music needs there in the early sixties. She also worked with the students at Mount Saint Vincent Academy.  After that time Mother Maria Gertrude offered her the opportunity to study in Florence for a year. She remembers it as a wonderful time.
When she returned to New York she was sent to Saint Aidan's and taught second grade. She has always had a love for preparing little ones for first communion. As to her long life, her father lived to be 98 and her sister who died last year was also 98. She definitely expects to reach that age herself! Others have said her interest in what's going on, her caring, generous spirit, deep faith life are other factors that keep her going strong. Her love for chocolate may or may not add to her zest for life and length of years.
More Charity Alive – September 2020
Charity Alive – August 2020