This year, 2020, there are eight Sisters who are celebrating their 90th birthday. We thought it might be good for you to meet them. From each one, we gain a little insight into the amazing diversity present in our congregation.
Thank you Sisters for sharing your lives with us. We wish you every blessing in this special year of celebration.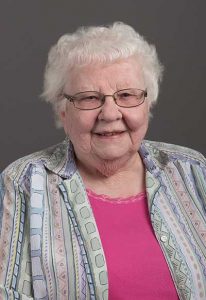 Sister Margaret Chisholm
by Sister Alice Mailman
Sister Margaret, a "Farm Girl", was born on a farm in Havre Boucher, NS, the only girl with five brothers. Extremely active on the farm, her main duty was milking the six cows with her mother early each morning and evening.
Sister Margaret met our Sisters in high school and the rest is history. Her missions included Halifax, NS, Vancouver, BC, Westlock, AB and Port Hawkesbury, NS. Her main duty was teaching but she also taught CCD and cared for the altar boys. While teaching in Port Hawkesbury she also cared for her mother during her illness and later an ailing brother.
Sister Margaret enjoyed all her missions, but her favourite was in Westlock. She found the experience of Western Canada particularly interesting in contrast with her home province on the east coast. Another highlight was the unique personality of Msgr. Rooney being like a God Figure! Although being from PEI, Msgr Rooney spent most of his life in Westlock totally loved by the Sisters and all the people.
Sister Margaret attributes her long life with growing up on a farm. Lots of activities, breathing clean air, eating healthy food and having a mother with a wonderful hardy laugh! Sister Margaret has inherited her Mom's laugh.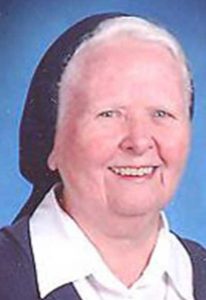 Sister Ellen Donovan
by Sister Roberta Kerins
Sister Ellen William is a native of Massachusetts, an alumna of St. Patrick School in Roxbury. Sister Ellen is one of those unique individuals who are "lifers" with the Sisters of Charity – Halifax. From early years in primary school through senior year in high school Ellen fell under the influence of the Sisters of Charity at St. Pat's. She claims she can't recall a specific time in life when she actually decided to enter the community. It just seemed a natural transition. So, in 1947 Ellen began the journey with the Sisters of Charity – Halifax.
Sister Ellen's prime ministry has been in early childhood education. This has taken her from Halifax to Cape Breton, NS, then back to Massachusetts, where she served at St. Margaret's, Dorchester and St Joseph's, Needham. Then, for almost 50 years, Sister Ellen taught and tutored at St. Patrick's in Lawrence, MA. Sister Ellen might be called a natural when it comes to teaching, especially little people. She has wonderful gifts to touch young minds and hearts, and the children loved her. When Sister Ellen speaks of her years in the classroom her eyes twinkle and her face smiles as she remembers this first love. The fact that her retirement ministry has been tutoring at St. Pat's is a testimony to that love. To Sister Ellen's sadness COVID-19 has put a crimp in her volunteer tutoring.
As Sister Ellen looks over the years her happiest memories are around community, especially those related to Cape Breton, NS. Her comment, that in challenging times "they had each other," says it all.
Sister Ellen presently lives in North Andover, MA, where she continues to keep in touch with colleague teachers and friends.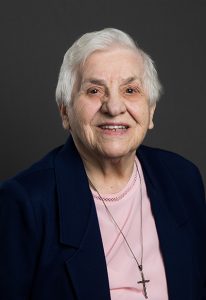 Sister Catherine Fortuna
by Sister Mary Sweeney
From a warm Italian family in Dorchester, where she was the youngest of five children, including her sister, Sister Paul Catherine (RIP), Sister Catherine Fortuna has brought joy to the people with whom she has lived and ministered in her 69 years in the congregation.
At 90, Catherine looks back at her life as a Sister of Charity and says, "I wouldn't change a thing." That statement would have been hard to utter when she entered the congregation. As one of five young women who planned to enter in February 1951, she, like the rest of the congregation, could not know the devastation that would occur when fire destroyed the motherhouse. Entrance for that group was delayed for two weeks while the congregation determined how to proceed. Adapting to circumstances became part of Catherine's mode of living.
Over the years, spent primarily as a teacher in classrooms in Massachusetts, Catherine has had numerous "side ministries," including an unexpected one that has brought her joy: raising money for good causes. Collecting green stamps and collecting deposits on cans and bottles over the years has enabled her to make contributions to many organizations. When she moved to Mt. St. Vincent, Wellesley, in 1993,Catherine's favorite mode for fundraising was selling "New to You" clothes.  The assortment of items came from various sources and delighted both sisters and staff, while adding to the funds for the Boston Food Bank.
Catherine is now a member of the Cenacle Community in Wellesley.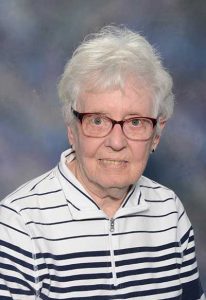 Sister Barbara Lynch
by Sister Roberta Kerins
Sister Barbara Lynch, who will turn 90 in November, is a Brooklyn girl. She met our Sisters at St. Sylvester School. As a young high schooler Barbara was not thinking about entering until Sister Thomas Therese, her former 7th grade teacher, suggested she consider it. That she did. After working a year after high school, Barbara made up her mind to join the Sisters of Charity – Halifax.
Sister Barbara's early ministries were involved with primary teaching.  In mid-life she decided to pursue an entirely different calling – nursing. She became a Practical Nurse, first. Then, she went on to further studies, eventually earning a nursing degree and her R.N. Sister Barbara did private duty nursing both while studying and afterwards. Her final, and beloved place, was serving at the assisted living residence of the Amityville Dominicans on Long Island, NY. She claims many friends from those days. Many friends from past ministries claim her.
Sister Barbara may have retired from full time ministry but over the years, and presently, she has been involved in a number of volunteer opportunities. Early on she traveled to Lourdes where she worked in the baths. At the time of the tragedy on 9/11 Sister Barbara for months took the subway to lower Manhattan caring for those who were working "on the pile." Today, though constrained by the COVID-19 restrictions, Sister Barbara is a volunteer with LifeWay Network and a Long Island soup kitchen.
Sister Barbara expresses great gratitude to many of the Sisters with whom she has lived. Her happiest times involved her experience of community. She is grateful to the Congregation for both her sabbatical opportunity and her trip to the Dominican Republic as part of Global Connections.
Sister Barbara is a New Yorker's New Yorker. Except for her time in Halifax, NS, and a short stint in Wellesley, MA, Barbara has served in the New York area. This she claims was a gift to her family and herself.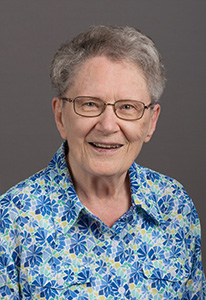 Sister Marie Merrigan
by Sister Kati Hamm
Sister Marie Merrigan (Michael Gerard) is a native of Halifax, Nova Scotia. She entered the Sisters of Charity in 1948 and made her first profession in 1951 at St. Joseph Convent. As a young sister she was missioned to Our Lady of  Cenacle in Richmond Hill, NY where she had the experience of huge classes (70-80) in addition to the regular responsibilities of every day living. After eight years she came back to Canada – to Sacred Heart Convent in Bathurst, NS, St. Anne's in Glace Bay and Dartmouth. After completing her degree in Counselling at Boston College she transitioned to ministry as a guidance counselor and then pastoral ministy. One of her favourite ministries was working with the school community in John Martin Junior High, Dartmouth. Before coming to Caritas in 2012 she volunteered for many years with Seniors.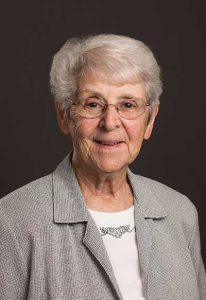 Sister Doris Schoner
by Roberta Kerins
When asked about her life, her 90 years, Sister Doris Schoner's first word is "blessed". She names the blessing of her family, the Congregation, her ministries, and all the people who populated those memories. Doris grew up on Long Island, NY. She attended St Barnabas School in Bellmore, NY, a then new mission of the Sisters of Charity – Halifax. She feels her own vocation was influenced by the joyfulness of the Sisters, their dedication to their students, and that they were good teachers.
In 90 years Sister Doris' life had many incarnations. She began as a junior and senior high school science teacher, serving in St. Michael School, North Andover, MA, St. Margaret's, the Academy at the Mount in Halifax, NS. and Seton Hall, Patchogue, NY. Sister Doris served as principal at Mt St Agnes in Bermuda. On her return to the United State Sister Doris transitioned to Chaplaincy and Pastoral Care at Our Lady Help of Christians. In 1982 Sister Doris took the brave step of becoming a missionary to the Dominican Republic. After mastering the language Sister Doris continued her ministry of pastoral care to and with the people of the DR. Her life changed again when she became the administrator of Mother Berchmans Centre in Halifax, NS. She served in that capacity for 17 years. In 2007 Sister Doris returned again to the States. She presently lives in Marian Community at Wellesley, MA.
Sister Doris speaks of blessings. She names the Sisters with whom she has lived as kind, caring, good models. She is blessed with deep and lasting friendships with both Sisters and those men and women with whom she served. Living among the people of the DR was a blessing. Their lives witnessed to a simplicity that was content with little and grateful for all.
One might say that Doris had eyes to see and a heart to welcome. She has been able to see the beauty in people and call it forth. Her stance of gratitude, her own simplicity, create space where all feel at home.
Sister Doris may truly give thanks for her blessings, but those who know her or have been touched by her know the real blessing is Sister Doris herself.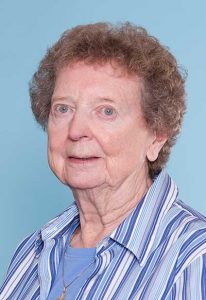 Sister Edna Walsh, From Coast to Coast
by Sister Nancy Brown
Sister Edna Walsh, born in Halifax, NS, moved west after her profession as a Sister of Charity – Halifax in 1988. She served in Kelowna for 10 years before venturing further west to Vancouver, BC, where she is currently living.
Her favourite ministry was at Surrey Memorial Hospital where Sister Edna loved the opportunity to be part of a team of volunteers offering energy healing, relief and comfort to patients with cancer.
Born into a family of teachers, poets, artists and musicians, Sister Edna's creative talent is evident in her love of photography, passion for reading, and desire to be with nature and her joy in feeding our hummingbirds weekly! Her famous "Notes of Hope" supported a ministry for survivors of domestic abuse. Her library of books attests to the fact that reading is Sister Edna's lifeline.
Although being surrounded by Sisters of Charity – Halifax throughout her education from primary school to her nursing training at the Halifax Infirmary, NS, it was Sister Clare O'Keefe who had the greatest influence and was truly her wise and faithful mentor.
One of the many highlights of Sister Edna's recent birthday celebrations was a Zoom call from Sisters and one of her directees who not only sang to her but spoke of their relationship to Sister Edna and each offered a special blessing. This encounter revealed how Sister Edna has become a wisdom person and mentor to many others.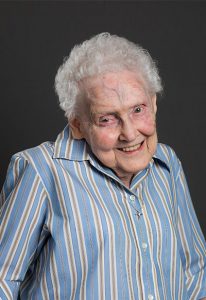 Sister Margaret White
by Sister Mary Sweeney
Sister Margaret White (Sister Margaret Pauline), the youngest of seven children, entered the congregation in 1948 from St. Margaret's, Dorchester. Over the course of her years in active ministry, she was missioned as a teacher in five different congregational provinces: New York (Staten Island and Westmont, NJ), Nova Scotia (New Waterford and Halifax), Quebec, (St. Foy) and Boston (Medford, Winchester, Wellesley).
It was during Margaret's first assignment (Staten Island) that an especially memorable event occurred: her apron caught fire. Fortunately, help was at hand, and all that was lost was her habit!
Margaret's longest stay was in Medford, where she was missioned for 31 years, long enough to teach her student's children, and long enough to introduce students there to computers. Fittingly, she was among the last sisters to live there.
One of the great joys of Margaret's life was to travel to Ireland with her father and her sister. It was her father's first trip back to Ireland, and Margaret was able to share her father's joy as he pointed out his place of birth in Waterford – a very special moment in her life.
After leaving Medford in 2000, Margaret moved to Immaculate Conception Convent in Winchester and then to an apartment, also in Winchester.
In 2009, Margaret moved to Mt. St. Vincent, Wellesley, where she resides in Our Lady of Fatima Community in Marillac.
More Charity Alive – October 2020
Charity Alive – September 2020