By Sister Maryann Seton Lopiccolo
On this 200th Anniversary of Elizabeth Seton's death and entrance into her beloved Eternity, she invites us to spend a few moments with her in the Valley of St. Joseph.
"Come walk with me…."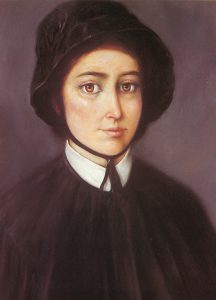 Welcome to the Valley, St. Joseph's Valley as I came to call it and which became home for me, my family and my sisters in many ways over the years.
It's a beautiful spot, this Valley in the town of Emmitsburg, lush and green, facing the mountains which lifted my heart in prayer each day. "I look up to the mountains, from where shall come my help? My help is from the Lord, both now and forever." (Ps. 121) 
The mountain was my solace and my strength as I followed the lead of our God's desire for this growing community and our endeavors to be disciples in a new way. Back in New York, I didn't see mountains but a city and her people. People who cared, who loved and supported me; who challenged me to grow and hold fast to my faith.
Our first stop here is the Stone House, a very special place in my heart for its new beginnings for us as Sisters of Charity in July 1809. Our formal founding was there and the joy of my heart at the first Eucharist celebrated in our small chapel; our first retreat and Council meetings – all in that small building we called home. Edging along Tom's Creek, we could gather fresh water for our needs and care of the sick and dying. We had much of that too. Again, a Psalm, "The Lord is my Shepherd…near restful waters he leads me to revive my drooping spirit and restore my soul…"
Yes, our God did all that for me then and for all my days.
Let's move on to the St. Joseph's Cemetery. Beneath these trees, on this holy ground, I and my sisters wept and grieved the loss of so many of our company. My own heart was broken as I laid to rest my oldest daughter, Annina, and then her youngest sister Rebecca, both taken from us too soon in their life's journey. But they and my sisters-in-law Harriet and Cecelia entered the glory of Eternity to prepare places for us all to follow. My own space beneath the old oak tree held my body until a special chapel was built. Now you may visit what remains of my simple life in the Shrine Chapel. Be sure to stop by!
A special place for us to stop is the White House, or St. Joseph's House as we called it. This became the hub of activity of our lives. We worked, lived, suffered, prayed and worshipped here until my passing in 1821. Here was born St. Joseph's Free School, the first free Catholic School for girls staffed by religious Sisters in the US. Alongside was St. Joseph's Academy for tuition paying students. A good business venture to be sure all girls were offered a much-needed education.
It was here that we all made our Novitiate and annual vows for the first time as Sisters of Charity in the tradition of St. Vincent de Paul and St. Louise de Marillac. This was the place of send-off for our first Sisters to go to Philadelphia and New York to begin ministry. Here the charism of Charity was born.
There are other special spots along the way in the Valley, but we'll leave those for our next visit. As I reflect on these 200 years since I left you all to enter my long-awaited Eternity, and see all that you as Sisters and Associates of Charity have accomplished, my heart swells with gratitude and pride for your faithfulness to the life of Charity and how you have shaped it to meet today's needs. You have followed my words to you, "Go to meet your grace" and "Trust in the Providence of God to lead you."
You are all in my heart and prayer.
Your Sister,
Elizabeth Seton
The Sisters of Charity Federation is hosting an hour-long virtual prayer event virtually on Zoom for the 200th anniversary of the death of Elizabeth Ann Seton, Sunday, January 3, 2021. Details will be provided soon on the SC Federation site here.
More Charity Alive – November 2020
Charity Alive – October 2020