We thought it might be good for you to meet our Sisters who are over 95 who have continuously evolved over their 7 decades of service and community within the congregation.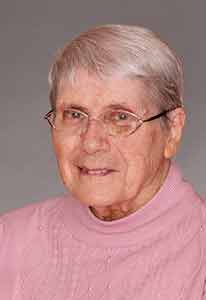 Sister Helen Balch
By Sister Alice Mailman
Helen Balch, S. Helen Joseph, was born in Kentville, NS in 1924. She was the oldest of three sisters. Living very close to the train tracks, she enjoyed watching to see if there were any Sisters on the train as it passed. After high school Helen worked in an office for seven years. She was invited by a friend to go on a retreat at the Motherhouse. It was during that retreat that she became acquainted with sisters and decided to join them.
Helen's first mission was St. Sebastian's in Woodside, New York where she taught for nine years. After teaching for a few more years in Nova Scotia, Helen returned to using her office skills in places such as the Halifax Infirmary in the payroll office, in Pax as Provincial Secretary, in the Motherhouse accounting office and then as Provincial Treasurer. She moved to Caritas Residence in 2011.
She began writing poetry on her first mission and thanks God for the inspiration for anything she creates. This is one of Helen's poems.
PEACE
Last night I watched the moon rise over the hill.
The trees like soldiers stood so very still.
The air was crisp, the snow was deep.
It seemed all nature was asleep.
And then I felt that time itself stood still.
As God with peace and love my soul began to fill.
He smiled on me in the pale moonlight,
As I gazed at the beauty of the night.
Helen's sabbatical year in Galilee Institute in Arnprior, Ontario was a special time. Her retreat director, an Oblate from South Africa, became friends and corresponded for some time after. Helen attributes her secret to a long life to this belief: "God continues to care for me."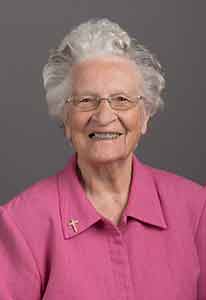 Sister Georgina Marie Christie
By Sister Alice Mailman
Georgina, S. Joseph Camille, was born in Youghall, West Bathurst, NB in 1921. Coming from a family of four girls, Georgina entered the Sisters of Charity in September 1938. Her first ministry was in Mount Saint Agnes Academy in Bermuda where she remained for twelve years. Her next ministries took her to Bathurst, Meteghan and Church Point. Her ministry consisted of teaching Grade 8 and serving as a Guidance Counselor.
Georgina's later ministry was cooking at the Home of the Guardian Angel.  She taught the young women to cook and spent endless hours listening to their many stories. They loved her and called her Georgie!
Georgina was very active in Pius X Parish in Fairview, visiting and bringing the Eucharist to those who were homebound. This included counting the Sunday collection along with many other duties at the church. She easily made friends with everyone. One of her favorite pastimes was walking. She and I climbed every hill in Fairview. It remains a passion of hers to this day.
Georgina spent years as community coordinator/visitor/companion for different communities at the Motherhouse. Her nine years at Elizabeth Seton Centre as staff member in Quebec was special to her. Her ability to reach out to everyone, those she met in Cursillo, those she met while ministering and today with those she lives indicates her gift of being a good and faithful friend.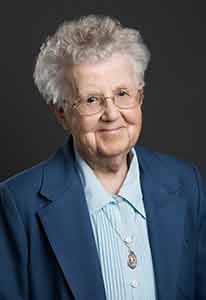 Sister Mary Harrington
By Sister Kati Hamm
Mary Harrington was born in 1924 in Lowell Massachusetts. She loved school and her first grade teacher at St. Peter's, Sister Gregorius, nicknamed her "Mary Sunshine". This reflected Mary's delight in going to school as contrasted with several of her classmates who spent the first few weeks crying. Mary attributes her positive disposition to her caring parents who made her feel loved and appreciated.
She loved all her missions beginning with Our Lady of Angels and on to many locations in Massachusetts including among them St. Patrick's in Roxbury, St. Michael's in North Andover and St. Francis of Assisi in Medford. On her 90th birthday some of her former 5th grade students from St. Michael's threw her a surprise party. It was a mutual admiration celebration that had begun over 50 years earlier.
An experience that stands out for Mary was being one of the ten names drawn in the lottery of the sisters in Massachusetts who could attend Elizabeth Seton's canonization in Rome in 1975. She'll never forget that experience. Besides the privilege of being at the Mass of Canonization she remembers the singing on the tour bus. She never hears the song, Volare, without remembering the bus driver and Maureen Murphy singing, and that happy time.
Mary feels her life has been blessed. She has often been surprised by the goodness in people and their generosity in offering to help. Although often she will say, "No thanks" because she wants to remain independent for as long as possible. She believes that when you are an optimist, life is much easier. In February 2021, Mary will be 97 years young!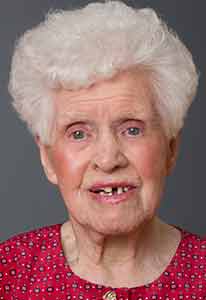 Sister Timothy Marie Hogan
By Sister Roberta Kerins
Sister Timothy Marie Hogan is one of the many "Valley Girls" who was born in Lowell, Massachusetts in 1921. Timothy traveled to Halifax in 1940 to enter the Sisters of Charity. Her first mission was at Our Lady Help of Christians Parish in Brooklyn, New York. To quote a former OLHC student, S. Timothy was the sister with the happiest face. She went on to comment that seeing Timothy in later years at Wellesley, "the sister with the happiest face" still applied. After a six years stint in Brooklyn, Timothy traveled back to Nova Scotia to teach for 20 years in a number of schools in the Halifax and Cape Breton areas of the province. Finally, in 1963, Timothy returned to her beloved Merrimack Valley, first as a full time classroom teacher and then as a volunteer teacher at St. Patrick's, Lawrence. Timothy retired in 1998 and moved to Wellesley in 2009.
Timothy is a woman of great spirit. In her 80s, when St Patrick Convent closed, rather than leaving Lawrence she and her two companions, Sisters Sheila Buckley and Rosaleen Dynan, chose to move into a nearby second floor apartment. There they continued to minister to neighbors and friends.
To better appreciate Timothy, one just has to look on the Sisters of Charity Facebook page and scroll down to Timothy's 99th birthday celebration. She has 150 "likes" and 51 comments, many from former students, all joining in with birthday wishes for this wonderful woman. Timothy, the woman with the happiest face, presently lives at Elizabeth Seton Residence in Wellesley.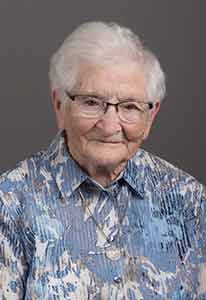 Sister Margaret McGaughey
by Sister Maria Sutherland
Could you break an apple in two with your bare hands? Well, Sister Margaret McGaughey could!
We thank Prince Edward Island for the gift of this alert, bright-eyed nonagenarian. Margaret (Sister Regina Louise) was born in Bonshaw, PEI, in 1922. Growing up in a farming family, she learned early the strong work ethic that has characterized her life. She learned to love the land and its creatures, and continues to love the country; it gives her life, she says. Living in a small rural community, she witnessed the value of cooperation and the importance of reaching out in care and concern to her neighbors. Margaret's favorite pastime is walking, and she still walks every day in the beauty of Creation around Caritas Residence.
Margaret wanted to be a nurse, but when she made her vows as a Sister of Charity in 1943, we needed a teacher and she was sent to Dorchester, MA, to teach Grade Two for three years. She loved all the children, but her favorite mission was at Aberdeen, Cape Breton. Margaret taught for 38 years, her final class the Grade Eight boys at Saint Stephen School, Halifax. The students enjoyed her sense of humour and her "straight from the shoulder" manner. She says that she never had a problem with discipline (remember the apple?).
After her retirement, Margaret served as Provincial Treasurer for six years, then turned to her first love, and began 21 years of service as a volunteer in nursing homes and hospitals in Halifax. She considered it a privilege to work in the Palliative Care unit, and cherishes it as her best years of ministry. The people that she met there, both other volunteers and patients, opened her mind, she says, to the depth of faith and spirituality to be found in all religions.
In 2009, Margaret moved to Caritas Residence, where she continued to volunteer with the sick for several years.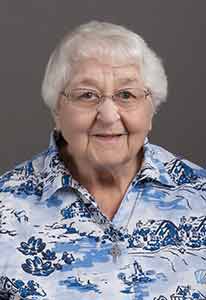 Dorothy Mulcahy
By Sister Alice Mailman
Dorothy was born in Halifax and comes from a family of six, three girls and three boys. She was taught by the Sisters of Charity all her school years and remembers from early in life wanting to become a Sister of Charity.
When she entered, Dorothy had her heart set on becoming a nurse but with her first mission in Saint Sebastian's, Woodside, New York, she fell in love with the young children. For the next thirty years she taught in many schools in Eastern Canada. In 1977, she was missioned to Our Lady School in Vancouver Canada.  She  later served as a  retreat director and later as a spiritual director  at the House of Prayer in Kelowna. It was her experience of the West and its beauty that made these years some of her happiest. While there she even learned to ski. In 1993 she returned to Halifax and served as Co-ordinator and then Treasurer at Mount Saint Vincent Motherhouse retirement centre. Dorothy came to Caritas Residence in 2008.
With deep emotion Dorothy says, "at age 96 in December 2020, it's interesting to look back over 73 years as a Sister of Charity with feelings of gratitude, happiness and fulfillment." Dorothy's secret to a long life  is taking her mother's advice: "Follow God's will, stay positive. Be grateful and be happy."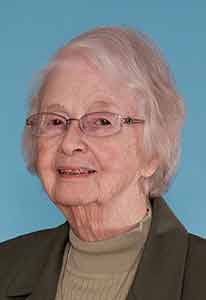 Sister Maureen Regan
By Sister Alice Mailman
Maureen Regan, Sister Rose Edward, was born in Windsor, Nova Scotia in 1923. She grew up in a family of four siblings, a sister and three brothers. Maureen went to high school at Mount Saint Vincent Academy and entered the Sisters of Charity in 1942.
Her first ministry was teaching Grade 1 in St. Sylvester's School in Brooklyn, NY. She returned to Canada after two years and then spent nearly thirty years teaching a variety of grade levels in schools in Nova Scotia and Quebec. She later served as Director of Novices at Herring Cove and to this day remembers Lad, the German Shepherd that was a faithful companion during her time there. Her last ministry was teaching English and providing outreach to immigrants in Dartmouth, NS. The friendships begun there lasted far beyond the classes.
One particular passion she enjoyed sharing with others was the study of the Enneagram Personality Test. She was an avid reader, loved literature and was able to quote poetry, which she often did while doing the supper dishes. I lived with Maureen on three missions and cherish the years we had together.
More Charity Alive – November 2020
Charity Alive – October 2020