Sisters of the Congregation elected a five-member Congregational Leadership Team for 2020 – 2026. The Congregational Leader is Sister Margaret Mary Fitzpatrick and the Councillors are Sister Joan Butler, Sister Joan Dawber, Sister Mary Anne Foster and Sister Mary Lynn Flett.  The leadership team assumed its role on November 21, 2020 following their installation ceremony.
In this edition of Charity Alive, we profile each of the leaders elected, ask what the Chapter Statement means to her, and to share a fun fact.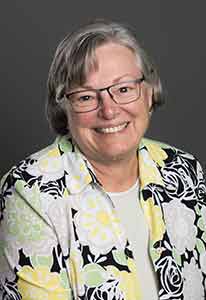 Sister Joan Butler, SC serves for a third leadership term and is one of the four Congregational Councillors. She previously served in 2002 and 2008, serving both terms as the Congregational Treasurer.
Originally from Glace Bay, NS, Sister Joan earned a B.Ed. from Mount Saint Vincent University, NS and a Diploma in Spiritual Theology from Regis College, ON.
Her teaching ministry spanned Canada and the US including the Yukon, BC, NY and NS within private and public schools including diocesan schools, co-ed schools, all girls' schools and all boys' schools.
For the past five years, she ministered at Caritas Residence, Halifax, NS as administrative assistant to those who serve as community leaders and coordinators for the Sisters of Charity – Halifax who live at Parkstone and Caritas Residences. In her role, she facilitated communication between the Sister residents and the Congregation, and assisted Sisters with technology needs.
She served on boards with the Canadian Religious Conference (CRC), the Legal Seminar at St. Paul's University and the Canadian Association of Treasurers of Religious Institutes.
What engages you most when you read the Chapter statement (and why)? 
I am particularly drawn to "explore how we can live more simply, both individually and communally."  I think that is the basis of my being a Sister of Charity…hopefully I will not get caught up in the materialism of the world and will see things through a perspective of simply relying on God! I also like the emphasis that we do this through a contemplative process.
What would be an interesting fact to share about yourself that others may not know? 
I love being outdoors and enjoy cross-country skiing.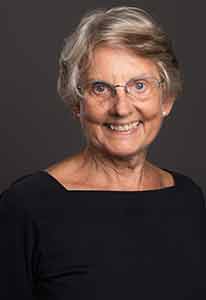 Sister Joan Dawber, SC is one of the four Congregational Councillors elected. She was born in Manchester, England. After moving to the United States, she graduated from St. John's University, Queens, NY with a BA in Human Services and an MA in Theology. She also holds a Masters in Pastoral Studies from Loyola University, Chicago, IL.
Joan worked in the Diocese of Brooklyn in New York as a Pastoral Associate for twenty years. During this period, she ministered in several Roman Catholic parishes providing services to parishioners and leadership to the surrounding community. She was especially attentive to poor and immigrant populations in these areas. In 2006, she began to work full time in an initiative to confront human trafficking and in March 2007, she incorporated LifeWay Network, Inc. as a not-for profit corporation.
Joan recently retired from her position as Executive Director at LifeWay where she worked in cooperation with others to create safe homes for victims of human trafficking in the New York area and to raise public awareness on the issues. She is the former co-chair of the New York Coalition of Religious Congregations – Stop Trafficking Of Persons (STOP), with a membership of 30 religious congregations. She serves on the Board of the US Catholic Sisters Against Human Trafficking (USCSAHT) and continues to serve on the Sisters of Charity Global Concerns Resource Team.
What engages you most when you read the Chapter statement (and why)? 
I find myself rooted in the opening paragraph. It expresses all the conversations and discussions we have had over the recent years that have brought us to a deeper place. It is a place where we express our diverse oneness with each other with and in God. It is not only a moment in time but rather an experience of myself being propelled forward into the future together.      
What would be an interesting fact to share about yourself that others may not know? 
I am a trained Spiritual Director and have practiced since 1993. It is a great blessing to walk with others in their journey to deepen their relationship with God.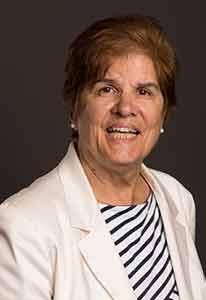 Sister Margaret Mary Fitzpatrick, SC Ed.D. is the Congregational Leader for the Sisters of Charity – Halifax. Born in Brooklyn, NY, she moved with her family to Wellesley, MA. The eldest daughter of five children, she met the Sisters of Charity at St. Paul's Elementary School and Elizabeth Seton High School. Margaret Mary earned a B.S. in mathematics at the University of Massachusetts, an M.A. in religious studies at Fordham University, an MBA certificate from St. John's University, Masters and Doctorate degrees in Education from Columbia University.
Missioned to New York, she served her ministry in education as campus minister, administrator and college president. She was an adjunct professor for 35 years in areas of mathematics, education, theology, religion & science. She is President Emerita of St. Thomas Aquinas College, NY. Her education ministry seems inherent following her family influences of her father, a college professor and her mother, a university secretary.
Margaret Mary has served her ministry and community through various community and professional board roles including the National Collegiate Athletic Association, Commission of Independent Colleges and Universities, United Way of Rockland, university boards of St. John's, DePaul and The Catholic University of America, Sisters of Charity Advisory Boards, and St. John's Bread & Life.
Described as an exceptional leader and amazing visionary, Margaret Mary assumes the role as 22nd Congregational Leader of the Sisters of Charity – Halifax. She has said her call to serve comes from God supported by her family, Sisters and friends. She loves to read and exercise, enjoys family and friends, and to respond to the cries of the poor.
What engages you most when you read the Chapter statement (and why)? 
I feel the power of the Spirit urging us forward.
What would be an interesting fact you can share about yourself that others may not know? 
I am a real game person, and grew up playing cards with my siblings and bridge with my parents.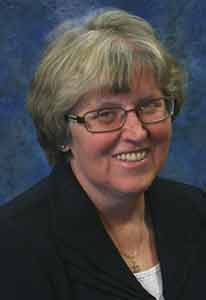 Sister Mary Lynn Flett, SC will serve as one of four Congregational Councillors elected on the Leadership Team. Born in Bathurst, NB into a blended family, she has three siblings more than 20 years her elder, one sister a year older and another nine years younger. She attended Sacred Heart School and Leblanc High School where she received a wonderful education from the Sisters of Charity.
Two events happened during her teenage years which had a profound impact on her life. First, the sudden death of her father. A painful and lonely experience, during this period Mary Lynn attended daily mass to help cope with her loss and developed a lifelong love of the Eucharist.  Shortly thereafter, her teachers organized a class trip to "The Mount." This second life event was momentous in providing Mary Lynn with a poignant memory of meeting the novices in the tennis court. She was moved by their sense of joy and comradery, and it was then the seeds of her vocation were planted.
She entered the congregation in September 1967 with twenty-three other young women amid a time of great change in the Church and in the world. As a postulant, she taught a catechism class in Enfield, NS and this was her introduction to a lifelong love and commitment to her education ministry.
She was missioned at the Formation House in Ottawa, ON and completed a BA at the University of Ottawa. While missioned to St. Veronica in Dorval, QC, she completed a B.Ed at McGill University. She earned an MRE degree at the Institute of Pastoral Studies at Loyola University, Chicago, IL. Her ministries included Queen of Angels Academy, Dorval, St. Vincent, Ste Foy, QC and Port Hawkesbury, NS. She concluded her education ministry, spending 29years with the Toronto Catholic District School Board (TCDSB). This included roles as Department Head, Chaplaincy Team Leader, Vice Principal and District Chair, and Religion Department Heads Association. A passionate educator and innovator, she piloted a school reporting system, lead modern technology initiatives, supported victims of trafficking, and helped students ban the sale of bottled water and fund education in developing countries. She gives thanks for the many Sisters she has served and worked alongside. She is filled with a deep sense of gratitude and hope as together they plant the seeds for the future.
What engages you most when you read the Chapter statement (and why)? 
That is a difficult question to answer because everything about the statement is exciting to me. As a Sister of Charity, I believe intrinsically we are change makers responding to the needs of the world, no matter what, who or where we are called. By the very charism of charity for which we are called, the Sisters live simply and they maintain who they are, giving joyful witness with every breath of their being. I am as excited to be a Sister of Charity today as I was when I entered, and I am excited to serve in this role. 
What would be an interesting fact you can share about yourself that others may not know? 
I love to collect angels.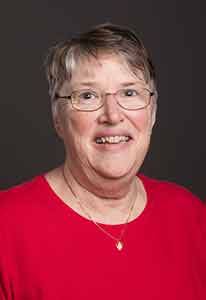 Sister Mary Anne Foster, SC is one of the four Congregational Councillors elected. She currently serves her ministry in Massachusetts as Treasurer of the Supporting Corporation at Wellesley and will retain this role alongside her leadership role.
Mary Anne entered the congregation in 1966, a member of the first group in Wellesley, MA. When she arrived at the Motherhouse eight years later, she felt as if she were  home. She has a BA from Salem State College and an MA from Lesley University. Her ministry in education included roles as teacher, assistant principal, guidance counselor and in administration.
While she thought she would be a teacher for life, her ministries have varied. She served in pastoral ministry in Chiclayo, Peru for seven years, leading small groups in the work of faith formation. In recent years, she enjoyed teaching workshops of hands-on healing, personal growth and development skills to adults. She also served as Provincial Secretary for the Congregation in Boston, MA.
She loves serving her Sisters and remarks it has been quite a journey since she entered. While hard to form into such few words, Mary Anne has felt the opportunity within her ministries to be challenged, grow and deepen her understanding of what it means to be a Sister of Charity. She feels blessed to have the opportunity to encounter and learn from so many wonderful people.
What engages you most when you read the Chapter statement (and why)? 
I love the opening statement that so simply reminds us of who we are and how we are called to live our lives as Sisters of Charity.  It's knowing that the Spirit is prodding us forward that we can commit ourselves to take on the challenges we face in today's world.
What would be an interesting fact to share about yourself that others may not know? 
I have a wonderful sense of direction and I love to drive, so don't be surprised if I show up unexpectedly at your door!
More Charity Alive – November 2020
Charity Alive – October 2020