by Sister Kati Hamm, New York
What the Spirit brings is love, joy, peace, patience, kindness, goodness, faithfulness. (Gal 5:22)
It's the beginning of summer, when many people's winter dreams of gardens are realized.The promise of spring gives way to lush green plants and flowering bushes with various shades of pinks, purples, yellows and reds. These assure us that life and light triumph even when we are in a time of pandemic. Many people we know are garden people. They love to be part of the cycle of planting, nurturing, weeding, watering and harvesting (and sharing) from the fruits of their labour. Fruitfulness is a sign of the Spirit.
Yet, this past week another reality came to visit, an explosion of outrage over the cruel death of another black man at the hands of those called to serve and protect. Broken covenants, repeated injustice, lack of reform and the sin of racism erupted into protests that sometimes became riots. It is hard to watch the protests turned to violence in a time so recently hailed as a new day in recognizing the common good, the gratitude owed to first responders and getting through a worldwide pandemic together. Certainly, this is a time when the Spirit is at work in people and places who speak truth, stand in solidarity and creatively move to announce solidarity and promise to bring about change. The Spirit is also present in the questioning, the praying and false starts to bring about healing and harmony. After all, many years ago we had been introduced to the Spirit as Disrupter "that turbulent twister of settled systems," Nancy Schreck.
As we consider Pentecost in this time, the presence of Love invites us again to consider how to live and love better, how to begin again to plant seeds of kinship, respect, forgiveness and humility. It reminds us that nature itself can teach us how: as seeds fall into the good soil, send out anchoring roots, breakthrough toward light and rely on providence for fruitfulness, so must we. "We are not now what we will be." These words of St. Vincent de Paul about his new Company are always a promise to those who have a vision of a peaceful and just society to trust even in the darkest moments. Happy Pentecost!
I am a Proud Gardener
by Sister Sheila Conley, Mississippi
Once upon a time while in my 30s I lived with a sister who tended our garden at St. Sylvester Convent. Ann toiled in the soil each day after school producing delicious vegetables. One year she had a bad back and asked me to till the soil for her.  "How do you till the soil?" From that first turn of the soil I was hooked.  Year after year I plot and plan what crops and flowers I will grow. I even keep a diary! No matter what kind of day I have had when I don my garden clothes, I happily plant the seeds, weed, water, cultivate the crops to my heart's content. Nowadays I plant crops that we enjoy for our meals, fruit for our cereal and flowers for our prayer room. No garden chore is a burden.
The many different kind of plant holders I use – milk crates, cloth bags, large feed containers require a good amount of soil. Most of the soil in the containers comes from the compost piles I tend year-round. I have three pits and one compost bin on the property that receives 1-part green (food scraps) and 3 parts brown (leaves, shredded paper, old crops leaves). It is true when they say, "Black Gold."
Gardening brings me such peace, joy and satisfaction. Because of the warm weather here in Mississippi and with the help of my greenhouse we enjoy God's bounty for months on end.
Random Acts of Nature
by Carrie Flemming, Nova Scotia
I have memories of being around gardens my whole life. My Grampy was an epic vegetable gardener, even more so after he retired. I remember the treat of picking and eating carrots right out of his garden ("Just brush that dirt off, it's fine."). Thinking of that garden also reminds me of my grandmother frantically trying to figure out what to do with the piles of fresh vegetables he would deposit on her kitchen counter. It was only the two of them and even my Nan could only make so much Hodgepodge.
In spite of the veggie garden influences, my true love is flower gardening. At home, I always looked forward to helping my Mom plant her annuals in the front yard. She eventually let me help pick out the flowers too. No surprise that pictures from those years show her gardens filled with shades of pink and purple.
When Joe and I bought a small home of our own, I started with annuals, but through the wisdom and guidance of an expert gardener friend, I discovered perennials. I was very proud of my small gardens and spent hours tending them. That is until my plant babies took a backseat to my own babies for a few years.
Three years ago we moved to the beautiful community of Ketch Harbour, NS. The previous homeowner had spent 40 years gardening and planting trees and shrubs that we now get to enjoy. What a joy it has been watching it all reveal itself to us. The first year I would wander the yard, coffee in hand, discovering what new surprises the gardens had in store that day. There were plants I recognized, and also many "wait and see what that turns into" experiments. More times than not, those experiments resulted in the discovery of a new weed. I confess some of them stayed anyway, at least until they finished blooming. I've never really believed in the hard and fast weed vs. plant line. Who makes those rules anyway?
I must confess that I'm hardly an expert gardener, and my weeding leaves much to be desired. But as we approach our third summer here, I'm happy to say I've started to make these gardens my own, and am more familiar with their ways. I've discovered that red currants are lovely on vanilla ice cream. I've also learned not to get too attached to the few hyacinths that come up under the forsythia, as the next day they will likely be nothing but nibbled stems. To the hares and deer that visit, my gardens are but a lovely salad bowl. Their visits, and those of the birds and squirrels, have brought additional joy to our yard. And I'm happy to report we're supporting a collection of bumblebees that Joe describes as "the size of Volkswagons".
I think of our gardens as a collection of "random acts of nature", be they plant or critter. Spending time in the midst of their sights, sounds and smells constantly revives my sense of wonder, and brings peace and joy to my heart.
Humble Gardening Beginnings
by Mary Flynn, Nova Scotia
Some people are born with a green thumb, a natural ability to make plants thrive, and then there's me. I first became involved in the Mount Saint Vincent University Community Garden in the summer of 2016 when the Garden Coordinator, a MSVU student, stopped by the Sisters of Charity Centre to invite interested staff to become involved. The Mount Community Garden includes individual plots tended by students, staff, faculty, and community members and communal plots that are jointly tended. The produce from the communal plots is sold by donation or given to the Mount Wellness Pantry.
My humble gardening beginnings were learning the difference between the sprouts to weed and the sprouts to keep. After a summer of volunteering to weed and help out with the communal plots, I put my name on the waiting list for a plot and in the summer of 2017, I had my own small raised bed to call my own. Over the past three summers, I've had successes in bounties of green beans, beautiful edible flowers, and fragrant fresh heads of garlic. I've spent months tending to some crops, only to have them not come to fruition. You can do your best and do everything right and the beet seeds might never germinate.
Gardening has given me a greater appreciation for the skill and labour that goes into growing food and the patience required to wait for your investment to hopefully pay off. For me, gardening has been about learning the balance between having a tidy plot versus unknowingly weeding all of your tiny carrot sprouts because they look like grass. It's fending off slugs so that you can enjoy a ruby red, ripe, warm strawberry fresh from the vine. It's googling "which end of the garlic clove do I plant down" my first fall. It's stepping away from the computer on my lunch breaks to put my hands in soil and water my plants and fend off the Mount deer from breaking into the garden.
In 2019, I was joined by the new Caritas resident Sister Nuala Kenny. Her gardening experience and boundless enthusiasm have helped transform our tomato and herbs into flourishing plants. I'm grateful to have Sister Nuala in my community of generous gardening mentors.
With MSVU closed for the pandemic, the community garden is closed too. I've shared some seeds to friends who have caught the gardening bug while staying at home, but I hung onto some out of the hope that we'd have a gardening season this year. I'm looking forward to my return to gardening, whenever that may be.
Why I Garden
by Sister Margie Gillis, Cape Breton, NS
Growing food helps to make sense of life, especially these days.  For me it is both an act of resistance and an act of creativity. Growing and eating local food (rather than consuming global industrial food) is the doorway to:
community resilience and strength
good health and vibrance
local control and decision making
viable economies
Growing local food feeds our souls and spirits and is an antidote to many contemporary societal ills and injustices. That's why I have a garden!
Gardens
by Sister Phyllis Giroux, British Columbia
It was all mom's fault. She seeded the love of plants and gardening in me and all my sisters. Till she died she had myriad pots on the back porch, where she would fuss with them from her wheelchair. At this point, I am convinced that love of earth and plants is genetic!
Most of my life, the schedules and have-to's of ministry didn't leave much time for gardening … till 2010 when I came to Kelowna, to a house with lots of room in the front and back yards in which to play the gardener. I like the feel of dirt; it's like getting into something very basic, very real, and very essential. I love to see the first sprouts of seeds coming up. Sometimes you know what will come up; sometimes not, but that's the fun of dealing with mystery.
Now I live in a dwelling where only potted plants are allowed, and it's amazing what you can grow in pots! I love flowers, so planters and pots of flowers are wherever there is room in the front of the unit. The deer make regular visits and have "tasted" a lot of flowers. Did you know that garlic powder is not one of deer's favourite scents? Flowers sometimes look funny, but at least they are intact! Along the side I have a 6 X 6 netted deer cage with pots of vegetables that I like – peas, tomatoes, strawberries…..
I'm quite taken with succulents at the moment. Their shapes and colors are awesome for what most people consider mundane desert plants. I have several dish gardens of succulents, held in-house till warmer weather comes when they'll get some of their native sunshine.
I find gardening is a very reflective activity. The life force is so strong in the seed, a mini-miracle of sorts. You can assist the seed and plants but you have no power to make them grow, a good reminder of your creatureliness. And it matters not what kind of flower is born, every one is a little bit of beauty. Metaphor, anyone? And if old age doesn't teach you patience, plants and seeds will. Seeds take a long time to reveal their promise, if the birds don't feast first. I hope that when I get to the pearly gates, I will be assigned the garden. Joy, big time!
An Urban Gardener
by Sister Roberta Kerins, New York
This is a tale of seeds, last year's seeds. They were stored on a whim with surprise coming in their rediscovery this Spring. Having been scraped off a paper towel, there was little expectation for growth, but "what was there to lose?" Sometime later, not long, their seeded heads peeked out from dirt, testing the friendliness of this new environment … and they grew, all 18 of them! Some plants were shared, while others found a home in this Rego Park slip of soil.
The tale continues of three tomato sibs.
This smaller of the three (#1) popped its head up with the others but just remained a very small plant, hardly identifiable. While the others filled out and grew tall, this one remained just a wee plant. Would it ever grow? Maybe. With the sprouting of a third leaf its time had come to go out with the others. Over a couple of weeks, it has filled out a bit but remains quite small, close to the ground, but healthy looking.
Another of the three has thrived (#2). It reaches to the sun like a pro and has already sprouted some buds, promising a wonderful harvest.
The last of the three struggles (#3). Its leggy stalk needs support while its color does not project wellness. However, even with this one, when looking closely at this stalk little shoots of leaves can be seen also stretching to the sun. It's like the little train that could. "I think I can, I think I can." Perhaps?
So, I garden because these wonders of nature speak to me. The seed itself is its own miracle. It waits for its awakening. A little soil and a little moisture quicken the life within, setting in motion a process of unimagined complexity and beauty. Then these very plants themselves – one seemingly with ease grows and flowers. Even at this point, it preens, promising a rich harvest. The other is beautifully small. It promises nothing but itself, and that's enough. The third is having a hard time. Its leaves are sparse. Its shape gangly. Produce seems unlikely, but possible. However, its drive for life is its own lesson – Wonder-full!
For this urban gardener, that specks of seeds can be transformed into wonders of beauty leaves me in awe and deeply appreciative of the eloquence of the garden's message. Its magic reveals life in the smallest of spaces and echoes again and again, "It's all about life, It's all about Life!"
Gardens I have loved provided food and ambiance.
by Sister Joanne Kmiec, Massachusetts
Why I garden: exercise, fresh air, eating food grown in land free of contamination: soil devoid of pesticides  and harmful chemicals. Flower gardens that contribute to our places of prayer: chapel and prayer corners.
Plants of my youth 1940's were brought to Wellesley in 2000's.
One Gives Thanks for Nature's Gifts
by Sister Geraldine Lancaster, Nova Scotia
My roots are deeply planted in the rich soil of the Annapolis Valley. The gardens, once small plots, grew to be large fields of fruits and vegetables that will feed folks from near and far.
The growing season presents a landscape of abundance and beauty. Apple blossoms announce spring's arrival. The land is prepared for the planting. The earth gives off its aroma of readiness.
Nature is ready to co-operate and the farmers will follow its lead. The miracle of growth begins to happen through the nurturing summer season.
Fall's arrival and harvest season is the final explosion of color and growth. To fully appreciate the blending of soil, sun and labor, beauty –seekers drive up the North Mountain to the Blomidon Look Off.
From that cliff they see five counties, displaying their rainbow colored crops, all unique in variety and hue. Awed by this coluorful fruition and setting, one gives thanks for Nature's gifts, the labourers in the fields and the community celebrations, during the harvest season.
Gardens
by Sister Sheilagh Martin, Nova Scotia
Gardens I have loved include the stunningly beautiful Butchart Gardens (built in an abandoned stone quarry) in Brentwood Bay, BC and the Public Gardens of Halifax with its delightful seasonal variations. My "gene" for gardening comes naturally since both parents, with help, enjoyed flowers and a backyard vegetable garden. The gene lay dormant for some years and became active when I moved to Seton Spirituality Centre in Terence Bay. Although some flowerbeds were in place, we added to the possible sites for flowers, shrubs and for some time had a vegetable garden.
For me gardening allows for reflective time, the joy of seeing life renew itself each spring, a chance to marvel at the tenacity of the "weeds" (original dwellers in the space), enjoyment of the bright yellow dandelions in our lawn, and opportunities to watch the birds including George, the pheasant, and sometimes rabbits and deer enjoy the space with us. What's not to love about a garden!
Gardening has nourished me both spiritually and physically
by Sister Eleanor Quaderer, New York
Gardening has been part of my life since early childhood.  Growing up in Bellmore, Mom and Dad had a very large garden with fruit trees, strawberries and all kinds of vegetables.
At my various missions I have found soil to plant tomatoes and string beans as well as marigolds. When at St. Aidans I had tomatoes and string beans but was also able to add raspberry and strawberry plants. One year I also had pumpkins. The day before picking the two small pumpkins, the squirrels had a feast!
The first few years here at St. Barnabas I have had a few patches for tomatoes, string beans and some sun flowers. This year there is one small patch for tomatoes and marigolds. There is nothing as sweet as a vine picked tomato still warm from the sun.
Gardening has nourished me both spiritually and physically these many years and I am grateful that I still am able to garden.
Gardens I know and love
by Sister Marie Sorenson, New York
I came across the "Four-Square" gardening method a few years ago and it has made gardening more accessible, sustainable and enjoyable. It allows for the right amount of vegetables needed without an overabundance of yield (but enough to share with family, friends and neighbors)!
My family had a vegetable garden when I was growing up so the garden speaks to me of long summer days and the fun of watching things grow. Plus, what beats a "real" tomato in the summer!
Bobolink Street Public Gardens
by Krista Thibault, Nova Scotia
"Bobolink Street Public Gardens." Ornamental pear trees on the right and a flowering crab on the left. Beautiful for 2 weeks.
A Pandemic Garden Story
by Sister Maureen Wild, British Columbia
On March 15th, a few days after the pandemic was announced, I started to plant seeds.  If the season is right, gardening has often been a 'go-to' for me, offering me a deep sense of grounding, literally and figuratively. During my novitiate days I lived in Herring Cove but I gardened at the SC's yard in Spryfield, NS. It was my one great and anticipated escape during gardening season!
So, on March 19th, 2020, I was amazed that within four short days, the very first sugar snap peas were sprouting in my laundry room! And within another two days there was over 80% germination! Spring was official, peas were shooting up, and I felt some ray of hope and delight within my inner landscape while also waking into each day to the surreal feeling of a world dealing with contagion and uncertainty.
A little later I planted heirloom Bantam corn seed (claims to have the real old fashioned corn flavour!), bush beans of a few varieties, cilantro and basil seeds … moving the new seedlings out from the laundry room to the largest window ledge during the day.  By April, my place resembled a greenhouse!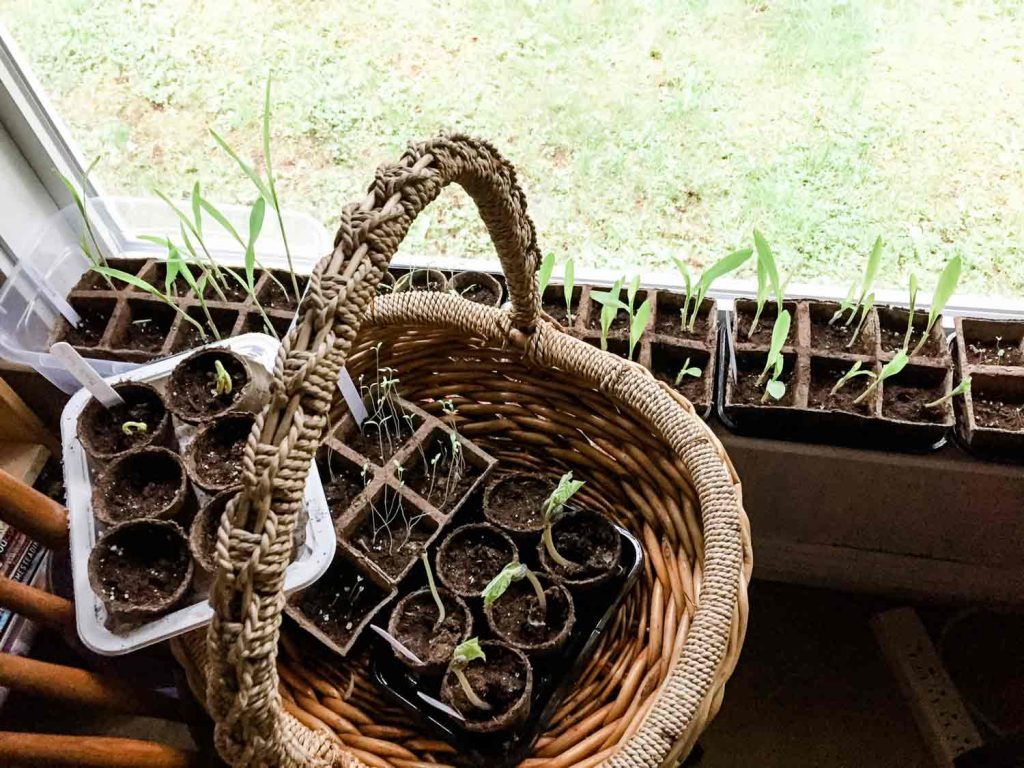 Here are my snap peas now – at my plot in a community garden – and to the right of them are leeks and carrots. And opposite them, the three sisters: corn, beans and squash. The garden is one of my 'chapels' during the day! So many aspects become a spiritual metaphor for me. The hard work of it grounds me, evokes my sensitivities to plant-care, to their needs, and fills me with anticipation for the tasty harvest! To date, I've enjoyed over-wintered kale and Swiss chard with their new and abundant growth, enough to share with others – with so much more to come.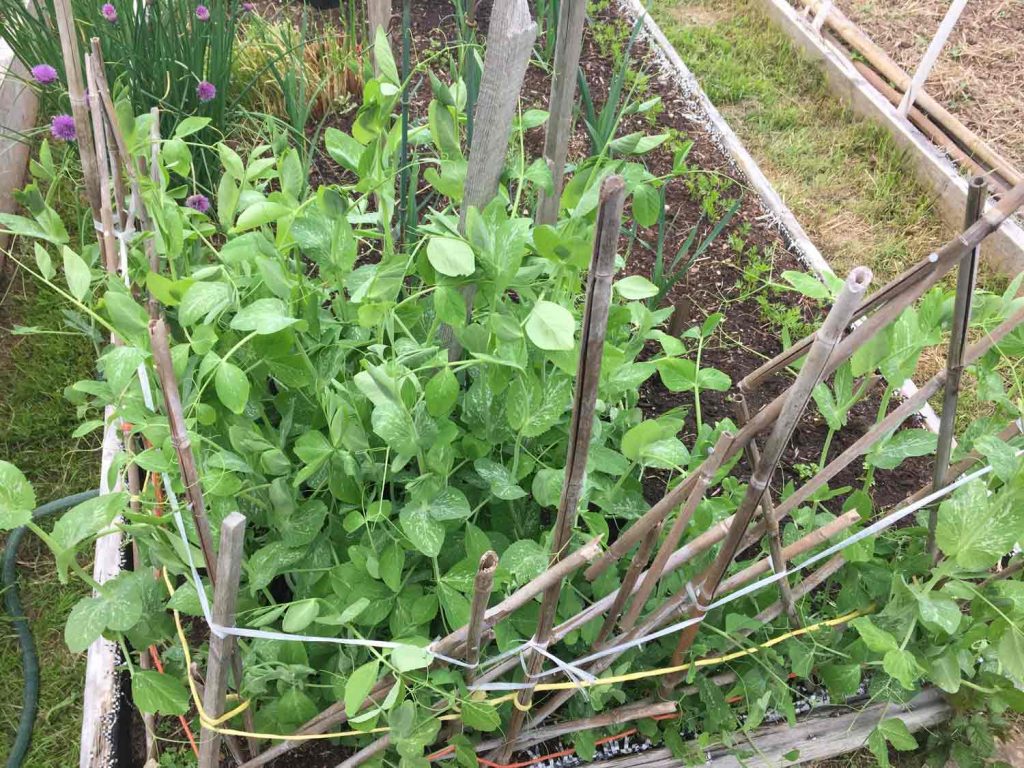 Our Fairy Garden
by Melissa Falle, Nova Scotia
Fairies have always been intriguing to me with their beautiful wings and sweet little homes among the flowers. I've passed that love of fairies down to my four-year-old daughter who loves to get outside and find the toy fairies in the garden we created last year in our backyard. We painted small houses, added small doors to trees and created a little village for the fairies to live in. At nighttime, the sparkling lights come on and Evelyn likes to look out her bedroom window and imagine the fairies fast asleep in their tiny homes with leaves as blankets and mushrooms as pillows. The fairies get moved all around the garden when Evelyn is playing so it is fun to find them the next time we are outside as she forgets where she has left them, which adds to the magic!
More Charity Alive – June 2020
More Charity Alive – June 2020