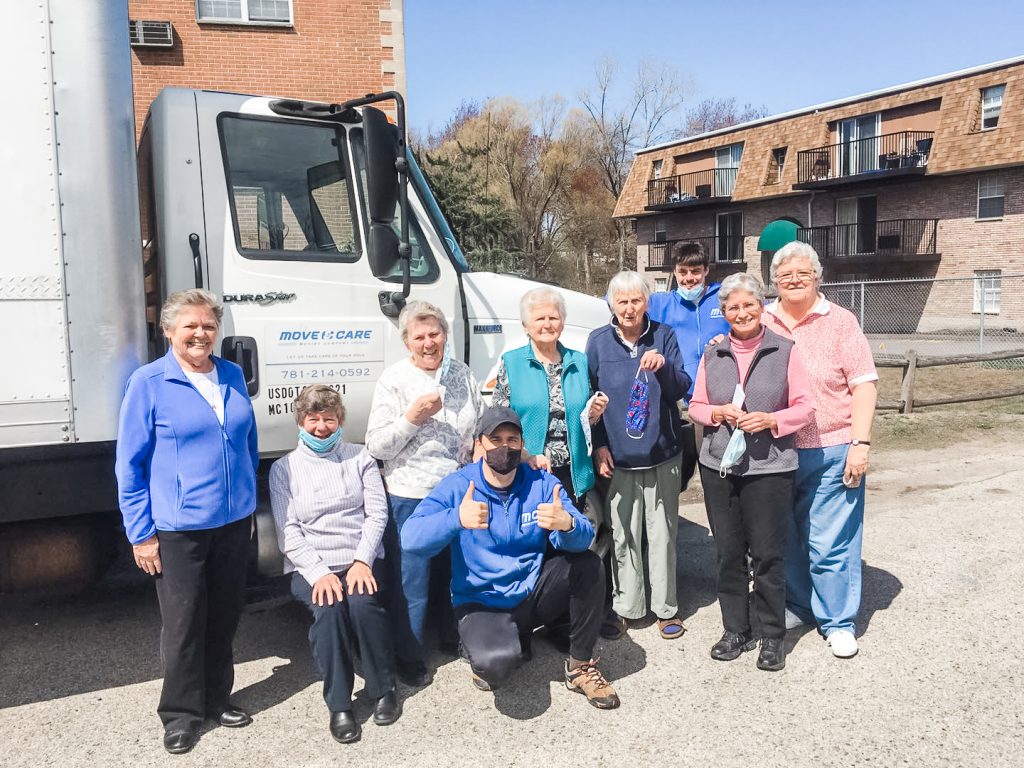 by Sister Sally McLaughlin
The last Sister of Charity leaves Saint Patrick Convent, Roxbury, our first mission in the United States.
The convent will be closing at the end of May. In the midst of preparing and packing for her move on April 23, Sister Kathleen Carven fell on Good Friday. Sisters of Charity to the rescue! After Sister Maryanne Ruzzo organized a Zoom meeting to coordinate plans, a team of Sisters took over packing for the move from St. Pat's and unpacking and preparing the apartment for Sister Kathleen. In addition to the group involved in the move, Sister Esther Plefka is preparing meals. We're happy to report that her new apartment is ready and waiting for Sister Kathleen.
Moving assistants: Sisters Lillian Conroy, Carol Verville, Katherine McGrath, Kay Conroy, Pat McCarthy, Sally McLaughlin and Maureen Beale.
(We wore our masks all day – just off for a few seconds for the photo.)
From the Archives — Quick Facts about St. Patrick, Roxbury
St. Patrick's Convent, Roxbury, the 17th Mission of the Congreagation, and the first established in the United States, was a response to the request of Rev. Joseph Gallagher, Pastor, who was about to open a school in the Parish.
In August 1887, Sisters M. Bonaventure Kennedy, Superior; Maria Hurley; M. Baptista Bauld; M. Evangelista MacNamara; M. Sebastian Thibodeau; and M. Pauline Burns, took up residence in a cottage on Perrin Street and opened the school, for girls only, in the basement of the Church, pending the gradual occupation of the school building which had just been completed.  The Sisters lived on Perrin Street until August 17, 1917 when they moved to the newly built convent at 115 Mt. Pleasant Avenue.
On September 7, 1887, St. Patrick's Elementary School, located on Mt. Pleasant Avenue, opened its first classes.  The enrolment was more than 500 girls. It was not until 1930 when a second new school was built that boys became students in St. Patrick's School.  In September 1888, High School classes were opened.
In July 1956, St. Patrick's Convent was designated as the first Provincial House of the Boston Diocese – the official residence of the first Provincial Superior.
In September 1957, St. Patrick's High School was affiliated with and credited by the Catholic University of America.
More Charity Alive – May 2020
Charity Alive – April 2020