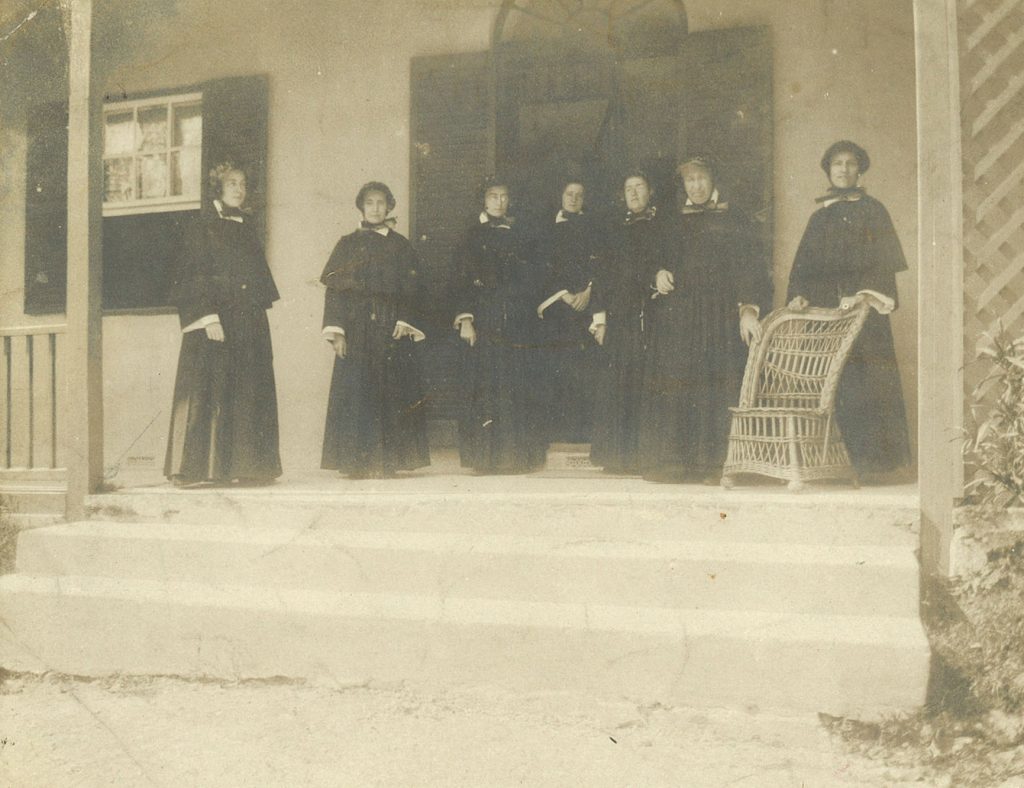 At the request of Archbishop O'Brien, four Sisters, Mother Cleophas Connors, Superior, Mary Philippa Melanson, Mary Blanche Dunphy, and Maria Agnes Precourt, departed Halifax on February 15th 1890 and arrived in Bermuda after four days at sea. On March 3rd, 1890, the Sisters took up residence at "Woodlands" and opened Mount Saint Agnes Academy. When the Sisters' lease on Woodlands expired in 1893, the Sisters moved to Cedar Avenue, pictured above. In 1958, the Sisters moved to the "Woodmont" property.
The Sisters owned and operated the school until 1975, when they transferred ownership to the Diocese of Hamilton. In addition to their education ministry, Sisters in Bermuda were active in pastoral ministries, catechetics, and serving those in need.
The Sisters of Charity's presence on the island will end after 130 years when the final two Sisters, Sisters Judith Rollo and Dolores Sullivan depart in summer 2020.
SC Congregational Archives #4963 Sisters in Bermuda at their Cedar Avenue property, circa 1905-1907
Mount Saint Agnes Celebration
A special celebration was held Tuesday March 3 to mark the 130th anniversary of Mount Saint Agnes Academy. Students, staff, alumni, parents and friends commemorated the day. Here are a few photos from the celebration.
Hamilton, Bermuda, was the site of the 2020 Diocesan Women's Retreat, held at the Grotto Bay Hotel on February 7-9.  Thirty-seven women, including our Associates LaVerne Lau, Daphne DeSilva, Bernice Sinclair, Pat Rodrigues, Lucy Attride-Stirling, Essie Hans, Heather DeSilva, Penny Fowkes, and Virginia DeSilva took part in the retreat entitled "Prayer- Come to the Feast!" presented by Sister Cathy Stare.  Sister Judith Rollo organized this biennial retreat.   Whether we had sunshine or rain, each day was magnificent!
More Charity Alive -Spring 2020