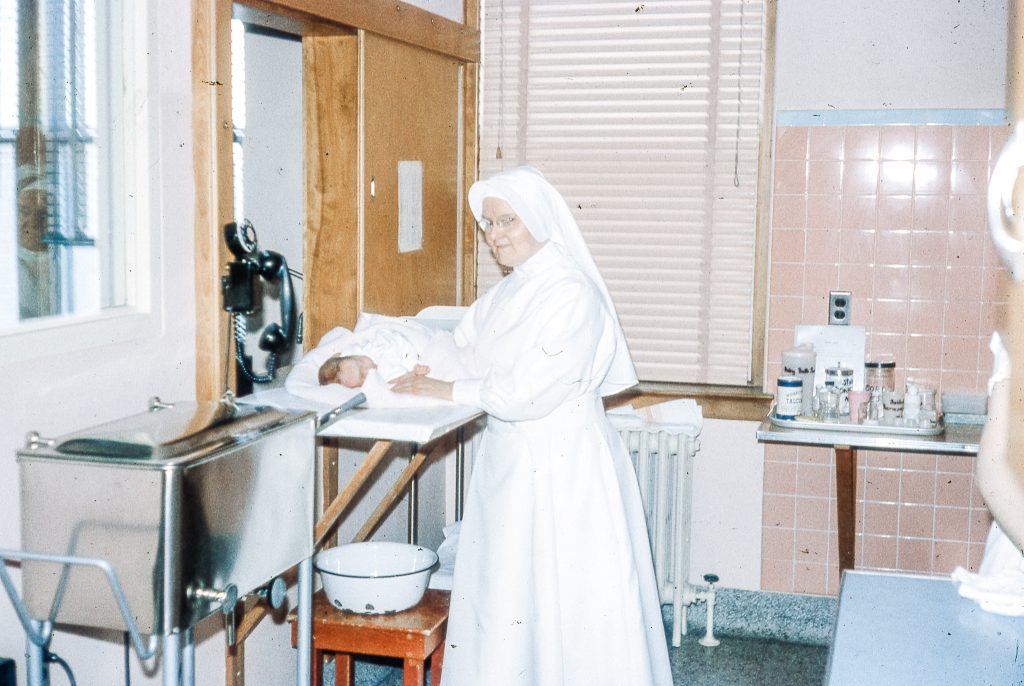 The Sisters first started their health care ministry in North Sydney, NS at the Hamilton Memorial Hospital in 1908. As a tribute to his late son Charles, Mr. Alexander G. Hamilton financed the 10 bed hospital, including purchasing a building, transferring the deed to the Sisters, and outfitting the hospital.
Over the years, demand grew and the hospital expanded, but by 1950 construction was underway for new facility.  The new St. Elizabeth Hospital opened on May 12, 1954 with a capacity of 180 beds. Both Hamilton Memorial Hospital and St. Elizabeth Hospital ran Schools of Nursing.
The former Hamilton Hospital became Stella Maris Residence for the elderly. In 1975, the Sisters transferred ownership of St. Elizabeth Hospital to the Province of Nova Scotia and renamed the facility to Northside General.
SC Congregational Archives JM-128. Sister with baby in newborn nursery, Saint Elizabeth Hospital, North Sydney, NS, Circa 1965. Photograph by Sister John Mary McNeil.
More Charity Alive – May 2020
Charity Alive – April 2020