By Sister Nuala Kenny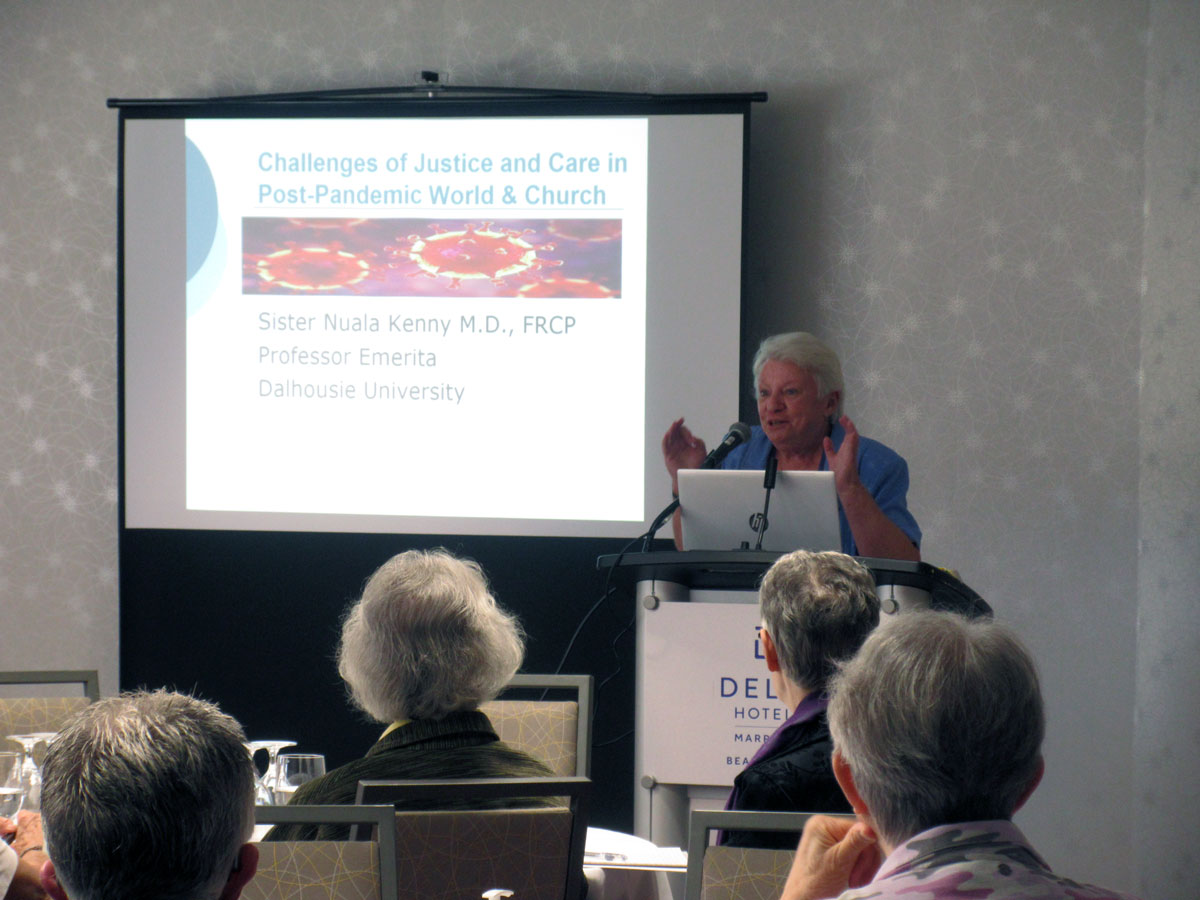 I have often been proud to be a Sister of Charity of Halifax. Sometimes it was because of a prophetic and courageous stance on a serious issue. Most often, it was because of the witness to the charism of charity in the life and ministry of individual Sisters. I was never more proud than at the recent 35th conference of ATRI, the Association of Treasures of Religious Institutes in Canada. 
The 140 participants, who travelled from across Canada to Moncton, N.B. on the Fiona hurricane weekend, included canonical treasurers, financial administrators and a wide range of sponsors from business, law and organizational studies.
Those of you who have worked in Congregational finances will know ATRI well. Others may not be familiar with the organization. Its mission is to strengthen, support and enhance the ministry of financial administration and structures of religious institutes in Canada through collaboration and in fidelity to Gospel stewardship. It provides education programs for treasurers and lay collaborators on issues impacting on the temporal affairs of religious institutes and opportunities for projects to be initiated, and implemented on a national or regional basis.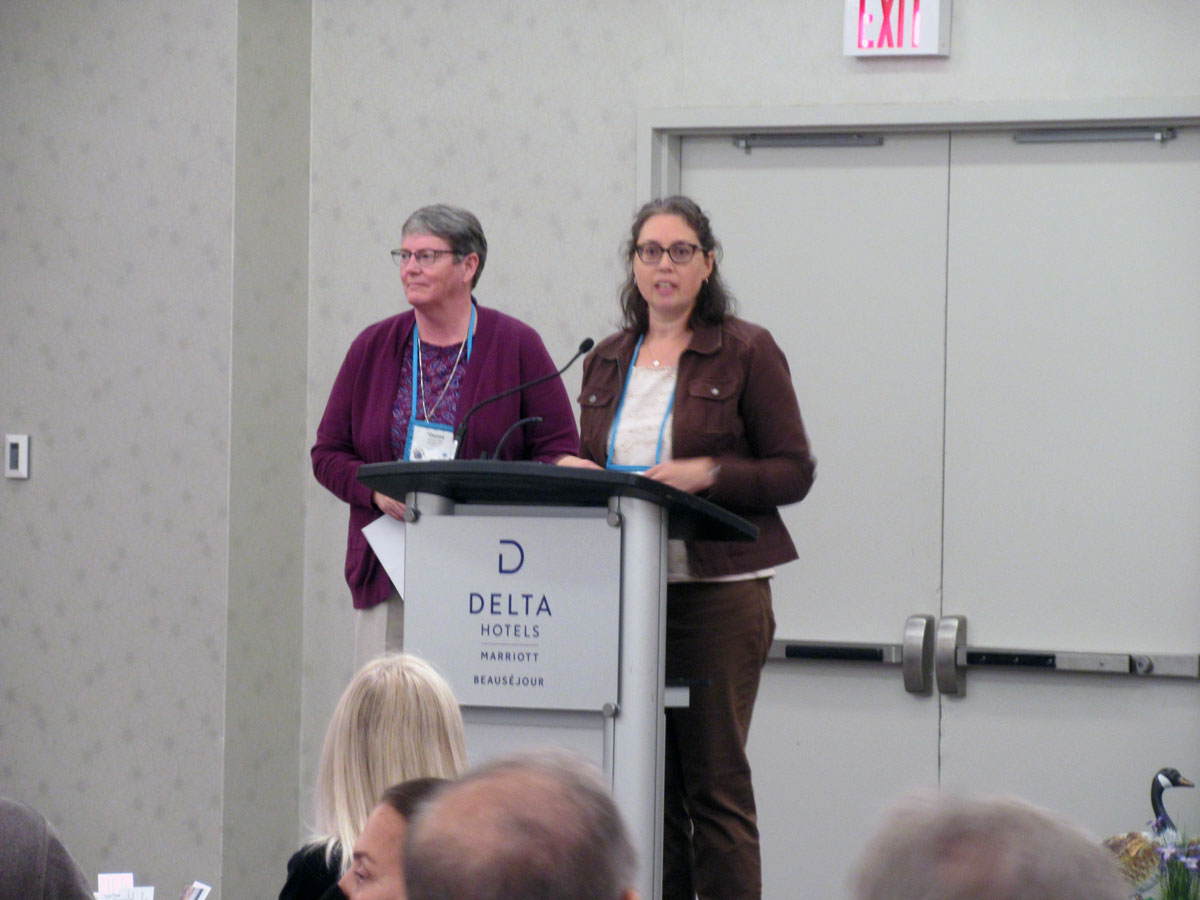 Sister Mary Anne Foster as Canonical Treasurer and Krista Thibault, Director of Finance are our representatives. I was invited to present a workshop, "Challenges of Justice and Care in the Post-Pandemic World and Church" as my introduction to ATRI. 
The theme of the conference was "Tides of Change" as the group addressed the difficult tasks of caring for aging Religious in expensive residential and medical care; continuing the charism of charity and simplicity. Originally, all participants were Religious. Over time lay persons have assumed major roles. They are directly impacted by our decline.
At the beginning of the meeting there were public tributes for Father Frank Morrissey and our very own Sister Joan Butler. Sister Joan's long and important contributions to ATRI as well as her generous spirit, were recognized and applauded by all.
Our Sisters of Charity contribution continues with the election of Krista Thibault as President of the Board of ATRI. She is in a unique position to contribute to the challenges identified by Franciscan David B. Courtier, an economist and social psychologist in three outstanding sessions.
In "The Changing Tides of Institutional Trust: The Impact on Religious Leadership in the 21st Century", he outlined the global loss of trust in core institutions. Faith and religion today are in decline; democracy is in crisis. The root causes include poor institutional performance and global shocks of pandemic, recession and economic inequity, migration and crippling polarization.
The credibility gap between institutional ideal and reality leads us to his stages of organizational disillusionment: operational doubt, ideological doubt, ethical doubt and finally absolute doubt where persons just don't care.
We were challenged to consider our response? Do we, with Dylan Thomas "Rage, rage against the dying of the light" or enter more deeply into the power of the Resurrection?
In "Remember the Poor: Leadership and the Poor in the Teaching of Pope Francis" Father David explores the response of Pope Francis. Rather than focusing on doctrinal issues, he challenges us to "Remember the poor" who are victims of today's "throw-away" culture. He identifies the dangers of exclusion in our socio-economic structures and the "globalization of indifference." Business needs profit and purpose. In Catholic social teaching work is holy. 
Finally, in "Lifting Hope: Communities of Caring Encounters," through Jesus' story of the Good Samaritan and Saint Francis' radical conversion in caring for lepers, we were brought to the importance of relationships of care and justice, especially when funerals are regular events.    
In aging and decline we may ask "Was my life worthwhile?" The psycho-spiritual dynamics of late adulthood includes the relational 'repair work" of old age—forgiveness and reconciliation, gratitude. 
We are graced to assess coming to completion through our Resurrection faith and our mission and charism. Where is the need calling us today? Some Religious enthusiastically embrace the future; others, angry and divisive just won't move.
With Krista and Sister Mary Anne's participation in ATRI we have a unique opportunity to be at the forefront of responses across Canada to these challenges and to contribute to them from our courageous, prophetic response to "Hazard, yet forward".
More Charity Alive – November 2022
More Charity Alive – August 2022
Charity Alive – April 2022