By Mary Flynn, Archivist
As I was going through the archives photograph collection looking for interesting images for the 175th Anniversary, I came across a portrait of Sister Maria Felicitas Gee in the old habit and cap. I'm always fascinated by the early Sisters and their lives in community before 1900. How did women find out about the Sisters of Charity, a relatively new and growing congregation? As I looked more into the history of Sister Maria Felicitas, I was surprised to find the touching story of how two Anglican British-born women ended up as Sisters of Charity-Halifax.
Sister Maria Felicitas was born Maria Charlotte Gee on December 4, 1841 in the village of Freshford near Bath, England. From a young age, she sought out opportunities to help others, and after finishing school, she left home to nurse those returning to England wounded from war. In the 1880s, Maria found her way to Montreal, Quebec with the goal of nursing smallpox patients. She rented a home near McGill University to start a nursing home, staffed by fellow English-born Anglicans.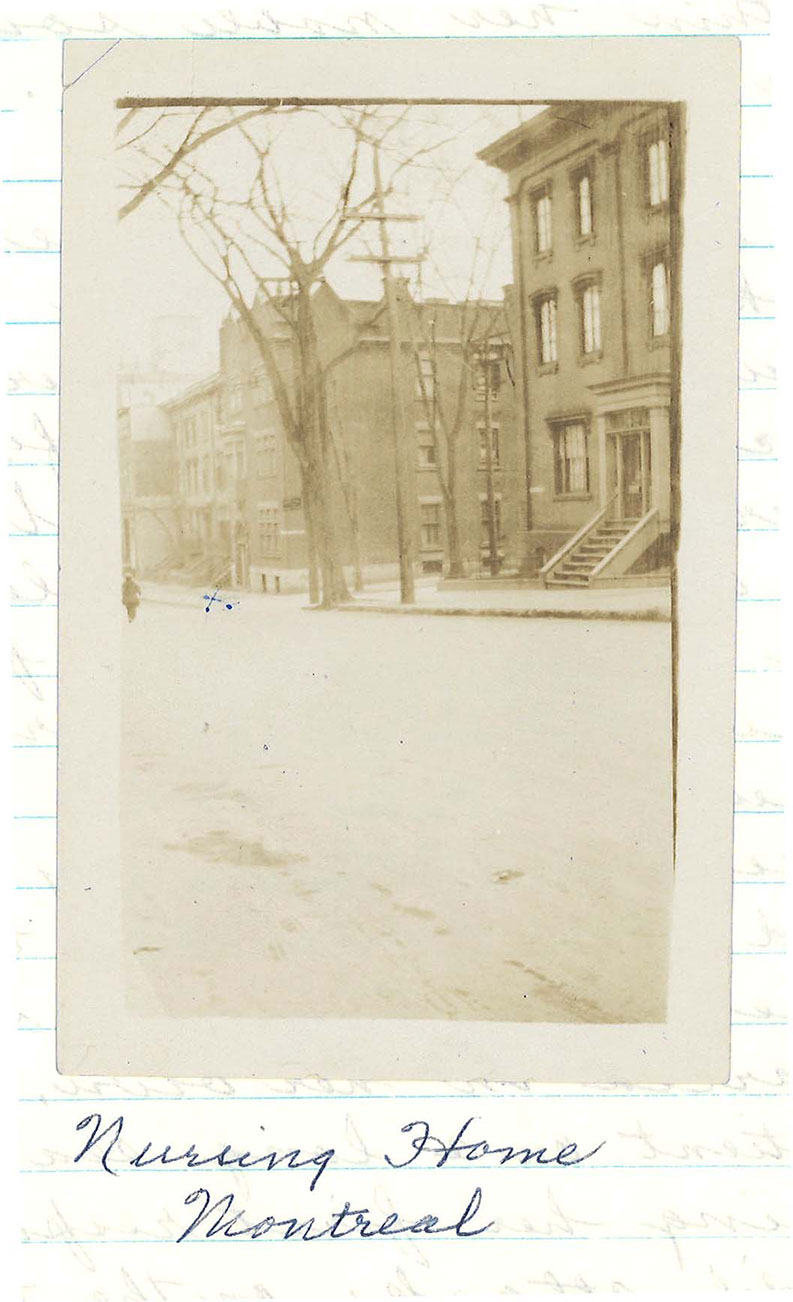 Nursing Home, Montreal. This photograph is from a historical account of the life of Sister Maria Felicitas Gee that was transferred to the archives after Sister Elizabeth Seton Belwood died. 
Already alone in a foreign country and away from family, the next decade proved to be one of even more massive life changes for Maria. She learned of Elizabeth Belwood, a young orphan from Manchester, England in need of a home. Elizabeth, nicknamed "Bessie," lost her parents not long after she was born in 1882. Maria adopted the young girl, who affectionately called her "Auntie." Since her arrival in Montreal, Maria made more contacts with Catholics and started to pray at a local Catholic Church. In a 1920 recollection of her conversion, Maria wrote that she confided in a friend, "I wish I had been born and brought up a Catholic," to which her friend, a recent convert to Catholicism, replied, "well, the next best thing is to become one." A Sacred Heart nun introduced Maria to Rev. John Connolly, a Jesuit priest who happened to be the brother of Sisters of Charity Mary Clare and Mary Anne Connolly. Rev. Connolly performed a double baptism on Maria and Bessie on January 7, 1891, the day after Epiphany.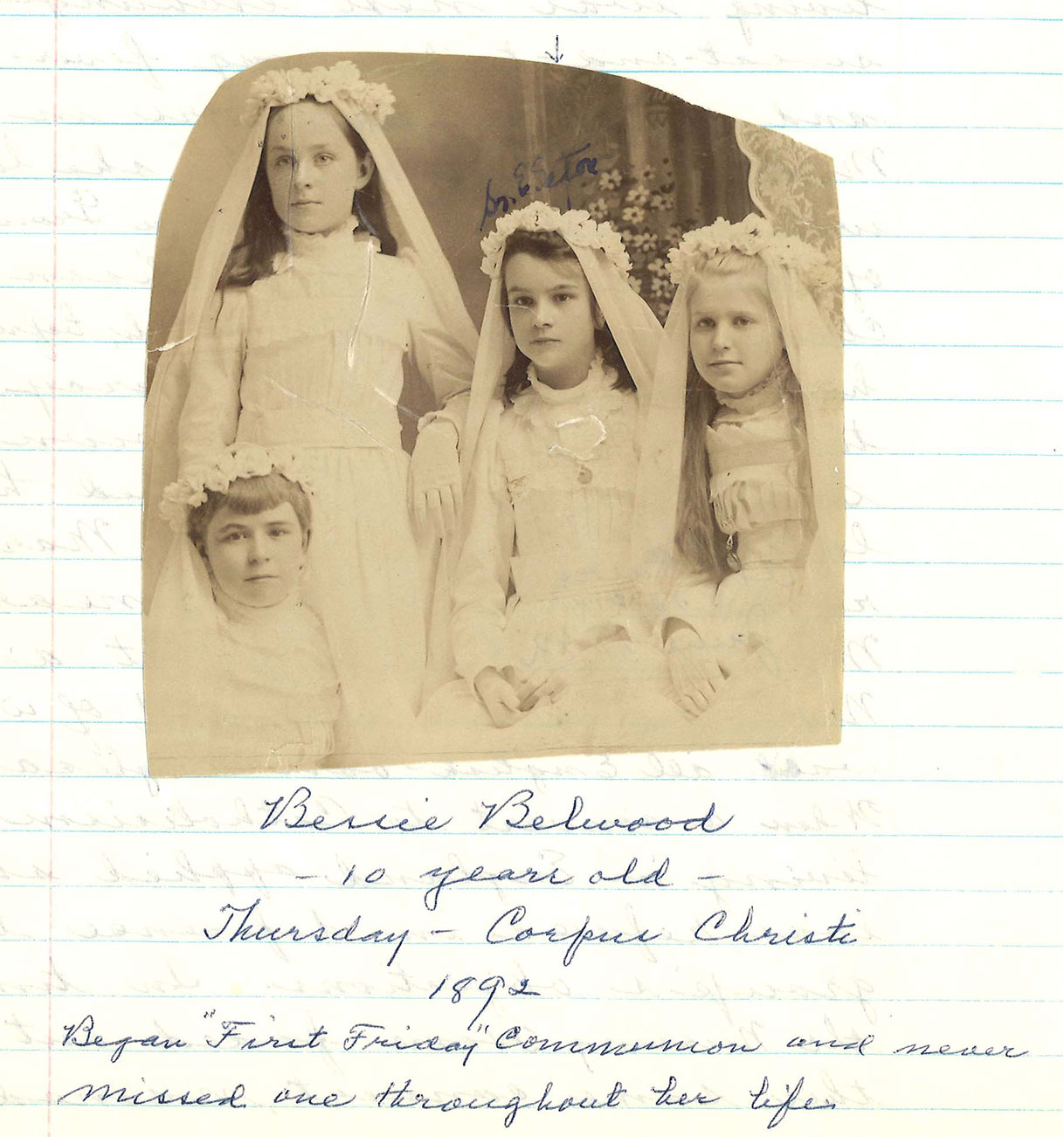 Bessie Belwood -10 years old – Thursday, Corpus Christi, 1892. Began "First Friday" Communion and never missed one throughout her life. S. Elizabeth Seton is second from the right in the photograph. This photograph is from a historical account of the life of Sister Maria Felicitas Gee that was transferred to the archives after Sister Elizabeth Seton Belwood died.
Through Rev. Connolly, Maria came to know the Sisters of Charity-Halifax. Even though she was decades older than most women entering the community at the time, Maria still felt called to join religious life. A year after her conversion, Maria became a Sister of Charity at age 51 and took the religious name Sister Maria Felicitas. In just a few years, Maria transformed from a single woman nursing patients in Montreal to an adoptive mother and Catholic Sister. Her first mission was serving as a substitute teacher at Academy of the Assumption in Wellesley Hills, MA. Sister Maria Felicitas returned to Canada in 1909 and worked as an infirmarian at St. Joseph's Convent and St. Theresa's Retreat in Halifax, where she cared for elderly women. She spent her life in community as she had as a laywoman – serving those most in need.
And what happened to Sister Maria Felicitas' beloved adopted daughter? After entering, Sister Maria Felicitas moved young Bessie to Halifax and enrolled her in Mount Saint Vincent Academy.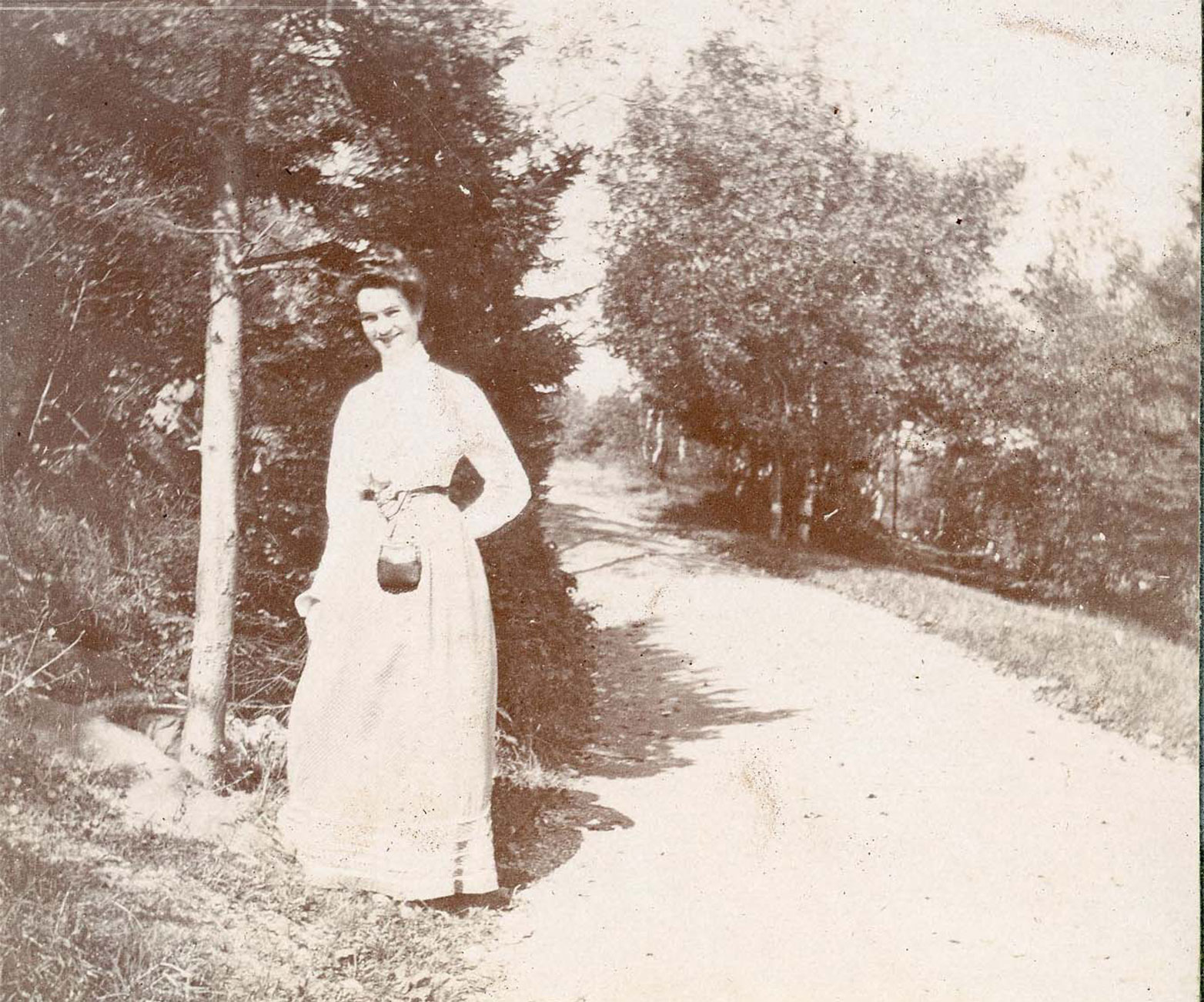 Bessie Belwood is pictured next to a tree in this photograph from fellow Academy student Katherine "Kitty" Power's photo album. Kitty was the sister of Mary Power, who entered religious life a few months before Bessie. Mary became Sister Maura, teacher at Mount Saint Vincent Academy and author of The Sisters of Charity Halifax.
After graduating from Mount Saint Vincent Academy, Bessie moved to New York to study nursing, then returned to Halifax to enter the congregation in 1906, taking the religious name Sister Elizabeth Seton. Sister Elizabeth Seton was the first graduate nurse in the community and after she was professed in 1908, she was a pioneer Sister to the newly established Hamilton Memorial Hospital in North Sydney, NS.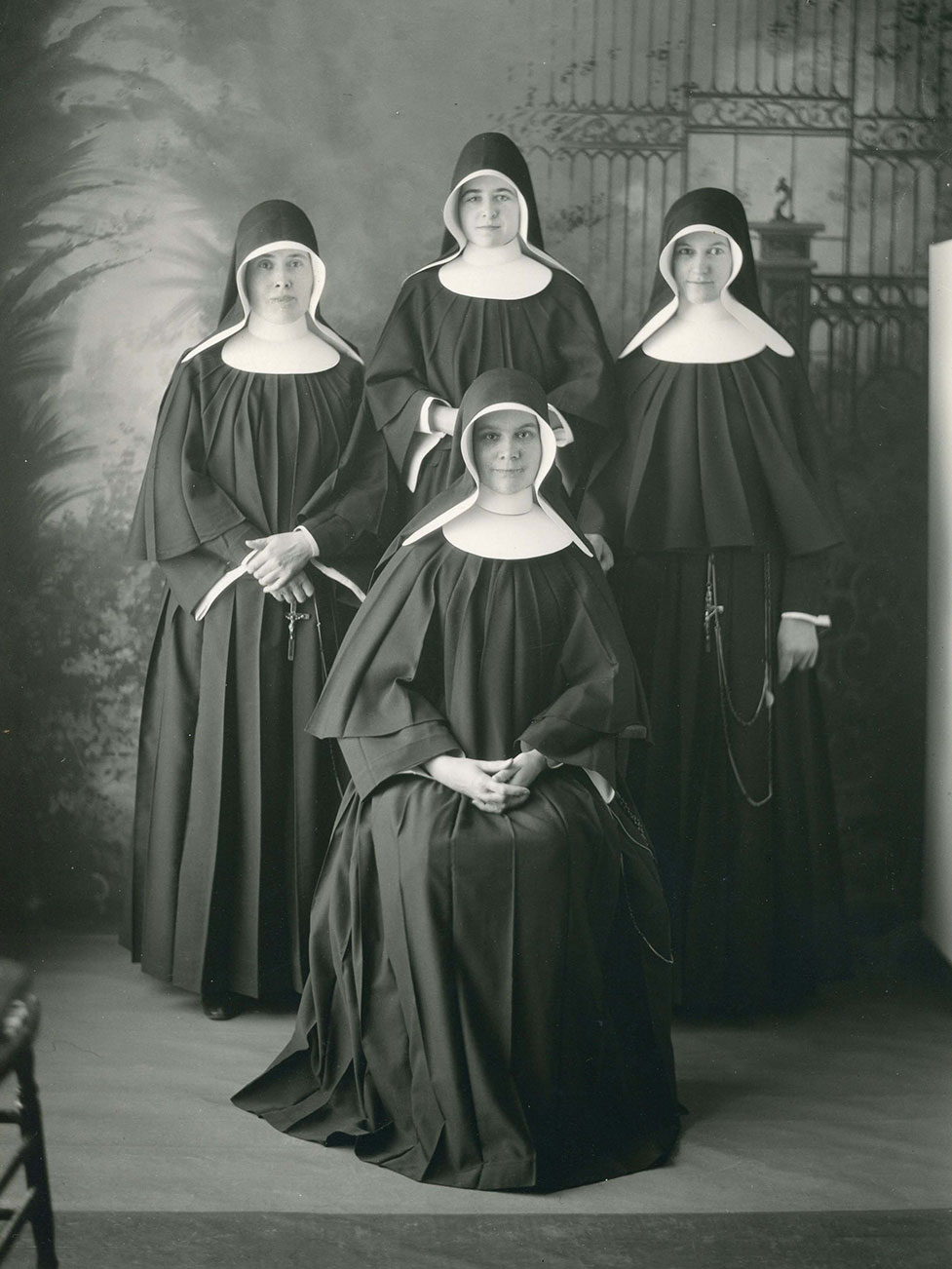 Sisters of Charity – Halifax Congregational Archives #6940 Pioneer Sisters at Immaculata Hospital in Westlock, AB, 1927. Seated is Sister Elizabeth Seton Belwood. Standing are Sisters Mary Anacletus Power, Patricia Clare Tompkins, Marion Francis Slattery.
Sister Elizabeth Seton spent four decades in nursing, serving at Immaculata Hospital (Westlock, AB), Swan River Hospital (Swan River, MB), St. Anne's Hospital (Hardisty, AB), and Seton Hospital (Jasper, AB). While Sister Elizabeth Seton was serving as Director of Nurses at the Halifax Infirmary, her adoptive mother and "Auntie" Sister Maria Felicitas died at Mount Saint Vincent Motherhouse at the age of 83.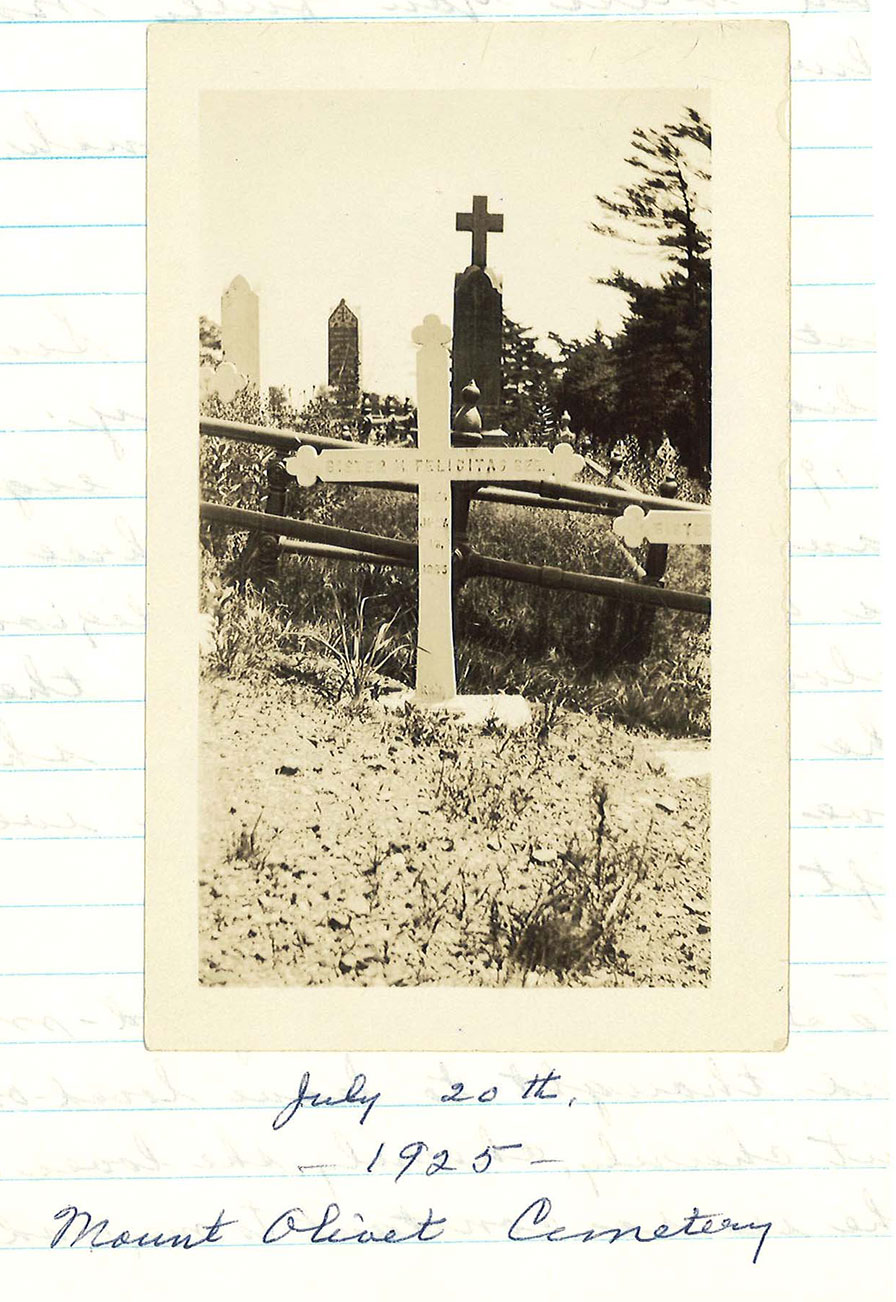 Sister Maria Felicitas' grave in Mount Olivet Cemetery in Halifax, NS. This photograph is from a historical account of the life of Sister Maria Felicitas Gee that was transferred to the archives after Sister Elizabeth Seton Belwood died.
Sister Elizabeth Seton retired from nursing in 1949 and then served as sacristan and infirmarian at St. Vincent's Convent in Edmonton, AB. In 1963, she came back east to Mother Berchmans Residence in Mount Saint Vincent Motherhouse, where she died a few months short of her 90th birthday in 1971. Both Sisters, born in England, called to the religious life and to care for others, are laid to rest in Halifax.
Photos copyright of SC Congregational Archives 
More Charity Alive – April 2022
Charity Alive – February 2022