By Mary Flynn, Archivist
One of the most frequently asked questions from researchers is "where is this Sister buried?" I like these types of requests; not only are they fairly straightforward to answer, which can be rare in the archives world, but it's also nice to hear that Sisters are being remembered and honoured by their former students, relatives, and other loved ones. 
The inspiration for this article came from a recent delve into the history of one of the most inquired about teachers in the community, Sister Marie Clotilde Douglas. Sister Marie Clotilde founded Seton Hall High School in Patchogue, New York, in 1937 and served as principal for nearly two decades. In reading her obituary, I came across a mention of the Sister Marie Clotilde Memorial Auditorium at Seton Hall. After Sister Marie Clotilde died in 1956, the auditorium was dedicated in her honour. Sister Marie Clotilde was the only Sister to be buried on the school grounds at Seton Hall, though her final resting place is now St. John's Cemetery in Middle Village, Queens.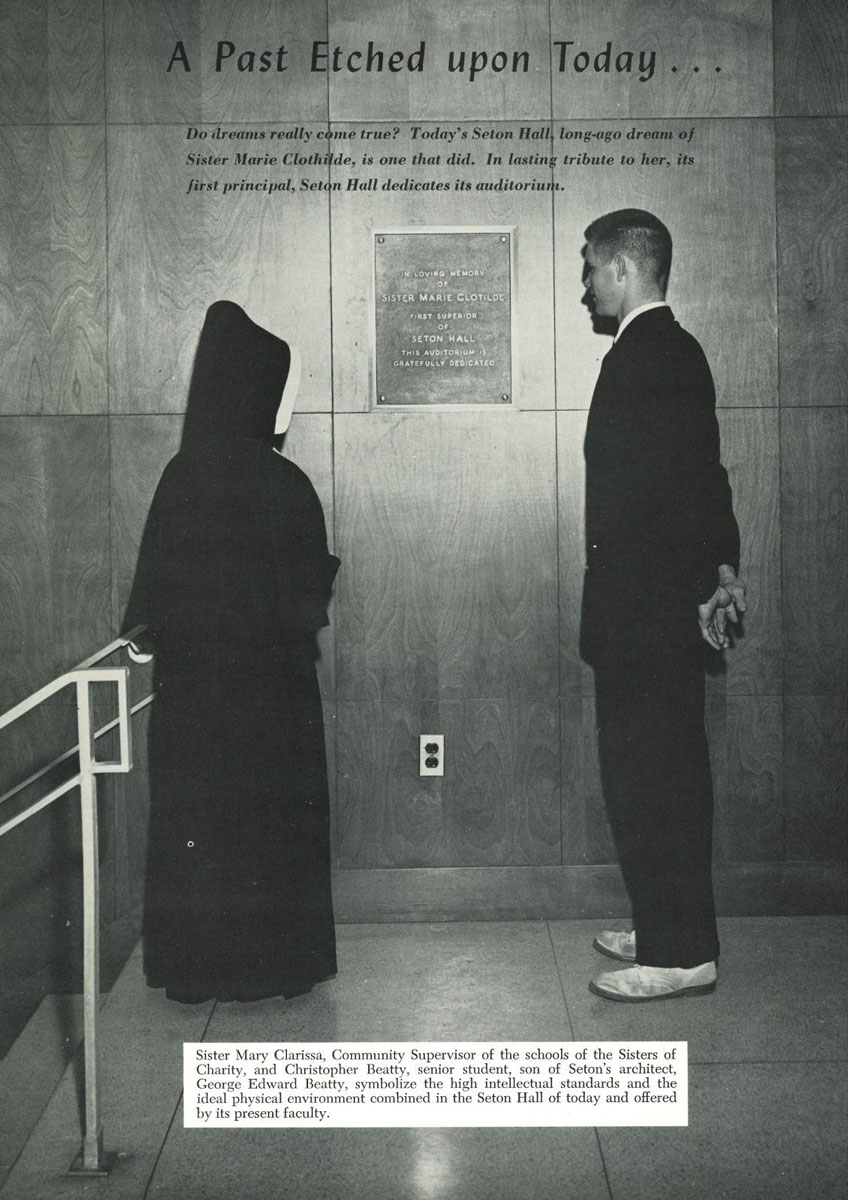 From the Seton Hall High School Milestones 1959 yearbook 
There are numerous examples of missions, buildings, and awards being named after Saints Elizabeth Seton and Vincent de Paul, but I wanted to explore a few ways in which individual Sisters of Charity have been honoured over the years. 
Another Seton Hall teacher, Sister Margaret (Therese Carmel) Flahiff, came to mind. Sister Margaret had a long career as a history teacher, professor, principal, librarian, and sodality director in the United States and Canada. After her term in office as Secretary General for the congregation ended in 1972, Sister Margaret assumed the role of the first Head Librarian at the Atlantic School of Theology (AST) in Halifax. After six years in that position, she continued on a part-time basis as Serials Librarian while also serving as the Congregational Archivist and Historian. In 1988, she was honoured by AST with a Doctor of Divinity degree and on June 27, 1994, four years after her death, a room in the new AST library overlooking the Northwest Arm was christened the "Sister Margaret Flahiff Room."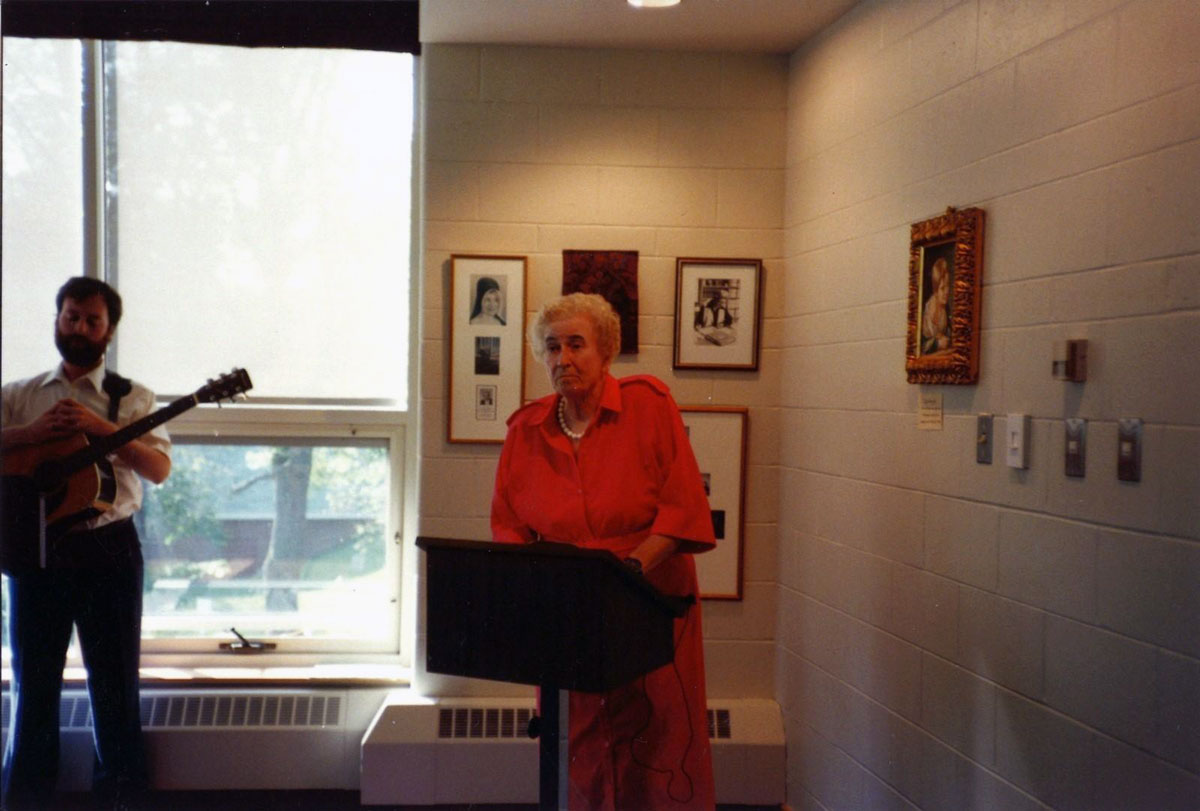 SCHalifax Archives #6096 S. Helene Darte giving a reflection entitled "Remembering Margaret" at the S. Margaret Flahiff room dedication at the Atlantic School of Theology Library in Halifax, NS, June 27, 1994.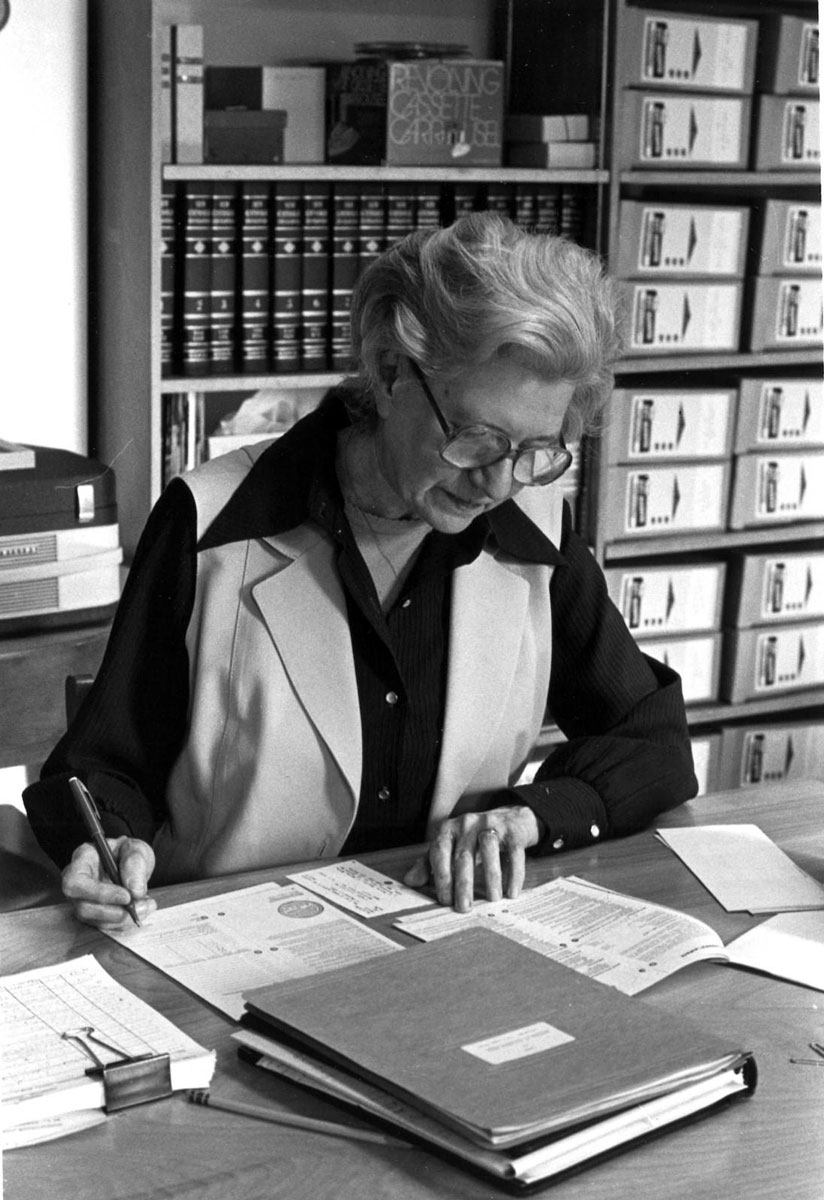 SCHalifax Archives #1390 S. Margaret Flahiff, archivist at MSV Motherhouse, 1980. This photograph of Sister Margaret can be seen hanging on the wall behind Sister Helene Darte at the room dedication.
Did you know that there was a school in Halifax named after a teaching Sister? Sister Mary Pius Devine was a born and raised Haligonian who joined the community in 1875. From 1885 until 1909, she taught at Dutch Village School, renamed to Maryvale (sometimes spelled Maryville) School in 1900. In 1909, the students from Maryvale were sent to the newly constructed Oxford School and Sister Mary Pius served as principal until she retired in 1927 to Mount Saint Vincent Motherhouse.  
After five years of retirement, Sister Mary Pius died in 1933 and 13 years later, she was honoured as the namesake of the new Sister Pius Memorial School. The new school was housed in three rooms in the basement of St. John the Baptist Church in Melville Cove and the Sisters taught grades 1, 2, and 3. Over the years, the school expanded and a six room school building was constructed to house the growing student body. In July 1969, Sister Pius Memorial School, along with St. Pius X School, was taken over by the Halifax School Board and in 1972, the school was closed due to declining enrollment.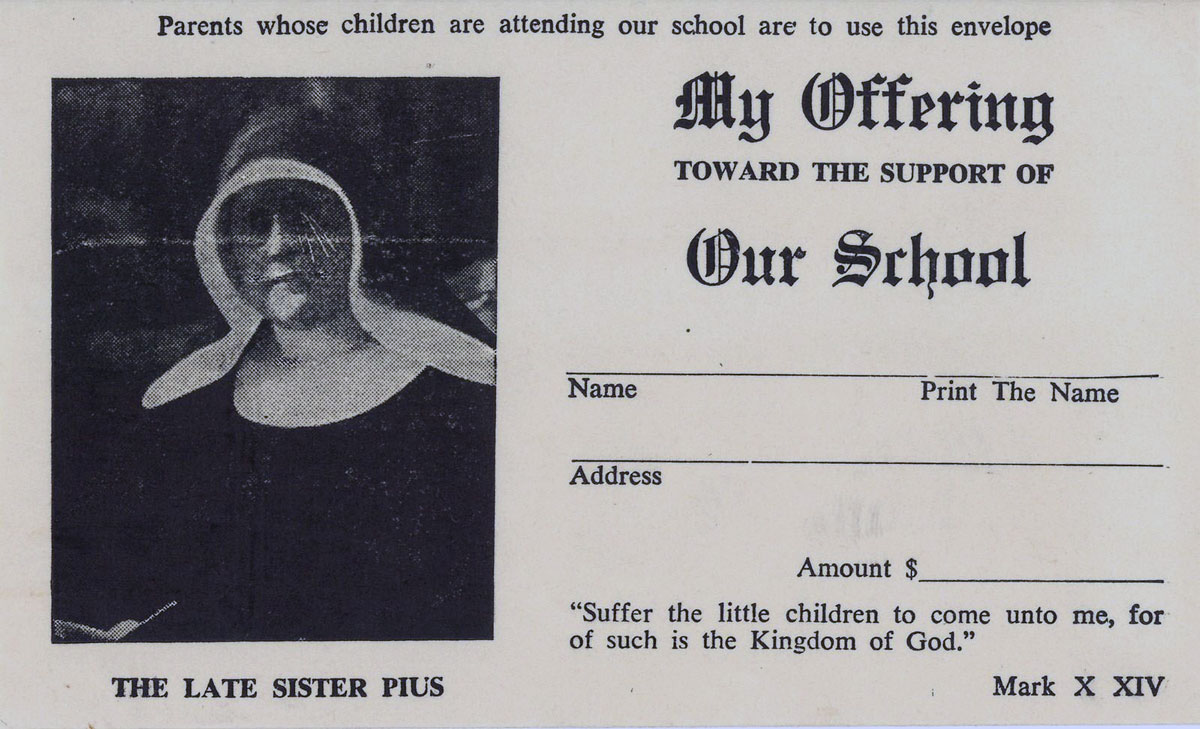 Offering envelope to support the Sister Pius Memorial School.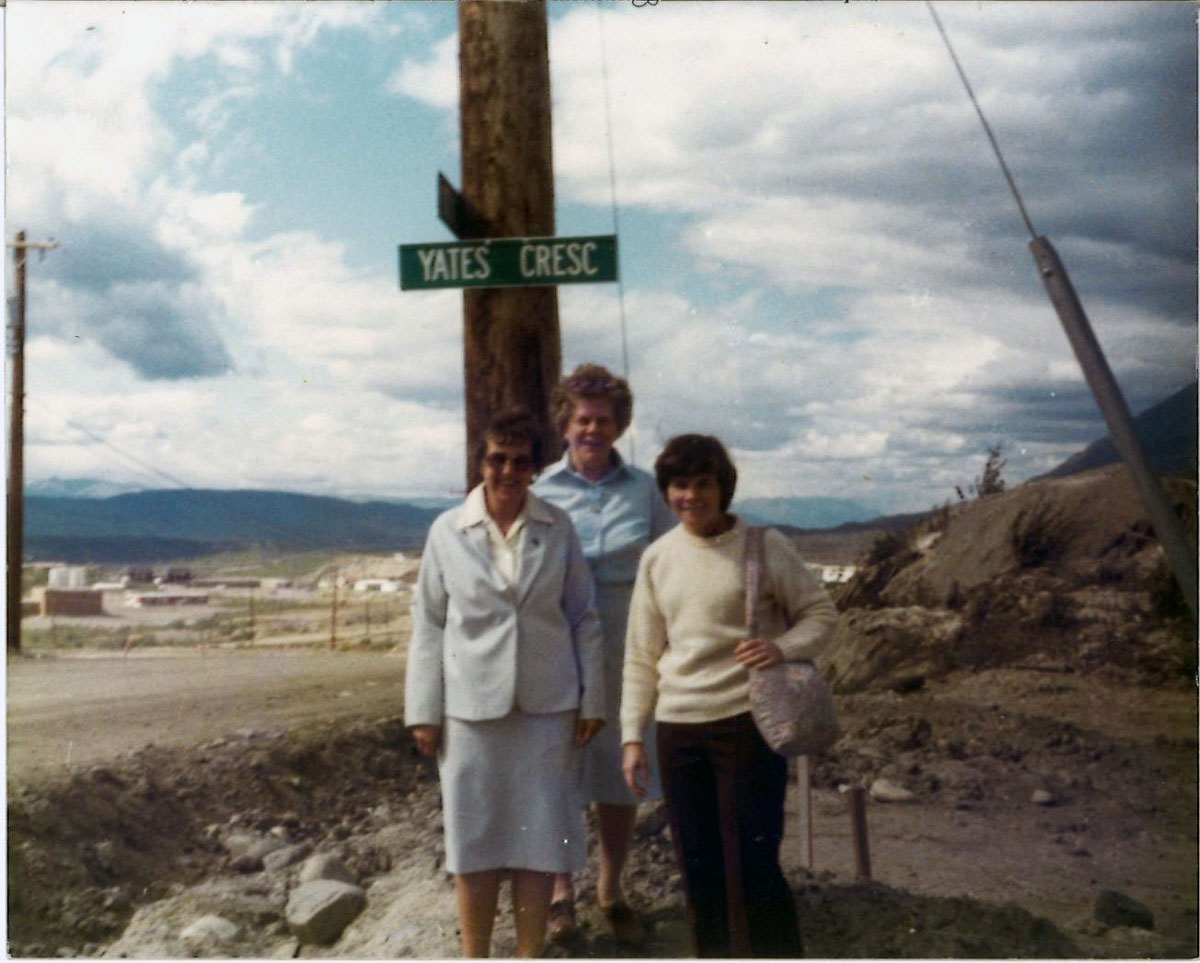 Sisters Francis Elizabeth Yates (left), Claire Murphy, and Maureen O'Neill stand in front of a road sign for Yates Crescent in Faro, Yukon, 1981. 
Sister Francis Elizabeth Yates spent the first thirty years of her life in community teaching in the United States and British Columbia. In 1972 Sister Francis Elizabeth went north and found a home in Faro, a small mining town in the Yukon. There Sister Francis Elizabeth taught in public school, worked in pastoral ministries, tutored children, ran a second-hand clothing store, and welcomed all with open arms.
In 1980, the town of Faro selected her name for a road in a new subdivision: Yates Crescent. The town council honoured Sister Francis Elizabeth for her "exemplary contributions, participation and the high esteem" she achieved in the community.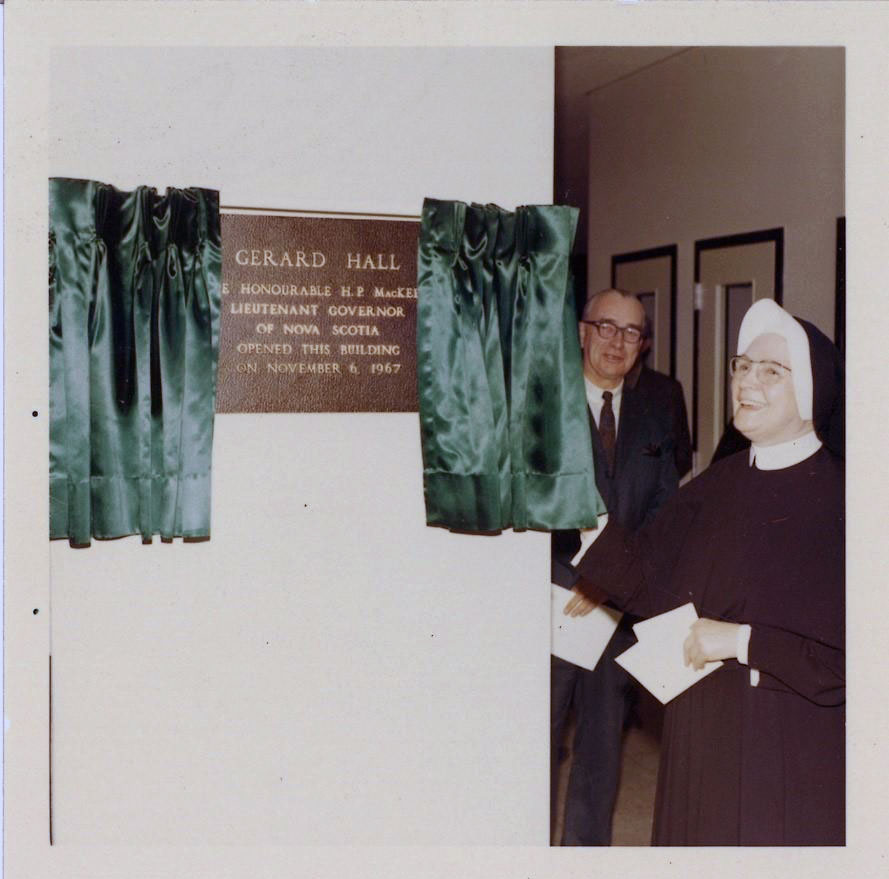 SCHalifax Archives #2199A S. Catherine Gerard Herlihy at the Gerard Hall Opening at the Halifax Infirmary, November 6, 1967
Sister Catherine Gerard Herlihy entered the postulate on February 1, 1916, and made her final vows on August 15, 1924. Sister Catherine Gerard dedicated her life to healthcare ministries, beginning with her training as a nurse and ministries at Mount Saint Vincent Motherhouse and Hamilton Memorial. In 1928, she became the case room supervisor at the Coburg Road "Baby Home," a maternity hospital branch of the Halifax Infirmary. She served in supervisory roles at the Halifax Infirmary until becoming director of nurses in 1941, then finally served as administrator of the Infirmary from 1948-1965. When the Queen Street location of the Halifax Infirmary expanded, Sister Catherine Gerard was recognized for her years of dedication to the hospital and its school of nursing. Gerard Hall has served as a dorm for Dalhousie University students since 2003.  
Finally, three buildings at Mount Saint Vincent University still bear the names of the first three Presidents – the foundress and first Mount Saint Vincent College President Mother Mary Evaristus Moran, and her successors Sister Maria Rosaria Gorman and Sister Francis d'Assisi McCarthy. There are several scholarships in honour of individual Sisters at Mount Saint Vincent University and a bursary in honour of Sister Agnes Burrows set up by Peace Quest Cape Breton at Cape Breton University. 
Photos copyright of SC Congregational Archives 
More Charity Alive – August 2022
Charity Alive – April 2022