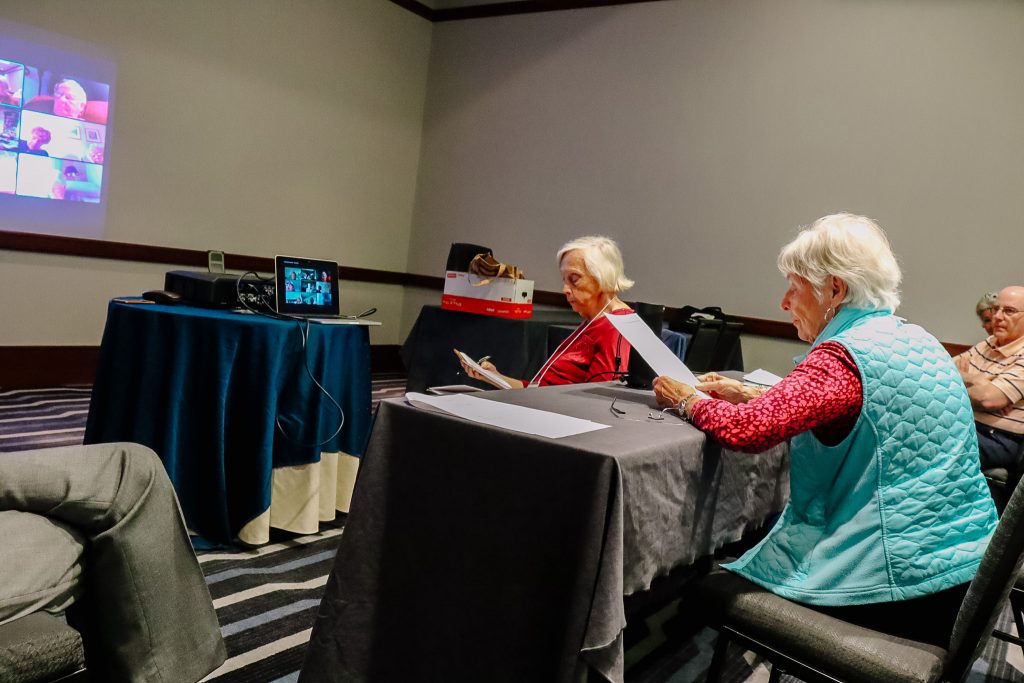 Ann Masters and Barbara Pyles
By Carol Evans and Ann Masters, Associates
The best way to describe our Associate gathering on June 2nd is to celebrate it as our first Hybrid Associate Gathering: "Zoom and In-person".  The technical possibilities keep improving and Ann Masters works very hard to keep us current. Our Zoom attendees included Marie Gallant, Sharron Hillaby, Monica Shebib, Pat Rodriquez, Charlotta Hachey, Diane Walker, Kay Ann Meagher, Jackie Macdonald, Barbara Wengler, Mickey Madden, and Trish Vermeulen.  In-person we had Ronnie Macdonald, Jean Brown, John Fortini, Mary Beth Sanford, Elena Miranda, Rose Marie Smith, Jackie MacDonald, Ann Masters and Carol Evans.
Part of the reflection that opened our session included a quote called "Immersed in God", by Bette Moslander, CSJ: "We must become accustomed to hearing God's voice, sensitive to the prompting of God's Spirit, and in full accord with God's mind and heart".
The Hybrid Format worked well, and we've included some of the spoken and written comments that had been shared with us.
Associates in Bermuda meet monthly since the Sisters left. We assist in Church ministries and parish work. We have support from the Bishop and will continue our Prayer Line on the Diocesan website.
This is working well, and we are quite a happy and self-sufficient group of women.
Our Charism calls us to the Paschal Mystery as always. I feel a deep commitment to continuing the journey as long as possible …
Boston Associates had met to discuss the present reality and where the future will bring them. Gratitude keeps them closely connected and they feel that the Contemplative Circles showed climate as the central issue unifying the cries of the poor and racism. Also mentioned were other "isms" of age and gender that are challenging our Catholic faith and cultures around our world …
I cannot see the Associates carrying on without the Sisters of Charity-Halifax. In my own group, once Sisters left, it was hard to get people to come to meetings. That's not to say that the charism doesn't continue.  Zoom meetings are a lovely way to keep in touch but not everyone does Zoom.
Some questions relative to collaboration and inclusiveness were brought to the discussion.
Staten Island recently celebrated the Commitment of a new Associate. With Sister Maureen's recent move to Wellesley, they had shared how she encouraged them to appreciate themselves and the Associate life …
Our local groups have been eager to discuss our place in the evolution of all things connected to the dedicated religious way of life. Our age and decreasing participatory members echo those of the sisters on a smaller scale.
It will be enlightening to hear what our peers in the Federation and other congregations are doing. In a recent Presentation to ARCAN (Atlantic Religious Congregations Associate Network) by associate Sharon Jacquard, SCICA Associate Communications Coordinator, in a process they followed in becoming autonomous. Sharon shared that "it is the beginning of a new era in the history of Association".
The relationships that we share as Associates, and with each Sister of Charity has and will continue to enrich our lives, as we struggle and participate in the coming of the reign of God, live the Gospel and our Charism and listen to Elizabeth's words "be children of the Church…"
We hope and pray that you will respond to us about these comments with any reflections and ideas you may have of your own or continue to discuss with others.
With trust in the Spirit.
More Charity Alive – June 2023
More Charity Alive – March 2023
More Charity Alive – December 2022
Charity Alive – November 2022