By Sister Kati Hamm
What is an essential ingredient in visioning a future full of hope for our world? One experience that holds many possibilities is that of diverse people working together toward a desired outcome. In today's world we know that the only way forward is through collaboration. This working together though is not just about the outcome but the process itself which is mystery and gift.
In the July issue of Sojourners, artist Angelo Manno, is interviewed by Andrea M. Couture about her recent works  which feature endangered species as centerpieces of icons. The title of the collection "Sacred Icons of Endangered Species" sheds light on the holy work of loving the Earth.  Are these creations, a Loggerhead Sea Turtle, a Sumatran Orangutan, an Andean Flamingo  windows to the sacred? Yes, as are so many other of the daily encounters we fail to notice. Using the process and elements of iconography, the contemplative heart engages with clay, color, and gold overlay to create a call to prayer.
Now imagine a different focus as a window to the sacred: women working together. Could we not imagine icons focused on groups of women, diverse backgrounds, ages, experience, working together, listening, speaking, respecting, welcoming, helping, praying and laughing? In the case of knitting scarves can we "see" all the women gathered -from those who donated the yarn, to the knitters, to those who receive the garments -as a single circle of the work of human hands being about the holy work of compassion? If we can, we may be leaning into the energy of community and paying attention to its power. For this insight and for so many experiences of the good shining through in women working together, we are grateful.
As you read the articles in this month's Charity Alive we hope that these will just be the beginning of sharing your own experiences of this gift of love revealed in community.

Women Make a Difference
By Sister Anne Power
According to Google, good things come in threes: birth, life, death. Biblically it represents holiness, completion, perfection. Whenever the number three shows up in your life it is generally an omen for creativity, community, optimism. However, it is no omen here at Marillac because we have a Care Team of three women who embody creativity, community and optimism.
Patty Angevine is Coordinator of Marillac, assisted by two care managers, Kelly Kovacs and Phoebe Bartlett. Patty is truly a "servant leader" who values collaboration and encourages each member to use her gifts and interests while sharing the responsibility for meeting the needs of the sisters. Kelly and Phoebe enhance all the decisions with enthusiasm and energy. When the Team changed its name from Leadership Team to Care and Concern it was evident where their hearts were.
Statistics tell us that working in a collaborative fashion improves productivity of the team and makes a difference in the outcome of any endeavor. Patty says it well when she states, "Women learn to figure out what has to be done, how it is going to be done and DO IT!" In planning the daily schedule together the Care Team prepares activities around the appointments of the sisters. However there is rarely a "typical" day and you will find on any given day or time one of the team visiting in Elizabeth Seton Residence or helping a sister in Marillac with technology. Shopping, acknowledging a birthday or following up with nursing concerns merely skim the surface of the many acts of kindnesses we receive from our Care Team.
What else can we conclude but that, WHEN WOMEN WORK TOGETHER, THINGS CHANGE. We have been blessed with peace not disorder, unanimity not dissension and we are free to live in harmony doing what women do – pray, work, play and act.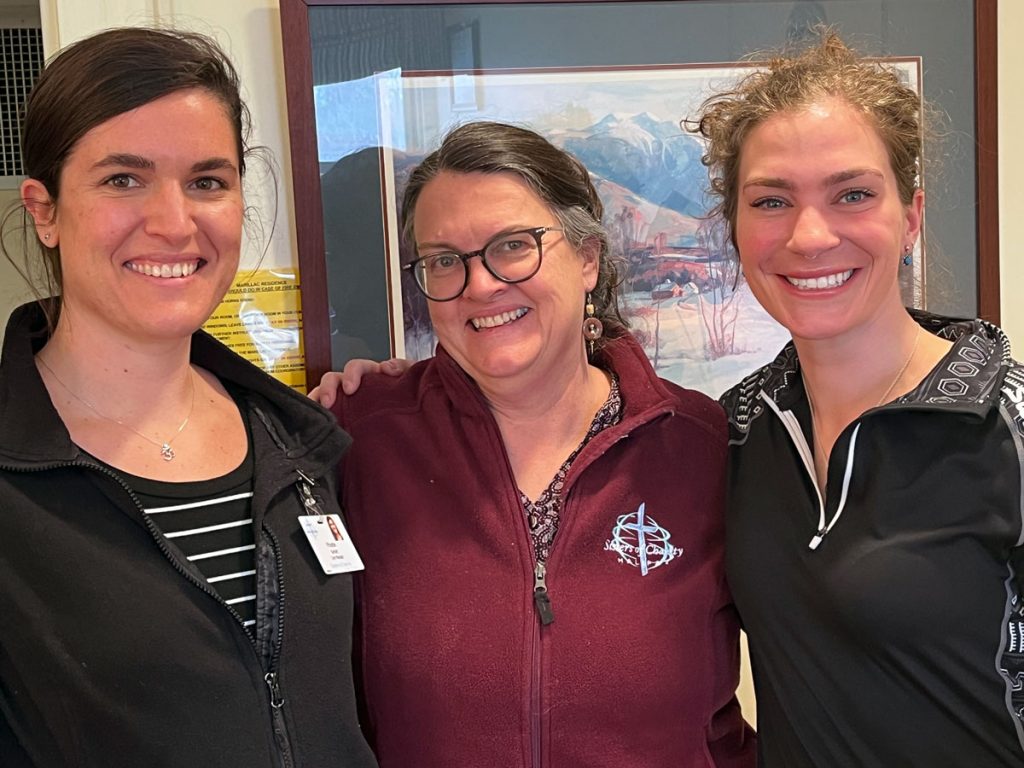 Left to right: Phoebe Barlett, Patty Angevine and Kelly Kovacs
Identifying Our Gifts – Joanne Burns-Theriault, Coordinator, Caritas
By Angela Rafuse, SC Centre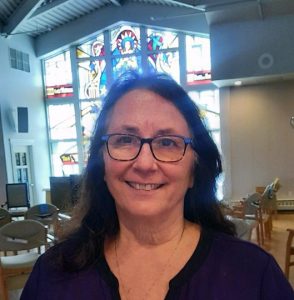 Joanne joined the Sisters of Charity in 2017 as the first lay person to assume the role of Coordinator at Caritas, however it seems she was destined for this role given her interconnected history with the Sisters of Charity. Joanne was born and raised in the North End of Halifax, around the corner from St. Stephen's Convent and Parish which her family attended. Joanne's maternal aunt is Sister Cecelia Catherine Batten (RIP), and her paternal aunt is Sister John Anthony Burns (RIP).
Joanne attended St. Stephen's School and Saint Pat's High School. She went on to Dalhousie University and was awarded a Sister of Charity Bursary. She worked at Mount Saint Vincent University for over 34 years. A number of the Sisters who taught Joanne now reside in Caritas.
While her role as a collaborator involves the responsibility of Manager, acting as liaison with partners and volunteers, advocating on behalf of the Sisters of Charity, you quickly realize Joanne's "heavy work" is a bit more "abstract in nature". The unique disposition of working in a retirement community as every Sister arrives for a different reason, some due to circumstances beyond their control. What is certain, a Sister has left a community for which they were fulfilled, comfortable and happy to be part.
When a Sister's ministry journey calls them to Caritas, there can be a profound sense of unfamiliarity and transition: transition of new spaces, ways, relationships, and community to nurture and belong. While Joanne prepares the tangible aspects of the transition and move, the collaboration involves more unspoken aspects to fulfill. Some days may be easier than others as Sisters transition and adapt to their new community, and Joanne is here to walk with them in whatever aspect that may involve. Joanne remarked, "she has the grace to follow those steps wherever they may lead, and certainly with her faith in God".
When we spoke about challenges in her role, you quickly learn Joanne is not one to shy away from challenges. While working full-time managing both the International Student Office and Campus Recreation and busy raising two sons with her husband Stephen, she returned to graduate studies. Studying often involved sneaking peeks into the textbooks during intermissions of her boys' hockey games. Joanne graduated with her Masters in Adult Education and was the recipient of the Mount's President Prize.
The unprecedented challenges during the pandemic while surreal and not to be downplayed, Joanne confronted with the confidence of her faith. From government lockdowns, healthcare deficiencies, staff and volunteer shortages, these paled in comparison to Joanne's greatest fear of the inability to be physically present with the Sisters. The grueling obstacles and emotional challenges put on her was echoed within the Sisters and the world. Yet through adversity, Joanne's commitment to her role, compassion for the Sisters and resilience to persevere emerged as she adapted to new ways to care for the Sisters and deliver on their needs, despite the chaos around her. In some ways, Joanne made it seem effortless and found new ways to thrive herself as the world emerges on the other side of the pandemic.
This was the longest one-on-one time I spent with Joanne, and I was truly moved by Joanne's heartfelt care and compassion shared in her commitment to leverage her gifts to deliver on the needs of the Sisters. Her final thoughts to conclude our interview: "this is not a job; it is a ministry."
Mosaic Collaboration – Heather Sinclair, Assistant to the Coordinator, Caritas 
By Angela Rafuse, SC Centre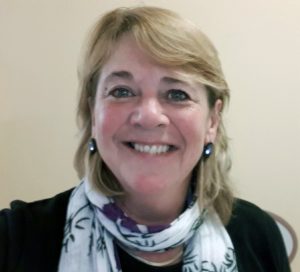 Heather referenced the word mosaic often during our interview. Interestingly, the word mosaic can be defined as "a surface decoration made by inlaying small pieces of variously colored material to form pictures or patterns". This would prove to be an insightful description of Heather's story of collaboration. 
Heather studied Recreation Management at Acadia University majoring in Outdoor Recreation. She lived, worked and volunteered internationally and led mosaic youth exchange programs, and not your typical youth exchange programs. The early years of her career she worked with youth from underrepresented groups with diverse and often complex backgrounds in focused on experiential education and adventure-based counselling. Heather's leadership style could be one described as tough, but kind love. For over a decade she worked with Canada World Youth, which afforded her many cultural awakenings through her community work in developing countries, primarily Jamaica and Russia. After many years she returned home to Halifax to care for her aging parents, and at the same time she adopted a rescue dog.  During this period of her life, she became the founder of a rewarding dog walking business, Tails to Trails, that took her back outdoors and back to nature through rigorous dog hiking with as many as 10 dogs at a time. Through lifestyle changes, prayer and a very chance encounter, she was led to the Sisters of Charity in 2018.  
Heather relates her role as a collaborator similar to her childhood friendships. She frequently found herself acting as the "peace maker" between the diverse personalities on the playground. She would seek common ground through adversity by simply listening. The world has changed significantly since the pandemic, including inflation, labour shortages and healthcare strains. Heather's childhood trait of listening and seeking common ground serves her very well in her current role.  She leverages this skillset to anticipate, advocate and deliver on the needs of the Sisters while fostering harmonious stakeholder relationships. The components of stakeholder collaboration have changed: the people, needs, expectations, timelines, and even patterns. Even Heather's role changes often, sometimes by the moment, and yet Heather's confidence to persevere never falters.  
Heather refers to the blessings of collaboration in the very same way she was led to her role at the Sisters of Charity: divine intervention. Through adversities there are tremendous opportunities and joys to find common ground, often without knowledge or direction on where that may lead. By listening and responding to that call, Heather's greatest joy may be found. As someone who had a lot of extreme living experiences before coming to Caritas, it has served her well to work-through and deliver on the needs and expectations within her role. Just as the youth were "not a number" but distinctive individuals, she feels privileged to work and serve alongside the original feminists and matriarchal subculture, the Sisters or Charity. Heather exuded pride when she spoke of the gratitude and privilege she has to "walk the Sisters home" in her role, and to minister love all along the way.  
Figuratively and literally the word mosaic summed up Heather's unique role in collaboration at Caritas. 
Collaboration
By Ann Masters
While the definition of collaboration is the ACT of working together to achieve a common goal, I think it could be the ART of working together. Developing that art requires commitment, empathy, desire, listening, patience and plenty of ideas.
When Carol Evans and I became co-coordinators of the Associate Relationship, we learned this art little by little. We became good at hearing what the other was saying, thinking about our response and the implications of our decisions. At first, I thought it would be better if we both had similar ideas but I have come to realize that there is more excitement and growth in diversity of thoughts. Our varied experience of location, lifestyle, and congregational connection bring richness and perspective to our work.
To collaborate with Associates throughout the congregations, we established the Associate Leadership Team which is composed of Associates from Bermuda, Boston, New York, Halifax, Cape Breton, Peru and British Columbia. We meet by Zoom every 6 weeks for prayer and to share ideas that foster development in our local groups as well as congregationally.
As members of the CCFP (Company of Charity Formation Personnel) we meet monthly with the other directors to share ideas from all the Charity Associates throughout North America. This collaboration gives us support and knowledge of what is going on in all of the Charity Federation.
Each of the local SC-Halifax Associate groups has a contact person who disseminates the emails and makes sure that all of their members get all communications from Carol and me.
So what was our common goal? These words from our Associate Handbook might say it best: "to widen and strengthen bonds with others who affirm the goals and mission of a religious congregation and who wish to live these from within their own lifestyle." Collaboration has enabled me to widen and strengthen these bonds with others in Canada, Peru, Bermuda and the United States. My life has been enriched!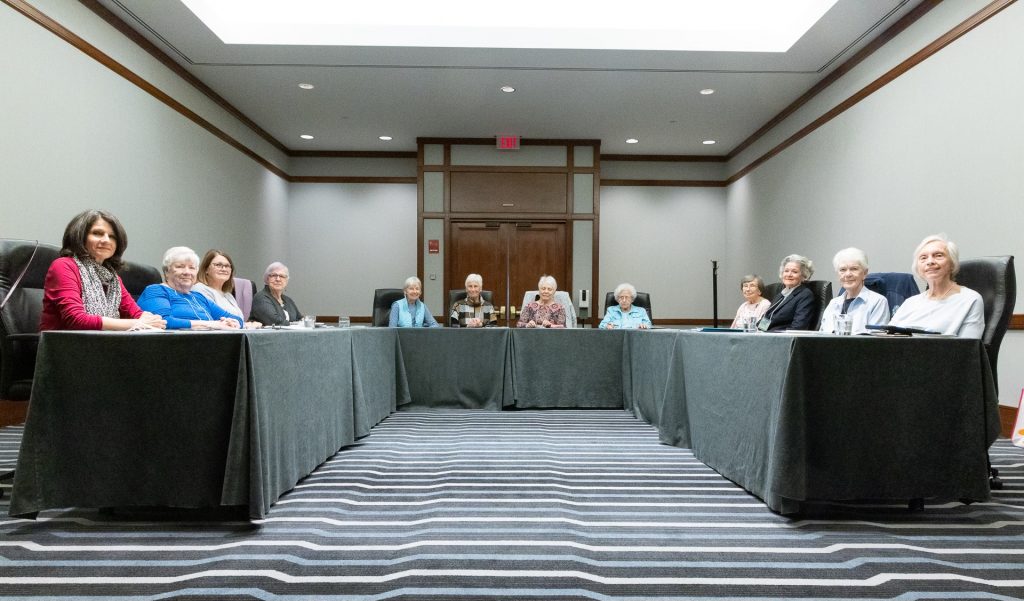 More Charity Alive – March 2023
More Charity Alive – December 2022
Charity Alive – November 2022