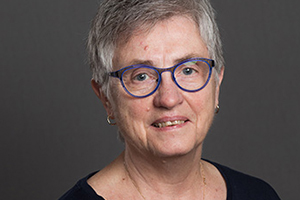 Prayers are requested for the repose of the soul of Sister Patricia Wilson who died died peacefully at Caritas Residence, Halifax, on July 11, 2023, at the age of 74. Born in Staten Island, NY, she was a daughter of the late Robert Wilson and Elizabeth (Harvey). She entered the Sisters of Charity in 1967 and made her first profession in 1970.
Sister Pat received her Master's in Liturgical Studies from University of Notre Dame and her Bachelor of Arts from Queens College in NY City.  She was certified as a Christian Doctrine Instructor through the Archdiocese of Boston and completed the Formation Program for Spiritual Directors through the Vincentian Centre for Spirituality & Worship.
Sister Pat began her career in 1972 working as a social worker in Brooklyn, NY.  In 1973 she ministered as Liturgical Coordinator in two NY parishes where she also shared her love for music. 1981 she was the missioned to Bermuda where she served in Pastoral Ministry. Upon her return to the US in 1984 she served as Director of the Liturgy Office for Diocese of Saginaw, MI and was appointed Pastoral Administrator at St. John Baptist Parish.
Sister Pat moved to Nova Scotia in 1996 to serve in Leadership with the Sisters of Charity. She was active in Prison Ministry and Coordinator of Elizabeth's Place. She continued to keep in contact with many of those she served following their release from prison. She was active in Pastoral Ministry serving with the Catholic Pastoral Centre and in Adult Faith Formation at PAX Centre.  Sister Pat served as Chaplain at MSVU and for the past eight years served as Chaplain at Caritas Residence. Sister Pat also served on the Boards for MSVU and St. Vincent Nursing Home.
Sister Pat had a beautiful singing voice, was a gifted orator, a compassionate effective minister gifted with a great sense of humour. She was a proud New Yorker but was honoured to be a Canadian too. She was an inspiring teacher, who always pulled towards the marginalized and the poor. Sister Pat had a big heart and was ready to welcome everyone. Her talents were many and always available for others. She loved people and found her joy in their presence.
In addition to her parents she is predeceased by her brother Robert (Sally), survived by her brother William (Lois), sister Kathleen (Bob), and many nieces and nephews.
The Immaculate Conception Chapel, Caritas Residence will Welcome the Body on Monday, July 17, 2023, 2:00pm, followed by visitation until 4:00pm. The Vigil will held at 6:30pm. The Mass of Christian Burial is Tuesday, July 18 at 10:00am. The Mass is a private service for Sisters, Family and Associates. Burial will take place at the Gate of Heaven Cemetery immediately following. In lieu of flowers, donations may be made to the Sisters of Charity.