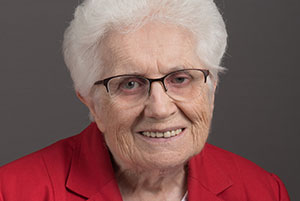 Lavers, Sister Mary (Mary Jeannette) 84 died at the QEII, (Infirmary site) Hospital, N.S., on September 6, 2020. Born in Halifax she was a daughter of Joseph and Clara (Cordeau) Lavers. She entered the Sisters of Charity-Halifax in 1958 and made her First Profession in 1961.
Sister Mary graduated with her Masters of Theological Studies from the Atlantic School of Theology, her Bachelor of Education and Bachelor of Science in Home Economics from Mount Saint Vincent University.
Over the years, Sister Mary taught in Cape Breton, Halifax and Dartmouth, specializing in Home Economics, Elementary Education and Reading Resource. She served on the Provincial Elementary Language Arts Curriculum Committee. Following her time in education, Sister worked in parish ministry at Saint Stephen and St. John the Baptist parishes in Halifax.
Sister Mary understood the importance of documenting the works of the Sisters of Charity. After her retirement from teaching, Sister held several administrative positions within the Congregation. She used her gifts for service within the Sisters of Charity serving as recording secretary for Sisters of Charity meetings and as a member of the Sisters of Charity Provincial Board Council. When she moved to Caritas, Sister Mary was appointed to record and document the annals for the Caritas and Parkstone communities.
Cherishing spiritual development, Sister was a member of the staff of the Spirituality Centre at Mount Saint Vincent Motherhouse and Seton Spirituality Centre in Terence Bay, NS. She also volunteered with the Jesuit Centre of Spirituality as Spiritual Director and Associate staff member.   She was very active in the Atlantic Association for Spiritual Exercises.
Over the years Sister Mary was a valued member of many boards, committees and councils. She was a natural educator who was called upon often to facilitate workshops and conferences. She had a gift for guiding others in spirituality and mediation. Sister Mary was well respected and loved by all who knew her.
In addition to her parents she is predeceased by her sister Agnes Beach and brother Wilfred Lavers.  She is survived by her sister-in-law, Joan Lavers, and several nieces and nephews.
A Mass of Christian Burial will be celebrated on Friday, September 11, at 10 a.m. in Saint Agnes Church, Mumford Road.  If you wish to attend you must register at the church prior to the funeral by calling Tracey at 902-454-8200. Burial will follow in Gate of Heaven Cemetery, Lower Sackville, NS.  In lieu of flowers, donations may be made to the Sisters of Charity Ministry Fund.