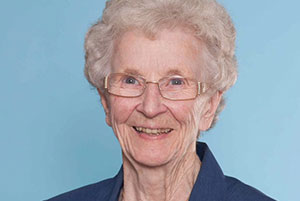 Sister Maryalice Boyce, RN, died peacefully on May 17, 2019 at Eagleridge Hospital, Coquitlam, BC. Born on January 15th, 1932 in Camp Creek, AB she was the daughter of the late James and Grace (Weikel) Boyce.
She entered the Sisters of Charity Halifax in 1952 and earned her Nursing Degree at the Halifax Infirmary and her B. Science from Mt. St Vincent/Dalhousie Universities.  She was the Halifax gold medal of honor recipient as well as the top in the province in her registered nurse's exams.
She cared for the elderly Sisters at Mother Berchman's residence before going out west to St. Anne's Hospital in Hardisty, Alberta.  In 1969, Maryalice worked for National Health and Welfare with Indian and Northern Affairs.  Her base was the Charles Camsell Hospital in Edmonton, Alberta often travelling to the Arctic to diagnose and evacuate patients to Edmonton.  She sometimes did "locum" for nurses needing to come south.
She earned her Masters in Pastoral Counselling from Seattle University and then became Hospice Chaplain at the Edmonton General Hospital.  Her thesis for her Masters was in the pastoral aspects of palliative care.
In 1986, Maryalice was awarded a Certificate in Native Awareness and Native Counselling.  She went on to Prison Chaplaincy Ministry at the Bowden Institute in Innisfail, Alberta and later became Hospital Chaplain at the Riverview Psychiatric Hospital in Coquitlam, BC.
Sister Maryalice is predeceased by her parents and her brothers James, Henry, Howard, Charles, Edward, Clarence, Donald, Allen, Brian and by her sister Florence Garrett.
She is survived by her brother Norman and by her sisters Margaret Rose Pask, Grace Kennedy and Kathleen Minkus.  She is grateful for the devotion of her nieces and nephews, her parish community and friends, her Sisters of Charity and her support groups.
The Sisters of Charity are grateful for the kindness shown to Maryalice by Maureen, Barbara and Carl and many others! And yes, Sister Maryalice "lived until she died."
Mass of Christian Burial will be held at St Clare of Assisi Parish, 1320 St., Coquitlam. BC on Friday, May 24, at 11am with viewing at 10 am.
Arrangements are being taken care of by Burquitlam Funeral Home, 625 North Rd., Coquitlam, BC  Contact info:604 936 9987
Sister Maryalice' remains will be taken to Halifax. A memorial Mass will take place at Caritas Residence with burial at Gate of Heaven Cemetary, Sackville.
In lieu of flowers, remembrances can be made to the Sisters of Charity Ministry Fund, 215 Seton Rd., Halifax, NS  B3M 0C9 or to the BC Cancer Society, Volunteer Driver Program.
SaveSave
SaveSave
SaveSave
SaveSave