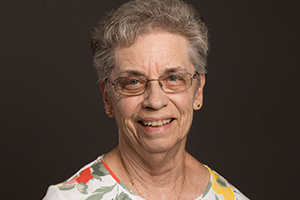 Edna Clark had a vital, strong presence which enabled her to seek out those who needed help whether it be her sisters, her family, her colleagues, her friends.
Born in Mineola, NY, the daughter of Edna Marie (Dryden) and Robert B. Clark, Edna Anne Marie Clark was one of the first three young women from Saint Aidan's, Williston Park, to enter the congregation. She was accepted into the postulate at Mount Saint Vincent, Halifax, on September 30, 1958, was received into the novitiate on July 1, 1959, and pronounced her first vows on July 2, 1961. Final profession followed on August 15, 1966.
Quiet and reserved though she was, Edna Clark was a very talented woman. She was an excellent photographer and was as handy with a toolbox as she was with a book. She received her B.Sc. Degree in Elementary Education from Mount Saint Vincent University, and an M.S. in Religious Education from Fordham University, NY. She began her career as a first-grade teacher at Holy Saviour Convent, Westmont, NJ, then at Saint Paul's in Brooklyn, NY. In 1975, she found another area where she could be of service as a Religious Education Coordinator at the parishes of Saint Paul, Our Lady of Angels, Saint Andrew, and Saint Ephraim, all in Brooklyn, NY. But in 1980, when computers came into ordinary use, and most sisters were flailing in technology darkness, Edna found her unique talent as a computer expert, a talent which later on materialized into her receiving a Professional Diploma in Educational Administration and Supervision from Saint John's University, Jamaica, NY.
Edna put her education to good use in the community. She was the Director of Computer Services for the Provincial Offices in Brooklyn and Middle Village. She computerized Provincial Office data across all departments; she created and published the New York Province Newsletter. She was also a talented photographer and took pictures at most community functions. She worked on various community projects; for example, the annual Golf Outing Committee, a fund raising project. Outside the community she gave computer workshops at St. John's University while also working as a computer expert for various small businesses.
On a more personal level, Edna was a very focused person with a deeply compassionate heart. She saw a need, near and far, and she filled it. She was present to, and very much a part of a family that had lost its mother and she, along with her dear friend Sister Julia Heslin, was instrumental in supporting the Mision Tu Puedes School in the Dominican Republic. Edna created and published the school's Newsletter.
Edna came to Marillac Residence at the end of August after she had suffered a severe fall. She was diagnosed with cancer and died peacefully, resignedly on October 8, 2022.
Sister was predeceased by her parents and is survived by her beloved sister Mary (Zogott).
The Prayer Service was held in the Marillac Chapel on Friday, October 14, where the dominant note in the sisters' memories of Sister Edna was her quiet life of service. The Mass of Christian Burial followed on Saturday, October 15, 2022, at Saint Paul's Church, Wellesley, MA with a full attendance of sisters, colleagues and friends from New York and Boston. Internment followed at Saint Mary Cemetery, Needham, MA.
The love of Christ urges us to spend ourselves for others in union with him who is among us as one who serves (Constitutions 41).