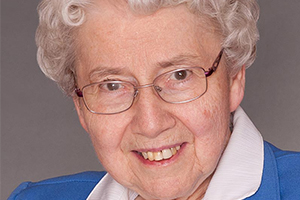 Murphy, Bernadette Gladys (Irene Bernadette) SC, 87, died at Caritas Residence, Halifax NS on October 14, 2022. Born in West Chezzecook, NS, she was a daughter of the late Stephen Francis and Alexandrine (Myatt) Murphy. Sister Bernadette entered the Sisters of Charity-Halifax in 1954 and made her First Profession in 1957.
Her first ministry with the Sisters of Charity took her to Brooklyn, NY in 1957. There she served as housekeeper at Saint Sylvester Convent. She returned to Halifax in 1959. For 30 years, Sister Bernadette worked at Mount Saint Vincent Motherhouse in the Cafeteria. She was appointed Cafeteria Supervisor in 1972 and served in that capacity until 1989.   Following her retirement, she continued to contribute to the quality of life at the Motherhouse, then at Caritas Residence by applying her talents where needed.  Sister Bernadette was a skilled seamstress tending to the sewing needs of the community.  She was mentored in the role of Sacristan while at the Motherhouse. When the Sisters moved to Caritas Residence, Sister Bernadette brought and upheld the Sacristans' traditions and standards meticulously. She took great care and pride in everything she did, some even cited her work as perfection. Sister Bernadette's quiet and gentle ways were her gifts.  She was faithful, observant, kind and caring. She was very devoted to her chapel ministry. Sister Bernadette was also a cherished member of the Sisters of Charity choir for many years and loved music throughout her whole life.
Sister Bernadette had a large family she was very devoted to. She is predeceased by her parents and brothers Oliver, Noel and Stephen and sisters Irene Soucy and baby Bernadette who died in infancy. She is survived by her brother Edward and sisters Jean (Jack) Bardsley, Albertine (Denis) Myatt, and Beatrice (Ivan) DeSutter as well as many nieces, nephews, great nieces and nephews and a great great-niece. She had a strong connection to her Acadian roots and adored her home community of West Chezzetcook where she continued to maintain her loving relationships with all her family and friends.
A Prayer service to welcome Sister Bernadette's body home will be held at Immaculate Conception Chapel, Caritas Residence on Thursday, October 20th at 2pm followed by visitation until 4:00pm.  The Vigil Service will be held at 6:30pm Thursday evening.  Mass of Christian Burial will be celebrated on Friday, October 21st at 10:00am. The Funeral Mass will be a private service for Sisters, family and Associates.  The Mass will be livestreamed Funeral Mass — Sister Bernadette Murphy (vimeo.com) . Burial will follow in Gate of Heaven Cemetery, Lower Sackville, NS.  In lieu of flowers, donations may be made to the Sisters of Charity.