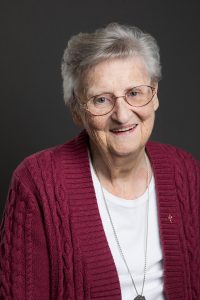 Sister Anne Fahey (Leo Kevin) April 6, 1932 – June 28, 2023
Prayers are requested for the repose of the soul of Sister Anne Fahey (Leo Kevin), who died June 28, 2023 at Elizabeth Seton Residence, Wellesley Hills, MA, at the age of 91.
Sister Anne shared life with us for 71 years and was a beloved educator in Nova Scotia and Massachusetts, who gave joyful witness to love. Sister Anne served her Congregation as Provincial Superior in Quincy, MA and as Provincial Treasurer in Boston, MA. She also served as Religious Education Coordinator for the Archdiocese of Halifax, as well as the Director of Formation in Halifax and as the Boston Office Treasurer for her Congregation.
The Funeral will be held Thursday, July 6, 2023 at Mount Saint Vincent Chapel, Wellesley, MA. The Wake will be at 9:30 AM with a Prayer Service at 10:15 AM. The Mass of Christian Burial is at 10:45 AM. Interment immediately following Mass at Saint Mary Cemetery, Needham, MA.
A detailed obituary will follow.