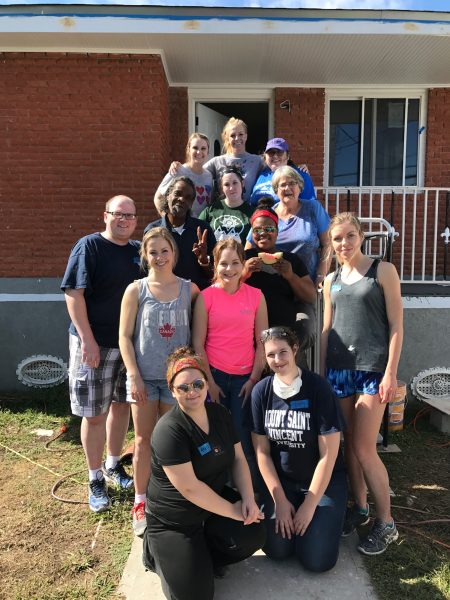 Mount Saint Vincent University encourages all students to give back to the community many times throughout the school year. Students have annual volunteer opportunities such as Caritas Day and Shinerama, and unique volunteer trips to different places around the world. This year, during the newly-introduced Fall study break, Scott Daniels (Manager, Co-operative Education) and the Sisters of Charity-Halifax took eight students to New Orleans, LA.
Many organizations have pitched in to help residents come home since Hurricane Katrina in 2005. The St. Bernard's Project (SBP) is one such group, and this year's MSVU group was extremely fortunate to be able to work on a house renovation with SBP, to bring Mr Murry home.
Mr Murry was an older gentleman whose house was flooded. When he returned home, he was given a trailer to live in; he has been living there for 11 years, with all his belongings and his two dogs.
We had three exciting days working on his house. We were tasked with laying laminate flooring in the bedrooms as well as laying tiles in tub surrounds and on the kitchen and hallway floors. These jobs required a great deal of patience, attention to detail and teamwork. We were finally able to bring Mr Murry one step closer to having a home for him to enjoy and for his children to come visit!
Megan Moore, a Psychology student says, "not only did we get the great experience of helping bring a person home, we got to connect with that person and learn from him the love and power of giving. He didn't have much but still insisted on giving us some of his things – I thought that was pretty powerful."
When we first arrived, no one had noticed the beautiful watermelon that Mr. Murry had been growing. By the second afternoon, someone pointed it out and that became our group's signature. On our last day, Mr. Murry insisted that we all have a piece of that watermelon. H said he didn't want it to go to waste and he wanted to share it with us hard-working volunteers.
Kimber Dunphy, a Child and Youth Studies student, explains her volunteer experience like this: "Experiencing New Orleans with SBP, the Sisters of Charity and fellow students from the Mount was an unforgettably moving experience. … It is so easy to distance ourselves from disasters we see on TV and I am humbled to have had the opportunity to be a part of making the time between disaster and relief shorter for Mr. Murry."
This experience has changed my life and made me realize my passion for volunteering. This was my second international experience and it has allowed me to make someone else's life better. His humbleness and caring for others made me appreciate the little things in life and showed how, even when someone doesn't have a lot in his life, he was willing to share his beautiful watermelon with a bunch of strangers.
More House of Charity news.