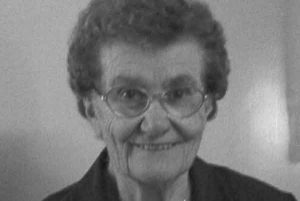 Born In: New Waterford
Passed in: New Waterford
Passed on: January 11th, 2018
It is with sadness that we announce the passing of Sister Mary Ann Chiasson, 91, of New Waterford on Thursday, January 11, 2018 at New Waterford Hospital.
Born in New Waterford, she was a daughter of the late Patrick D. and Mary Ellen (Gallant) Chiasson.
Sister Mary Ann was professed in 1949 at Mount St. Vincent Mother House in Halifax. She ministered in the field of education in New York, Massachusetts, Quebec and Nova Scotia for almost 30 years. She later worked as a Hospital Chaplin in North Sydney and eventually provided outreach to seniors in Aging Gracefully. Sister Mary Ann was also a retired teacher who taught at Mount Carmel School.
Surviving are her sister, Nellie Chiasson, New Waterford; several nieces and nephews as well as the sisters of her religious congregation.
Besides her parents, Sister Mary Ann was predeceased by brothers, Henry, Leo 'Lem',
Charlie, Simon and Dan; sisters, Evangeline, Margaret, and Mary Alice.
Visitation will be held on Friday (today), January 12, 2018 from 3-7 p.m. in V.J. McGillivray Funeral Home, 380 Smith St., New Waterford. A prayer service will take place at the funeral home from 2:30 p.m. until the time of the visitation. All are welcome.
A Funeral Mass of celebration will be held on Saturday, January 13, 2018 at 10 a.m. in the Parish Church of St. Leonard, Mount Carmel Avenue, with Fr. Ray Huntley officiating. Cremation will follow with burial in Mount Carmel Cemetery at a later date. A luncheon will be held at St. Leonard's Parish Hall, Convent Street, immediately following the funeral mass.
SaveSave
SaveSave
SaveSave
SaveSave