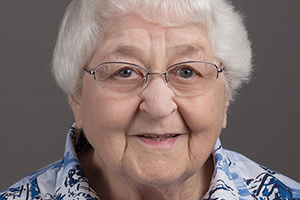 Mulcahy, Dorothy Eileen (Maria Dorothy) SC, 97, died at the Halifax Infirmary Hospital, NS on August 31, 2022. Born in Halifax, NS she was the daughter of the late William and Mary (Conway) Mulcahy. She entered the Sisters of Charity-Halifax in 1945 and made her First Profession in 1947.
Sister Dorothy is an alumna of Mount Saint Vincent University. She received her Bachelor of Science in Elementary Education and her Bachelor of Arts.  She also studied Guidance at St. Michaels College in Vermont. Upon retiring from teaching in 1984, Sister Dorothy attended Gonzaga University in Washington and received her certificate in Religious Studies specializing in Leadership and Spiritual Direction.  Sister Dorothy also served in many leadership and administrative roles within the congregation of the Sisters of Charity.
Sister Dorothy was involved in Education, serving as a teacher and administrator for thirty-six years. She taught in New York (Woodside), Nova Scotia (Halifax, New Aberdeen, Bedford, Lower Sackville and Enfield) and British Columbia (Vancouver). She served as a principal in Nova Scotia (Port Hawkesbury) and Province of Quebec (St. Michel).  She worked with the Halifax Municipal School Board, teaching special education classes. She also taught Religious Education classes.
For seven years, Sister Dorothy served at Seton House of Prayer in British Columbia (Summerland and Kelowna) where she supported pastoral ministers, directed retreats, and provided spiritual direction.  In 1991, she transferred to St. Vincent Convent, Edmonton, Alberta where she was involved in congregational administration. She continued working in administration when she returned to Halifax and served in leadership at Mount Saint Vincent Motherhouse. She moved to Caritas Residence and served as a volunteer from 2008 until she retired in 2011.
Sister Dorothy was a woman of deep faith who was known for her kindness, patience, and genuine interest in others. She had a wonderful laugh and beautiful smile, creating an atmosphere of welcome and joy wherever she lived.  Her family always looked forward to Sister "Dot's" hugs as they were the best ever. She loved her family as much as they loved her.