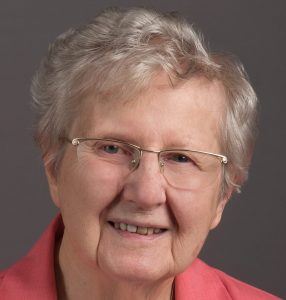 Sister Mary Ruth Kline (Mary Ethelreda) February 2, 1920 – June 30, 2023
Prayers are requested for the repose of the soul of Sister Ruth Kline (Mary Ethelreda), who died peacefully in Caritas Residence, Halifax, on June 30, 2023 at the age of 103. Born in Halifax on February 2, 1920, she was one of three children and only daughter of the late Henry J. Kline and Ethelreda (MacNeil). Sister Ruth entered the Sisters of Charity from Saint Thomas Aquinas Parish, Halifax on September 8, 1938 at Mount Saint Vincent Motherhouse. She was received into the Novitiate on March 19, 1938 and took the religious name Mary Ethelreda. She was first Professed on April 13, 1941 and made Final Vows on August 15, 1947.
Sister Ruth earned a Bachelor of Arts from Mount Saint Vincent University in 1948 and a Master of Arts in English from St. Francis Xavier University in 1952. Her ministry in education and pastoral care spanned six decades in Nova Scotia. Sister Ruth taught at St. Patrick, St. Catherine, St. Thomas Aquinas schools in Halifax, and Bedford Central, and served in administration as Principal, Librarian and Catechetical Coordinator. Sister Ruth's family had a love for music, particularly classical music and this affection spanned into her work. She loved working with the school choirs and was known to have a sweet singing voice.
When others her age may have considered retirement, Sister Ruth pursued additional opportunities to share her charism of charity and offer care to all in need. Retired from teaching in 1977, she earned a Pastoral Certificate from Gonzaga University in Spokane, Washington, and became the Chaplain at the IWK Health Centre in Halifax. Simultaneously, she studied at the Atlantic School of Theology to earn a Masters of Theology. Sister Ruth was devoted to her parish, St. Pius, and acted as a parochial visitor to the Grace Maternity and Halifax Infirmary Hospitals to offer spiritual care. Her love of teaching evolved into tutoring newcomers to Nova Scotia, and Sister Ruth was a beloved literacy tutor to immigrants.
Sister Ruth served in various administrative and leadership roles with the Sisters of Charity including Vicar, Secretary and local Superior. Sister Ruth was a woman of deep faith who lived a life of true grace. She was greatly admired by many and will be remembered for her intelligence and interest in everyone and lifelong learning. Sister Ruth was of sound mind until her last day, always offering a smile and kind, encouraging word to all.
In the Homily at Sister Ruth's funeral, Father Owen Conley remarked on Sister Ruth's beautiful character, spirit and unwaivered faith. He remembered the evening preceding her death, Sisters and friends gathered with Ruth for a time of prayer and to witness her anointing. Father Owen's Homily quoted theologian Henri Nouwen: "faith comes to perfection when we can face the day of death without fear." This summarized Sister Ruth's fearlessness and remarkable life of joyful witness to love.
In addition to her parents, Sister Ruth was predeceased by her brothers, Donald Kline and the Reverend Henry Kline. She is survived by cousins, nieces and nephews. A Prayer Service welcomed Sister Ruth's body home to the Immaculate Conception Chapel, Caritas Residence on July 6, 2023 followed by a visitation and Vigil Service. The Mass of Christian Burial was celebrated on July 7 and the burial followed in Gate of Heaven Cemetery, Lower Sackville, NS. In lieu of flowers, donations may be made to the Sisters of Charity.