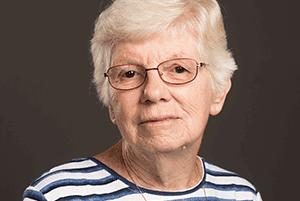 Sister Pat Tobin, Sister of Charity, while born in Dorchester, MA spent all of her ministry years as a Sister of Charity in the New York area. She started out as a grade school teacher at Our Lady of the Cenacle in Richmond Hill. From there she was assigned to Our Lady of Angels where there were 2,700 students enrolled in the school. One of her fourth-grade students remembers her looking down on him saying " I guess there are times you just have to fight," and she gave him a hug he has never forgotten.
She received a degree in Special Education and began teaching students in Special Ed at Resurrection-Ascension School in Rego Park commuting each day from Bay Ridge. In 1973, she began a new ministry at Conklin Residence on 67th Street. Eventually, she and Sister Natalie Morris became full-time Managers at Conklin Residence. For her this was a twenty-four-hour ministry and she loved doing it. She and Sister Natalie would take them on vacation each summer, whether it be the Jersey Shore or the Pocono Mountains and have a great time.
She retired from Conklin Residence in 2002 but kept in touch with and became an advocate for seniors in Bay Ridge. One said when she heard that Sister Pat had died that she had lost a "good friend". That's what Sister was – a good friend and faithful friend and a dedicated Sister of Charity.
SaveSave
SaveSave
SaveSave
SaveSave