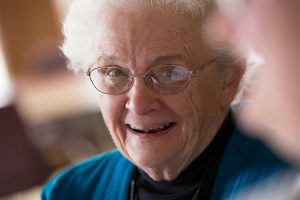 Charism is a word that means so much but is hard to define. When we see it lived, though, we recognize it. When Sister Maryann Sherlock quietly and slowly makes her way down the hall at The Boston Home with a smile and hello for everyone, calling each resident and staff person by name, with always a long pause for a response … in that listening, that presence, we begin to understand the concept of charism.
The Boston Home, in Dorchester, MA, serves adults with advanced and progressive neurological diseases. Sister Maryann has been volunteering there for 12 years. When someone says, "we're so lucky to have her here" she quickly counters with, "I'm so blessed to be here."
Like so many Sisters of Charity, Sister Maryann was a teacher, mostly at St. Kevin's in her home town of Dorchester. After 20-some years, she says, "I didn't want these kids to experience a crabby old nun" so decided it was time for a change. She heard that WAITT House needed help with its adult literacy program. "I had never taught adults, I was shy and a bit afraid. But I knew I just had to be open to whatever presented itself." She went to teach English but quickly realized that "some of these people just needed someone to talk to." Like the woman who called to say she'd just drunk a bottle of whiskey and took some pills. Sister Maryann's response? "Where are you? I'm coming." Then the student who, on a Friday, said "I won't be here on Monday" because she was going to prison for six months. Sister Maryann and others encouraged her to come back, which she did after she'd served her time. That student eventually earned her high school diploma. There are many more stories, almost all with happy endings.
After 15 years, Sister Maryann's health meant she had to give up her work at WAITT House and "it broke my heart to leave." Searching, she went to an Aging Gracefully workshop given by Sister Bridget Hasse, OSU, who happened to be looking for volunteers for The Boston Home.
Sister Maryann started with Coffee and the News, where reading newspapers aloud offers a vital link for residents to keep connected with the happenings in the world. From brief personal sharings there, she began meeting with a few people individually – in their rooms or in a quiet corner. Sometimes they pray together, sometimes a resident wants to share a story or a pain from her life. Always, Sister Maryann offers a willing ear, an open heart, that reassuring presence. "I'm a companion on the journey. They know they can talk about anything with me."
Between visits, she often sends a website link or photo chosen especially for each person.
Eleanor, for instance, says, "Sister Maryann visits me twice a week without fail. If she's unable to come, she will email me. She has given me booklets and one particular website that I found most moving… Sister Maryann has opened my eyes. She has shown me what I have been missing in my life."
These relationships have become an important part of Sister Maryann's life, too. One, in particular, she talks about: a woman who had lost the use of her hands asked for help to write a letter to an estranged son in a California prison. Sister Maryann provided the means, in more ways than physical, for this woman and her son to reconcile. When the resident was nearing death, Sister Maryann spent several nights at her bedside, then held the telephone while mother and son had a meaningful final conversation. And in gratitude for graces given, Sister Maryann planned and directed the funeral.
A brief visit to The Boston Home shows what a special place it is. Compassionate, dedicated staff ensure that residents have what they need to live meaningful lives despite debilitating disease. These are women and men who have had brilliant careers, who want to brag about their grandchildren, who create beautiful art – and who look out for one another. Sister Maryann is very much a part of that.
Activities Co-ordinator Kerry Donohue says, "we depend on Sister; we value her presence here. She's worked with some of our residents during the toughest times in their lives." Spirituality Co-ordinator, Rev. Dr. Jeffrey Johnson, describes Sister Maryann as "faithful, gentle, prayerful, compassionate, upbeat with a ready smile… helping people connect with their hopes and dreams, and with God." Lucille Haratsis, Director of the Wellness and Spirituality Program, concurs. "Healing and presence is what Sister Maryann is all about. She doesn't like a lot of attention or praise, but she deserves both!"
SaveSave
SaveSave