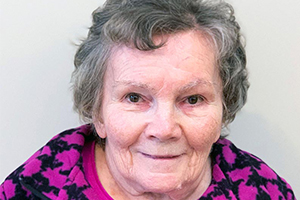 O'Neill, Sister Maureen Clare (Helen Maureen) sc, died at the Halifax Infirmary Hospital, on March 24, 2023 at the age of 84. Born in Halifax, NS she was a daughter of the late Henry Matthew and Helen Mary (Egan) O'Neill. She entered the Sisters of Charity-Halifax in 1957 and made her First Profession in 1960.
Sister Maureen obtained her Bachelor of Arts and Bachelor of Education from Mount Saint Vincent University and her Bachelor of Commerce from Dalhousie University.  Sister Maureen began her ministry teaching elementary education in New Jersey and then in Halifax at St. Joseph's and St. Catherine's. With a background in bookkeeping Sister Maureen was missioned to work in the Business Office at the Halifax Infirmary Hospital. Finding her gift in business, Sister Maureen returned to university and obtained Bachelor of Commerce degree 1974.  She joined the Business faculty at the Dartmouth Regional Vocational School and then the Community College of NS at the Ackerley Campus where she taught for 21 years. Sister Maureen was a lifelong learner returning to the classroom as a student throughout her life. As a mature student, she studied at Kisemanito Centre in Alberta, St. Paul's University in Ottawa, and the Galilee Mission, Ontario. She obtained her Diploma in Theology and Ministry from the Atlantic School of Theology in Halifax. Sister Maureen also worked in Administration with the Sisters of Charity and in Parish Ministry.
Sister Maureen was very proud of her Irish heritage. She always dreamed of going to Ireland and saved for many years.  When health prevented her from traveling, she donated her savings to Mount Saint Vincent University's Indigenous Student Bursary Program in memory of her friend Eva Joseph.  Sister Maureen accepted her physical challenges and was determined to live her life to the fullest.  Her inner strength, her compassion for others and her joyful witness of God's love was an inspiration to all her knew her.
In addition to her parents, Sister Maureen is predeceased by her brother Paul and brother-in-law, Samon Ando. She is survived by her brother Garry & sister-in-law Eileen Hornby, and sisters Gail O'Neill and Carol Anne Ando. Nieces, Jennifer O'Neill, Laurie O'Neill, nephew, Brendan O'Neill and their families.
A Prayer service to welcome Sister Maureen's body home will be held at Immaculate Conception Chapel, Caritas Residence on Wednesday, March 29th at 2pm followed by visitation until 4:00pm.  The Vigil Service will be held at 6:30pm Wednesday evening.  Mass of Christian Burial will be celebrated on Thursday, March 30th at 10:00am. The Funeral Mass will be a private service for Sisters, family and Associates.  The Funeral Mass will be livestreamed. Burial will follow in Gate of Heaven Cemetery, Lower Sackville, NS.  In lieu of flowers, donations may be made to the Sisters of Charity.