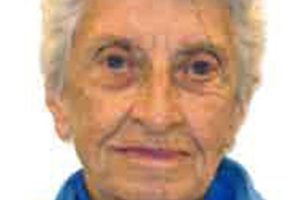 Truly, Sister Mary Scinta was a hidden soul. The daughter of Ida M (Lott) and Vincent E. Scinta, Ida Marie Scinta was born in Massapequa, Long Island, NY, and entered the congregation at St. Joseph Convent, Halifax, NS, on July 19, 1952. Receiving the name Sister Mary Vincent when she entered the novitiate, August 14, 1952, she pronounced her first vows on August 15, 1954, and her final profession on August 15, 1960.
Having received her BSc. and her BA at Mount St. Vincent University, Sister began her teaching career in the intermediate grades at St. Patrick's, Lawrence, MA and subsequently at St. Anne's, Glace Bay, NS; at St. Sylvester's, Woodside, NY, and at St. Barnabas Convent, Bellmore, NY. After attaining her MSW from Adelphi University, Garden City, NY, she served at Southside Hospital, Bayside, NY, and at the Senior Center in Rockville Center, NY.
Sister Mary Scinta thoughtfully left us her own obituary, written in the third person narrative on January 1, 2017:
"To whom it may concern:
I would like the following to be put on my memorial card and nothing else if these cards are still being used at the time of my demise.
Mary's life was one which took her on a journey after profession from Lawrence, MA, Cape Breton, NS, New York, and later to a less-traveled road to Eastern Kentucky. Later she went to Florida to care for 2 brothers who were recovering from surgery and then to South Georgia to care for a Kentucky friend who had cancer and needed care and support to get her through her illness.
Mary was gifted with working with people at the grassroots level and helping them in improving local pressing problems in their communities. This was her calling.
Whenever life became comfortable and secure she felt it was time to move on and to take on new challenges that gave her renewed energy. Thus the restless spirit syndrome.
And all through these years, a precious spiritual life developed and flourished within her quiet spirit. This was often passed on to those who had little faith.
The journey which began so many years earlier, ended at a resting place where she first contemplated entering the Order of the Sisters of Charity in Halifax. This took place in Seaford, Long Island, NY."
Sister Mary became ill and moved to Elizabeth Seton Residence. She died peacefully on June 13, 2023. The Mass of Christian Burial was celebratedon June 23 2023, at Mount St. Vincent Chapel, Wellesley Hills, MA. Sister Mary Scinta rests with her family in their family plot at St. Charles Cemetery, Plainview, NY. Sister was predeceased by her parents, her brothers, Arthur, Ralph, Vincent, and her sister Mary (Livermore). In lieu of flowers, donations may be made to the Sisters of Charity.