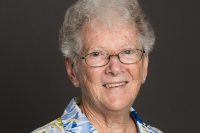 Palardy, Sister Mary Eldora (William Jude), SC, 86 died at the Halifax Infirmary, NS, on October 3, 2023. Born in Haverhill, MA, she was the daughter of the late Willow and Gertrude (McKenna) Palardy. She entered the Sisters of Charity, Halifax, in 1955 and made her first profession in 1958.
Sister Mary received her high school diploma from Mount Saint Agnes Academy, Bermuda.She graduated from Mount Saint Vincent College, Halifax and earned a Bachelor of Science (1965) and a Bachelor of Arts (English major) (1971). She also received a Masters of Arts (Theology Major) from Mount Angel Seminary, St. Benedict, Oregon (1977).
Sister Mary was a committed and faith-filled member of the congregation who gave joyful witness to love throughout her 65 years. She was a dedicated and creative educator who taught elementary and junior high students in St. Peter, Dochester, MA;  Mount St. Agnes Academy, Bermuda; Our Lady of Perpetual Help School; Vancouver, BC; Christ the King Junior High  and  Vanier Catholic Secondary School, Whitehorse, YT.  After thirty-nine years serving as an educator, she retired and moved to Halifax, NS, where she was involved in the ministry of hospitality at DePaul Centre.  From 2001 until her death, Sister Mary worked as the SC Coordinator of the Heritage Room.
Sister Mary had a special place in her heart for Prince Edward Island, where she discovered her McKenna relatives. She was a gifted communicator and maintained contact with students, family and friends.
Sister Mary loved her US family members and visited them yearly. She was devoted to her three god daughters: Elisabeth Graves- Smith, Evelyn and Violet Daniels-Falle and truly enjoyed time spent with them. She was a compassionate and caring person who accepted each person as a gift from God.
In addition to her parents, Sister Mary is predeceased by her brothers Joseph, Richard and William. She is survived by her  many nieces and nephews.
Funeral Services will take place on Thursday, October 12, 2023, Immaculate Conception Chapel, Caritas Residence, 215 Seton Road, Halifax. Wake and Prayer Service at 9:00am followed by Mass of Christian Burial at 10:30 am.  Interment will take place in Gate of Heaven Cemetery, Lower Sackville at 2 pm. Due to limited space, attendance at the funeral services is restricted to Sisters, family, Sisters of Charity Associates and a few close friends.
In lieu of flowers, donations in memory of Sister Mary Palardy may be made to the Sisters of Charity, 215 Seton Road, Halifax, NS B3M 0C9.