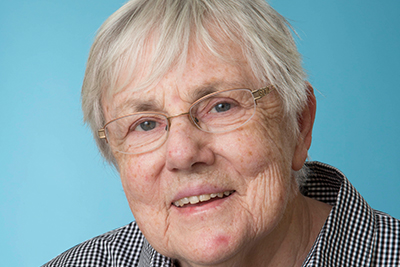 Obituary to come.
Sister Mary Ellen Loar, SC (Sister Robert Bernadette), beloved Sister of Charity, Halifax for 65 years, entered peacefully into eternal life with the God she loved on October 24, 2023 at Elizabeth Seton Residence, Wellesley, MA.
Sister Mary Ellen was born in New York City, New York and was the loving daughter of the late Robert and Mary (Brennan) Loar. She leaves her sisters, Suzanne Schmitt and her late husband, Douglas, Patricia Hammer and her husband Joseph; her nephews, David Schmitt and his wife, Ericca, Steven Schmitt, Kevin Coogan and his wife Nassim Mafi, Craig Coogan; grandnieces and grandnephews Evan, Kamryn and Hudson Schmitt, Kiana Coogan.
Sister Mary Ellen's ministry was multi-faceted. She began as a teacher at Saint Patrick Grammar School in Roxbury, MA where she also coached the girls' high school basketball team. Shortly thereafter, she assumed the role of Coordinator of Formation and Assistant Director of Novices for the Sisters of Charity in Boston. Following this assignment, Sister Mary Ellen served as a high school teacher at Seton Hall High School in Patchogue, NY and as Project Director at Selden – Centereach Youth Association. During that time, she also served as a board member for the Sisters of Charity New York Province. In 1980 Sister Mary Ellen was elected to the General Council of the Sisters of Charity, Halifax, a position she held for eight years.
After a sabbatical she began full-time study to pursue a Master's degree in Social Work at Boston College and completed her active ministry at Boston City Hospital as a Medical Social Worker. In the spirit of Saint Vincent de Paul, Sister Mary Ellen had a great sensitivity to people in need, for the poor and marginalized. She retired to Marillac Residence, Wellesley, MA in 2014 and subsequently to Elizabeth Seton Residence, Wellesley, MA.
Funeral Services for Sister Mary Ellen will take place on Monday, October 30, 2023 at Mount Saint Vincent, 125 Oakland Street, Wellesley, MA. Wake at 9:30 AM followed by a Prayer Service at 10:15 AM and the Mass of Christian Burial at 10:45 AM. Interment will take place at Saint Mary Cemetery, Needham, MA immediately following the Mass.
In lieu of flowers, donations in memory of Sister Mary Ellen Loar, SC may be made to the Sisters of Charity Retirement Center, 125 Oakland Street, Wellesley, MA 02481.