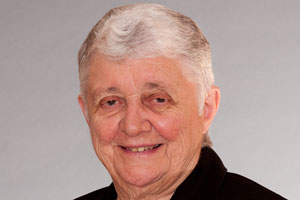 Sutherland, Sister Mary Florence (Maria Francis), age 89, died in Caritas Residence, Halifax, on September 16, 2021. Born in Canso, she was a daughter of the late Wilfred and Martha (Burns) Sutherland.
She entered the Sisters of Charity-Halifax in 1950 and made her First Profession in 1953. Sister Maria was an alumna of Mount Saint Vincent University where she received her BA, B.Ed and MA in English. Sister began her ministry teaching in New York before returning to Halifax to teach at Saint Patrick's High School and later at Mount Saint Vincent University. After teaching for 20 years she went on to obtain her Masters in Psychology / Counselling from Loyola University in Chicago, IL.
Upon her return to Nova Scotia, Sister Maria obtained her certification as a registered psychologist and went on to minister in family counselling with Family Services in Spryfield and as a private psychologist in Halifax. Sister Maria also served for many years in Congregational Leadership as Provincial Superior.
Sister Maria gave so much throughout her years as a teacher, psychologist and companion to many people on their life's journey. She was a woman of deep faith and lived out her life caring for the needs of others. She was very professional in her ministries and served others with great compassion, love and understanding. Sister Maria was a gifted writer and had a beautiful singing voice. She was involved in the Chebucto Singers and shared this passion with a great niece. Family meant everything to her, she loved watching her nieces and nephews grow up and loved each one deeply.
She had a very special relationship with the Sisters of Charity Associates and in her honour the Associates are dedicating a paver stone in the Legacy Garden in the Seton Shrine in Emmitsburg, MD.
In addition to her parents, Sister Maria was predeceased by her brother, Frank Sutherland; and sister, Augusta Abbott. She is survived by her brother, Ronald Sutherland; and sisters, Elizabeth McCoombs and Joan Lee; and as well as many nieces and nephews.
A Gathering for Prayer will be held in J.A. Snow Funeral Home, Lacewood Drive, Clayton Park, Halifax, NS at 2:00 p.m. on Tuesday, September 21, 2021. Mass of Christian Burial will be celebrated on Thursday, September 23, 2021 at 2:00 p.m. in Saint Agnes Church, Mumford Road, Halifax, NS. Those wishing to attend the Mass must register with J.A. Snow's Funeral Home by phone at (902) 455 0531. Burial will follow in Gate of Heaven Cemetery, Lower Sackville, NS. In lieu of flowers, donations may be made to the Sisters of Charity Ministry Fund.