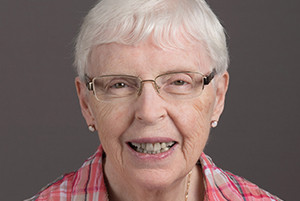 Hagarty, Sister Marguerite (Rita Thomas), 84, died at Caritas Residence, Halifax, NS on July 24, 2021. Born in Halifax, NS, she was the daughter of Thomas and Margaret ("Rita" McKay) Hagarty. Sister Marguerite entered the Sisters of Charity-Halifax on September 26, 1956 and made her first profession on April 26, 1959.
Sister Marguerite graduated with a B.Sc. and a B.A in Elementary Education from Mount Saint Vincent University and a Master's Degree in Adult Education from St. Francis Xavier University.
Sister Marguerite started out as first grade teacher in New Jersey, USA and delighted teaching little ones, whom she loved.  Later, Sister was involved in parish religious education in Amherst, Bridgewater, Dartmouth, Halifax, and Herring Cove. Her ministry also included spiritual development at Springhill Prison and participation in Diocesan Ministries including the New Beginnings Program. After Sister Marguerite finished her work in parish ministry, she ministered as Hospital Chaplain at the QEll Health Sciences Centre in Halifax until 1997.
From 1999 – 2005, Sister was Community Leader at the Sisters of Charity Motherhouse Retirement Community, a ministry for which she is still fondly remembered.
Sister Marguerite was gifted with a gentle, regal presence conducting all of her work with grace, professionalism and exemplary leadership. She will be warmly remembered for her love of music and dance. A fan of old movies and being a night owl, Sister often enjoyed a late night movie. Despite her illness, Sister Marguerite remained fully involved as a powerful and joyful witness to love.
In addition to her parents, Sister was predeceased by her cousins Stephen Hagarty, Jean (Underwood) Cleyle, and Linda and Peter Cleyle. She is survived by her cousins Joanne Craig and Susan Cleyle.
Very special thanks to Sister Marguerite's devoted lifelong friend, Charlotte Landry.
A Prayer Service followed by a time of visitation will be held at JA Snow's Funeral Home, Lacewood Drive in Clayton Park on Tuesday July 27th from 2:00 – 3:00pm. Friends and family are welcome. A graveside service will take place at the Gate of Heaven Cemetery in Lower Sackville on Thursday July 29th at 11:00am.
A Funeral Mass will be celebrated at a later date due to Covid Restrictions. In lieu of flowers, donations may be made to the Sisters of Charity Ministry Fund.