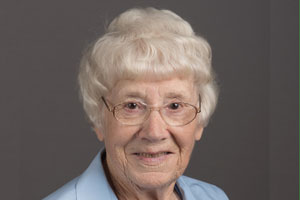 Sister Madeline Mary Power (Rose Madeline) passed away November 27, 2021 at Caritas Residence, Halifax, N.S., at the age of 95. Born in Marystown, N.L., she was a daughter of the late Albert and Mary (Kilfoy) Power. She entered the Sisters of Charity-Halifax in 1952 and made her First Profession in 1955.
For 36 years, Sister Madeline provided housekeeping and dietary services in the communities of Boston, New York, British Columbia, Alberta, Quebec and Nova Scotia. A large part of her vocation was dedicated to Pastoral Ministries in various hospitals and homes for the aged. In addition, Sister "Maddie" ministered at the Home of the Guardian Angel caring for new mothers and their babies, cooking beautiful home-cooked meals, and giving joyful witness to love, making Larch Street House a loving home for many.  The delightful smell of her fresh-baked bread warmed the bellies and hearts of countless people in the many homes in which she lived and worked.
In addition to her parents Sister Madeline was predeceased by her brothers, Leo, Alphonsus "Fonce", Albert and George; and sisters, Agnes Hilliard, Eileen and Mary who died as a baby. She is survived by her brothers, Gerald and Maurice and sisters, Patricia Hanrahan, Eileen Power, all of Marystown, N.L.; and Roseanne Vardy of Halifax; as well as many nieces and nephew, all who played a huge role in their Aunt Madeline's life and whom she loved so dearly.
A Gathering for Prayer and visitation will be held at J.A. Snow Funeral Home, Lacewood Drive, Halifax, N.S. from 2:00-3:30 p.m. on Thursday, December 2, 2021. A Mass of Christian Burial will be celebrated on Friday, December 3, 2021 at 1:00 p.m. in St. Agnes Church, Good Shepherd Parish, Mumford Road, Halifax, N.S. Those wishing to attend must show proof of vaccination. Burial will follow in Gate of Heaven Cemetery, Lower Sackville, N.S. In lieu of flowers, donations may be made to the Sisters of Charity Ministry Fund.