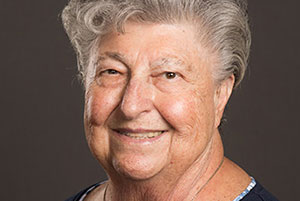 Sister Josephine D'Agostino passed away on April 29, 2021 in Long Island, NY. The daughter of loving Italian parents, Mariana (Napolitano) and Paschal D'Agostino, Josephine maintained a deep relationship with her family all her life. Josephine Anna was born on March 1, 1936, on Staten Island, NY. From Our Lady of Good Counsel Parish, Staten Island, she entered the congregation at St. Joseph Convent, Halifax, NS, September 30, 1953 and took the name of Sister Marion Paschal.
Sister Josephine's teaching career began immediately after profession at St. Peter School in Lowell, MA. Here she taught the middle grades then at St. Sylvester's, Brooklyn, NY. She held teacher certification in both Nova Scotia and New York. Having received her Bachelor's Degree from Mount Saint Vincent University, she added a Master's degree in Spanish from Middlebury College, VT and a Certificate in Business Administration from Manhattanville College, Purchase, NY.
Sister's high school teaching career began in the seventies at Seton High School in Patchogue, Long Island, NY. When Seton Hall closed, Sister Josephine moved to Our Lady of Good Counsel Parish and began caring for her ailing mother with whom she would reside while carrying on her volunteer ministry. Her ministry was in teaching and administration at St. Joseph by the Sea, Moore Catholic High School, New York State Hostel, and later, as Principal of Resurrection-Ascension School, Rego Park, NY.
After her Mother's death, Sister Josephine studied at the ARC program in Rome, Italy, and then returned to New York continuing her volunteer work as a teacher, principally of Spanish and Algebra, at Dominican Commercial High School. She was Pastoral Assistant at both St. Dominic's Parish and at St. Brendan's; Administrator at Holy Spirit School; Dean of Students, then Assistant Principal at St. John Villa Academy.
After retirement, Sister Josephine maintained her volunteer work, assisting at St. John's Bread and Life, and in tutoring in math and Spanish. But there was more to Josephine than her ministries. She had a profound love of the Eucharist, the Feast of Love. She also had a deep love of Italy and all things Italian—their love of life, of family and of good food. Josephine exuded a warm spirit of hospitality; her joy was in sharing her delicious Italian meals. Sister died on the feast of St. Catherine of Siena, Patroness of Italy and Peacemaker.
The Mass of Christian Burial was celebrated at St. Barnabas Church, Bellmore, with six priests concelebrating. The Sisters of Charity were there and led the singing, readings etc. In his homily, the Celebrant remarked on Sister Josephine's joyful witness to love. Sister Margaret Mary gave expression to our feelings of grief and loss as she summed up Josephine as a combination of strength, vulnerability and joy.
Sister was predeceased by her parents and her sister Antoinette Wickert. She is survived by her nephew Joseph Wickert, and her nieces Mary Ann Collela and Linda Laner. Sister rests with her sisters at St. John Cemetery Middle Village, New York.