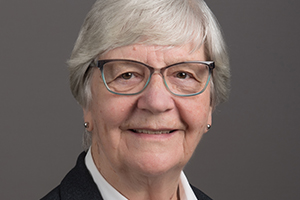 DeGrace, Sister Joan Marie (James Kevin) SC, died at Caritas Residence, Halifax, on October 1, 2022 at the age of 87.  Born in Bathurst, NB she was a daughter of the late William James and Ethel (Melanson) DeGrace. She entered the Sisters of Charity-Halifax in 1953 and made her first Profession in 1956.
Sister Joan received her B.Sc. in Elementary Education from Mount Saint Vincent University, Halifax and her post graduate diploma from UNB, Fredericton. Sister Joan began her ministry teaching in Williston Park and Richmond Hill New York, before returning to the Maritimes to teach in Bathurst NB; Halifax, Musquodoboit and Cole Harbour NS.
In 1990 Sister Joan returned to university, obtaining her Masters of Theology from the Atlantic School of Theology and her Masters of Arts in Pastoral Care/Health Services from Saint Paul's University Ottawa. She received her certification as a specialist in Pastoral Care in 1995 from C.A.P.P.E. in Halifax.
While in graduate studies in Ottawa she served as Chaplain at Carleton Hospital. Upon graduation she served as Director of Pastoral Care at Saint Joseph's Hospital in NB and then at Cape Breton Regional Hospital in NS.  In 1999 she returned to Halifax and was appointed Hospital Chaplain at the QEII Health Sciences Centre. From 2001-2009 Sister Joan was missioned to Quebec to serve with the Spiritual Care Ministry at Saint Elizabeth Centre.
Sister Joan was a gifted artist and continued her love for painting into her late 80's.  Many of her works have been displayed at art shows and gifted to charity auctions throughout Halifax. Sister Joan loved her family, enjoyed trips home to Bathurst and always spoke fondly of her many nieces and nephews.
In addition to her parents, Sister Joan is predeceased by her brother Kevin and sisters Carmel Ann McArdle and Arlene Burns. She is survived by her sisters Marvel (Vincent) Colton and Bernardine Drover as well as many nieces, nephews and grand nieces and nephews.
A Prayer service to welcome Sister Joan's body home will be held at Immaculate Conception Chapel, Caritas Residence on Wednesday, October 5th at 2pm followed by visitation until 4:00pm.  The Vigil Service will be held at 6:30pm Wednesday, October 5th.  Mass of Christian Burial will be celebrated on Thursday, October 6th at 10:00am. The Funeral Mass will be a private service for Sisters, family and Associates.  The Mass will be livestreamed (for the link, please visit www.jasnowfuneralhome.com). Burial will follow in Gate of Heaven Cemetery, Lower Sackville, NS.  In lieu of flowers, donations may be made to the Sisters of Charity.