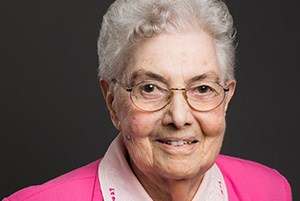 SISTER JOAN BERNADETTE MAYER, SC, a Sister of Charity-Halifax for 76 years, died on January 14, 2021 at Mount Saint Vincent, Wellesley, MA at the age of 94. She is survived by her sister Terry Cataleno and her husband Anthony of Marlton, NJ, her sister-in-law Mary Ellen Mayer of Pennsauken, NJ., her cousin Barbara Hutton Peterson. Also survived by many nieces and nephews and all her sisters in community.
Sister Joan Bernadette was missioned at Resurrection-Ascension School, Rego Park, NY from 1947-48 and 1954-1956; St Sylvester School, Brooklyn from 1948-53; Our Lady of Angels, Brooklyn from 1965-74; St. Nicholas of Tolentine School, Jamaica, NY from 1974-77. Sister Joan also ministered outside the Brooklyn Diocese in  St. Barnabas School, Bellmore, NY; Mercy Hospital, NY; and Dominican Village Senior Residence, NY., Sister Joan Bernadette retired to and resided at Marillac Residence, Wellesley Hills, from 2001 until her death.
A funeral Mass and burial was held on January 21st at St. John the Evangelist Parish, Wellesley Hills, MA.  Interment was at Saint Mary Cemetery, Needham, MA.