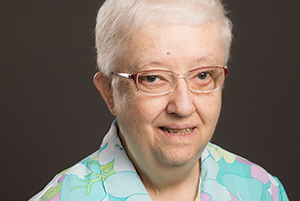 Because of the coronavirus, we were not allowed to congregate in chapel for the usual funeral services for Sister Joan Verner. However, in a simple prayer service, presided over by S. Ann Regan and S. Judith Breen, and in which we could participate via the internet, the theme from the Prophet Micah was certainly made applicable to Sister Joan. She did what the Lord required, "to do justice, to love kindly, and to walk humbly with your God" (6: 8).
Joan Ruth Verner, the daughter of Gertrude Dora (Desruisseau) and John Telesfore Verner, was born on June 22, 1936, in Lawrence, Massachusetts. After graduating from St. Patrick High School, she entered the postulate at St. Joseph Convent, Halifax, on September 30, 1953, and, taking her religious name Sister John Christopher, she was received into the novitiate at Mount St. Vincent, Halifax, on March 30, 1954. Her first profession of vows took place at Mount St. Vincent on April 1, 1956, and her final profession at Mount St. Vincent on August 15, 1962.
Sister Joan Verner began her career as a teacher, beginning in the elementary grades, and subsequently in junior and senior high schools. She taught at Resurrection –Ascension, Rego Park, NY (1956-'62); Our Lady's Convent, Vancouver, BC (1962-'65); as teacher and Principal at St. Anthony Convent, Renton WA (1965-72); and at Sacred Heart, Riverton, NJ (1972-'75). When she was assigned to St. Aidan Convent, Williston Park, NY, she began teaching history and social studies at St. Mary's Girls High School in Manhasset, NY. Joan was an excellent teacher and also Dean of Discipline. She was serious but witty, and judged always with a sense of fairness. She acted justly.
After her Mother's death, Joan took a sabbatical year at Notre Dame University, South Bend, IN. Besides workshops, special speakers, a retreat and other spiritual advantages, she audited classes at the university and, of course, attended Notre Dame's football games. She admitted that it was a very rewarding year. After her sabbatical she was asked to return to St. Mary's and to manage finances while continuing to teach history (1975-'94). For the next two years (1994-'96), Joan served as Provincial Secretary for the New York Province. As educator, finance officer and administrator, Joan walked humbly and shared her gifts with other.
In the General Chapter of 1996, Sister Joan Verner was elected to leadership as Congregational Secretary. She oversaw preparations for the annual meetings of the Sisters of Charity Federation held at Mount Saint Vincent University, Halifax. Joan was President of the Federation that year and continued to be a member of the Federation Planning Committee.
During her time of leadership, Joan lived in Halifax and after her eight years in leadership moved to Auburndale, MA doing volunteer work. However, in 2011 she returned to Halifax to become a Community Leader at Caritas Residence and at Parkstone. The sisters there testified to her kindness, her wisdom, and her compassionate heart. She loved tenderly.
In July, 2017, Sister Joan Verner retired to Marillac and delighted in family gatherings especially when they involved her grandnieces and nephews. In January, 2020, Joan was diagnosed with cancer. She died peacefully at Elizabeth Seton Residence on March 17, 2020. Because of the coronavirus epidemic, Sister Joan's body was cremated. When the restrictions on gatherings are removed, a Memorial Mass will be celebrated at some future date. Sister was predeceased by her parents, and her sisters Earline and Janice (Verner) Hamel. She is survived by her beloved niece Melissa White and her nephew Paul Hamel.