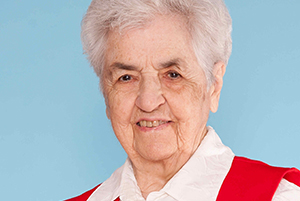 Amirault, Sister Iréne Genevieve (Cécile Marie) 104, died at Caritas Residence, Halifax, N.S. on March 18, 2020. Born in Centre East Pubnico, N. S. she was a daughter of Louis and Lucie Amirault. She entered the Sisters of Charity-Halifax on February 2, 1935 and made her First Profession August 15, 1937.
Sister Irene began her teaching ministry in New Waterford, Cape Breton then went on to teach in various locations in NS, NB and BC. Sister Irene's primary area of expertise was in French, having obtained her BA from Dalhousie and Master of Arts from Laval University. She had a love for education and continued her studies in French at L'Institut de Paris and then studied Catechetics at Seattle University. Throughout her ministry, Sister Irene was involved in school administration, sodality, teaching, music and parish ministries. After her retirement from forty years in
education, she was appointed Personal Secretary to the General Superior, which she held from 1980-1987.
Throughout her life, Sister Irene cared deeply for the poor, especially the children. She worked tirelessly raising funds and collecting clothing and other items for those in need.
She is survived by her sister Cecile and several nieces and nephews. In addition to her parents, she is predeceased by her brothers Leslie, Alphée
Joseph, and Theodore and sister Marie F.C.M.
Knowing that Sister's funeral would be delayed, the sisters at Caritas Residence gathered to pray for and fondly remember her on the day of her
death. Cremation has taken place and at a time when her family and Sisters can gather once again in the Immaculate Conception Chapel in Caritas
Residence, a Mass of Christian Burial will be celebrated, followed by burial in Gate of Heaven Cemetery, Lower Sackville, NS. In lieu of flowers, donations may be made to the Sisters of Charity Ministry Fund.