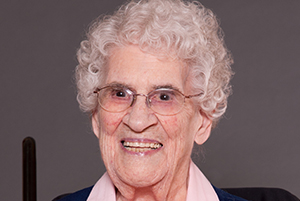 Cooke, Sister Idella Marion (Leo Mary) 107, died at Parkstone Enhanced Care, Caritas Residence, Halifax NS, on November 26, 2020. Born in Reserve Mines, CB, she was a daughter of the late Samuel and Udvevilla (Kehoe) Cooke. She entered the Sisters of Charity-Halifax in 1931 and made her First Profession in 1934.
At the time of her death, Sister Idella was the oldest living member and longest serving Sister of Charity-Halifax, since the first Sisters arrived in the city in 1849. Sister Idella taught school for 25 years in Nova Scotia, British Columbia and Quebec. In addition to teaching, she enjoyed organizing extracurricular school activities and often spoke fondly of taking the students ice skating and teaching music and dance in preparation for school concerts. Even at the age of 107, Sister Idella continued to have her characteristic sparkle of playfulness and mischief.
Sister also served in Hospital Administration as Supervisor/ Executive Housekeeper at the Halifax Infirmary, (as well as in Quebec and Westlock, Alberta). She was highly respected by those who worked with her and often spoke of her exceptional work ethic and standard of care.
After her retirement Sister Idella continued her ministry by visiting seniors and bringing them Communion at St. Vincent Guest House, Gordon B Isnor and Sunrise Manors.
In addition to her parents she is predeceased by sisters Tillie, Edna, Sister Eileen, Miriam Poirier, Rita, Margaret Young and brothers Aloysius, Clifford, Austin, and Leo. She is survived by many nieces and nephews.
A burial service will be held at the Gate of Heaven Cemetery, Lower Sackville, NS. A Memorial Mass will take place at a later date due to the Provincial Covid 19 restrictions. In lieu of flowers, donations may be made to the Sisters of Charity Ministry Fund.