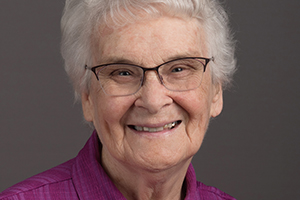 Thompson,  Sister  Evangeline (Helen Stephen), died at Caritas Residence, Halifax NS on Sunday, January 30, 2022. Born in Halifax, NS she was a daughter of the late John and Edith (Horne) Thompson. She entered the Sisters of Charity-Halifax in 1952 and made her First Profession in 1955.
Sister Evangeline grew up in Enfield, NS and attended E.H Horne School.  From 1955 to 1971 she was missioned at Saint Brigid's Home in Quebec, Saint Joseph's Orphanage in Halifax, Mount Saint Vincent Mother Berchman's Residence in Halifax and Seton Academy in Vancouver. While missioned in BC she received her certificate as a kindergarten teacher and later studied human resource management in Halifax.
From 1971-87 she was involved in various roles at Mount Saint Vincent Motherhouse and for five of those years was the Director of Personnel and Payroll. She retired in 1988 and became the Coordinator for several communities until 1993. Sister Evangeline was efficient in her ministries and faithful to her duties. When the Motherhouse closed Sister Evangeline was one of the first Sisters to move to Caritas Residence. She continued to be active with various pastoral and community ministries that helped make Caritas home for the Sisters of Charity.
In her later years, she was very attentive to the needs of her sister, Sister Beatrice, SC. Sister Evangeline was very grateful for the kindness of others and often thanked and praised the staff for the care she and her sister received. She was a thoughtful person quietly doing many small acts of kindness for others. Sister Evangeline was forthright in her opinions and not shy to express her feelings. She was a prayerful Sister with a youthful spirit and a joyful laugh.
In addition to her parents, Sister Evangeline is predeceased by her two brothers John (Jack) and Stephen and sister, Sister Beatrice Thompson (SC).  A Gathering for Prayer and Visitation will be held at JA Snow Funeral Home, Lacewood Drive on Monday, February 7th from 2:00-3:00 pm. Mass of Christian Burial will be celebrated on Tuesday, February 8th at 10:00 am at Saint Agnes Church, Mumford Road. Those wishing to attend the Gathering for Prayer and Visitation or the Mass must show proof of vaccination and identification.  Burial will be held in Gate of Heaven Cemetery, Lower Sackville, NS on Friday, February 11 at 2:00 pm.  In lieu of flowers, donations may be made to the Sisters of Charity Ministry Fund.