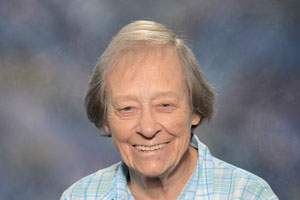 Eleanor Hedwig Quaderer (Eleanor Frederick) aged 86, died September 3, 2021, at Elizabeth Seton Residence, Wellesley Hills, MA.
The daughter of Eleanor M. (Langen) and Frederick E. Quaderer, Eleanor was born in Bellmore, NY on April 5, 1935. She entered the congregation at St. Joseph's Convent, Halifax, NS, on October 8, 1957.
Gentle, quiet and unobtrusive, Sister Eleanor's first assignments were in Quebec, as a middle-school teacher at St. Stephen's, Sillery, and St. Patrick's, and St Michel's, Quebec City. Sister taught Grade 4 at Our Lady of the Cenacle from 1973 to 1978.
Although she had received her B.A. and B.Sc. in elementary education, she found her chief talent in secretarial work. Astute, thorough and disciplined, in 1978, she undertook the position of Parish Treasurer at Our Lady of the Cenacle, principally involved in school tuition record keeping and informing the parish finance committee; she also performed secretarial work for the CCD program. At the same time, she began working part-time at the Catholic Center at New York University, mainly with finances. Always generous and diligent, Eleanor undertook some bookkeeping and accounting courses and the H&R Block Income Tax Program.
At the close of 1980, Sister Eleanor assumed the newly created full-time position at the Catholic Center at NYU as Pastoral Assistant, Bookkeeper and Accountant. The position involved various fund-raising activities, building maintenance, chapel preparations, as well as many other administrative and financial responsibilities. Her administrative and financial astuteness continued in ministry for St. Gregory the Great Parish in New York and the Ursuline Provincialate in Jamaica, New York during the 1990s.
Eleanor's professional services were not only directed to parishes and schools, but also to the congregation. She was assistant to the Treasurer for the New York Province in Middle Village, NY and then for New York Region when the congregation no longer had provinces. She was part of the group to form a new community at Resurrection- Ascension Convent and later moved to St. Aidan's Convent where she continued to be
of service to the Passionist Priests in Jamaica, NY and the Maura Clark – Ita Ford Center in Brooklyn, NY. She was particularly generous in offering her secretarial skills at community meetings which became increasingly numerous.
Sister Eleanor died peacefully on September 3, 2021 at Elizabeth Seton Residence. Her funeral Mass was celebrated in her beloved St. Barnabas Church on September 9, 2021 attended by her brother Frederick and her sister-in law Joan, as well as by Sister Margaret Mary Fitzpatrick and a very large contingent of Sisters of Charity from the New York area. She is survived by her devoted brother Frederick, her sister-in-law
Joan, and her nephew Frederick, Jr. She rests with her sisters in St. John Cemetery, Elmhurst, NY.