S. Joan Butler resigned as a member of the Sisters of Charity Halifax congregational leadership team due to health concerns. Joan's resignation reminds us that life is a journey where we encounter unexpected challenges. We count on Joan's inner strength knowing that she will always be a part of us. On this journey, then, the CLT discerned the Vincentian question, "What must be done?"
"Practical interpretation and application of the Constitutions are entrusted…in ordinary circumstances to the congregational leader and council." (Constitutions, p. 45) According to Constitutions 104, if a congregational councillor submits her resignation and it is accepted, then the congregational leader with the consent of the council, names a sister to fill out the term of the councillor whose office has become vacant.
According to John Freund, CM, the steps in a Vincentian Discernment process are: the imitation of Jesus Christ, unrestricted readiness, significance of events, and the decision. And so, the leadership team did its best to discern the will of God. We took time to pray, to reflect, and to consult. What must be done?
The team felt that another Canadian voice and perspective would enhance the team. While it was not necessary that the Sister reside in Nova Scotia and have an office at the Sisters of Charity Centre, it seemed advantageous if there was a Sister who had the experience, the energy, and the comfort with the current team. Right from the beginning of our discernment, one Sister seemed to be the answer to God's call and our need. Margaret Mary approached her, on behalf of the team, and after her discernment she said "yes!"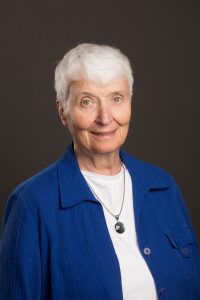 Therefore, it is our joy to welcome S. Sheilagh Martin to the Congregational Leadership Team. Sheilagh entered the Sisters of Charity in 1958. Sheilagh served for seven years as a high school educator, thirty years as a faculty member at Mount Saint Vincent University in Halifax, and served for four years as the Director of Administration at the Sisters of Charity Centre. Her Newfoundland roots and spirit engender a calm confidence and an open embrace of others and all life.
We are grateful to S. Sheilagh for her faith filled and generous "yes."