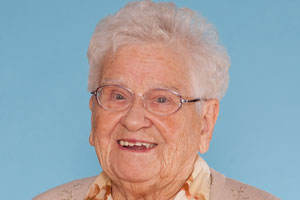 Thompson, Sister Beatrice (Agnes Rhoda) 95, died at Caritas Residence, Halifax NS on October 13, 2021. Born April 8, 1926 in Enfield, NS she was a daughter of the late John and Edith (Horne) Thompson. She entered the Sisters of Charity-Halifax in 1945 and made her First Profession in 1947.
Sister Beatrice is an alumna of Saint Patrick's High School, Halifax. Through her ministries with the Sisters of Charity, she received special training in food preparation, kitchen supervision, and housekeeping. In 1978 Sister Beatrice studied "The Principles of Buying" with the Purchasing Management Association of Canada.
Sister Beatrice's early ministries took her to British Columbia where she served for fourteen years. Upon her return to Halifax in 1961 she ministered at the Halifax Infirmary Hospital and Saint Vincent Guest House where she served in food services. Sister Beatrice became the Main Kitchen Supervisor at the Halifax Infirmary. In 1970 Sister Beatrice received training as an Occupational Therapy Aide and ministered in this role at the Halifax Infirmary. She later served as Inventory Clerk at the Motherhouse.
Because of her experiences, Sister Beatrice had a great appreciation for all who served in Nursing, Housekeeping, Maintenance, and Food Services at Caritas and Parkstone Enhanced Care. She was genuinely thankful for all they did for her and would express her gratitude often. She always looked forward to a hot cup of coffee or tea and a good conversation. She loved her sister Evangeline and enjoyed their daily visits.
In addition to her parents, Sister Beatrice is predeceased by her two brothers John (Jack) and Stephen Thompson. She is survived by her sister Sister Evangeline Thompson (SC).
A Gathering for Prayer and Visitation will be held at JA Snow Funeral Home, Lacewood Drive from 2:00-3:30 pm on October 19. Mass of Christian Burial will be celebrated on Thursday, October 21 at 10:00 am at Saint Agnes Church, Mumford Road. Those wishing to attend the Gathering for Prayer and Visitation or the Mass must show proof of vaccination and identification. Burial will be held in Gate of Heaven Cemetery, Lower Sackville, NS on Tuesday, October 26 at 1:30 pm. In lieu of flowers, donations may be made to the Sisters of Charity Ministry Fund.