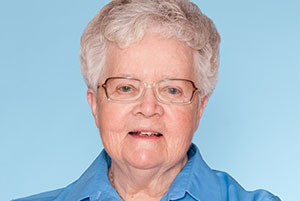 Whalen, Sister Ann (Sister Ann Maureen) 84, died at Caritas Residence, Halifax, N.S. on November 28, 2019. Born in New York City, NY, she was the daughter of Edward and Anna Whalen. Sister Ann entered the Sisters of Charity – Halifax on September 8, 1959 and made her First Profession on June 10, 1962. Sister Ann graduated with both her Certified Nursing Assistant and her Certified Practical Nursing from the Halifax Infirmary. She began her nursing ministry in Halifax at Mother Berchman's Residence and the Halifax Infirmary. She continued her nursing ministry in Quebec and New York. In 1981 she was transferred to Halifax Province and resumed nursing at Mother Berchman's Infirmary.
After retiring from Nursing, Sister Ann studied Pastoral Care in Ottawa and carried out her new ministry in Halifax at St. Vincent Guest House, Parkstone Enhance Care, the Sisters of Charity Motherhouse and Caritas Residence. Sister Ann compassionately cared for her family, those marginalized in society, and the sick and dying. Sister Ann continued her ministry as Community Coordinator for a number of retirement communities. She served as sacristan and a member of the choir at Caritas Residence.
Throughout her life she worked tirelessly and will always be remembered for her genuine love for others, her quick sense of humour and her infectious laugh.
She is survived by her brother Edward Whalen, nephews Phillip (Fran), and Eddie (Lisa) and nieces Maureen DeMelfi (Jerry) and Denise Whalen as well as nine great nieces and nephews and five great-great nieces and nephews. In addition to her parents, she is predeceased by her brother James. Visitation will be at Caritas Residence, Halifax, N.S. on Tuesday, December 3, from 3p.m. until the Prayer Service at 7p.m. A Mass of Christian Burial will be celebrated on Wednesday, December 4 at 10 am in the Immaculate Conception Chapel in Caritas Residence. Burial will follow in Gate of Heaven Cemetery, Lower Sackville, NS. In lieu of flowers, donations may be made to the Sisters of Charity Ministry Fund.
SaveSave
SaveSave
SaveSave
SaveSave