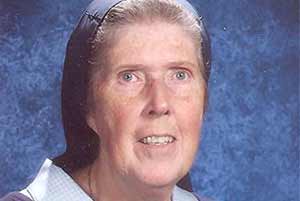 Sister Anne Hegarty, 75, of North Andover passed away on Wednesday, December 4, 2019 at the Elizabeth Seton Residence in Wellesley, Massachusetts, after a courageous battle with cancer.  She graduated from St. Michael Grammar School, North Andover, and St. Patrick High School, Lawrence.  After high school Sister Anne entered the Novitiate of the Sisters of Charity of Halifax, Nova Scotia.  It was there that she earned her Bachelor's and Master's degrees in Education and began her lifelong mission to educate children.
Upon her Profession as a Sister of Charity she was assigned to Saint Joseph's Parish in Needham, MA.  After 5 years in Needham, she was reassigned to St. Peter's in Lowell, MA where she spent 8 years.  For the next 39 years she taught at Lawrence Catholic Academy (formerly St. Patrick Grammar School).  Sister Anne was a devoted classroom teacher right up until this year when her illness prevented her from continuing.  Renowned for her assignment of oral presentations and fastidious grammar instruction, we can only imagine she is checking this for errors right now.
Sister Anne was a selfless individual throughout her life.  She became the primary caretaker for her parents in their declining years, allowing them to remain in their home until their passing.  She was the best daughter, sister, aunt, and friend.  She got great pleasure spending time with her nieces, nephew and grandnieces.    She enjoyed attending their various athletic events along with her dear friends Sister Ellen Donovan and Sister Nancy Conlon, where they were fondly referred to as the "God Squad".  Sr. Anne was an avid baker, particularly at the holidays, where she delighted in passing on family recipes to the next generation.
Sister Anne is survived by her brother Cornelius F. and his wife Susan, her niece Caitlin and her husband John Gaffny, her niece Brigid Hegarty, her nephew Cornelius F. Hegarty III, her grandnieces Maeve and Brigid Gaffny and several cousins.  She was predeceased by her parents Cornelius F. and H. Geraldine (Doyle) Hegarty.
The family would like to extend their sincere gratitude to the staff of the Elizabeth Seton Residence for the kind and considerate care provided to Sister Anne.  Sr. Anne was greatly comforted by all of the thoughtful gestures, heartfelt words, cards, and mementos sent along by former students, colleagues, and friends.
A wake for Sister Anne will take place at Mount Saint Vincent, 125 Oakland Street, Wellesley, MA on Monday, December 9, 2019 at 9:30 AM with a Prayer Service at 10:15 AM.  Mass of Christian Burial will take place at 10:45 AM followed by burial at Holy Sepulcher Cemetery in North Andover, MA.
In lieu of flowers, donations can be made in Sister Anne's name to the Sisters of Charity, 125 Oakland Street, Wellesley, MA.
SaveSave
SaveSave
SaveSave
SaveSave